2020 Annual Report
(2021)
Please find an excerpt of the full PDF below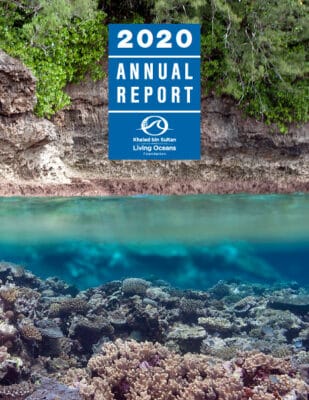 By all accounts, 2020 was an extremely successful year for the Khaled bin Sultan Living Oceans Foundation (KSLOF). It was certainly a challenging year, but also a productive one, primarily because we were able to adapt to changes imposed by the COVID-19 pandemic. Although we were not able to travel to share our findings at international conferences or complete some of our Mangrove Education and Restoration programs, we published a record number of scientific reports from the Global Reef Expedition, and we were here to help teachers and students with the transition to remote learning. This year, students flocked to our award-winning Education Portal. When we first launched this online educational platform four years ago, we had no idea how valuable it would become to teachers looking to provide their students with a quality STEM education from home. We are thrilled to see it being used around the world to educate and inspire the next generation of ocean advocates.
The Foundation also adapted this year as an organization, transitioning to a fully remote work environment. We had temporarily closed our office for the safety of the employees at the start of the pandemic, but decided to continue working remotely once we realized how efficient our team could be while working from home. This decision turned out to be good for the Foundation, our staff, and the environment. By working remotely, we have significantly reduced our operating costs, provided some welcome flexibility for our team, and cut our carbon footprint.
With travel curtailed, we spent 2020 analyzing the massive amounts of data we collected during the Global Reef Expedition. This year, we released Global Reef Expedition Final Reports from our missions to Tonga, the Cook Islands, the Solomon Islands, Palau, and New Caledonia. On these research missions, scientists encountered reefs with incredibly high coral cover and a stunning diversity of fish, but they also observed many signs of the unfolding coral reef crisis. Our reports provide countries with valuable information on the state of their reefs as well as conservation recommendations that could help them protect and preserve these reefs for generations to come.
Data from the Global Reef Expedition also continues to be used to model coral reef resilience as part of the Foundation's collaboration with the University of Miami's Rosenstiel School of Marine and Atmospheric Science (RSMAS). Together, we are developing a scientific methodology to map the resiliency of coral reefs so we can identify which reefs are more likely to cope with stressors such as warming events or tropical storms.
Twenty years ago, the Khaled bin Sultan Living Oceans Foundation was established to help protect and preserve our living oceans. As we celebrate the Foundation's 20th anniversary this year, we could not be prouder of what we have been able to accomplish. Over the years the Foundation has worked with hundreds of scientists to conduct research missions in every tropical ocean basin, educated thousands of students around the world about life beneath the waves, and showcased the wonders of the ocean through our films and community outreach programs. Still, there is more work to be done, and we look forward to seeing what we can accomplish in the coming years as we continue to pursue our mission to protect and restore ocean health by providing science-based solutions.
Khaled bin Sultan Living Oceans Foundation 2020 Annual Report