The Global Diwan's Blue & Green Security Forum
(2022)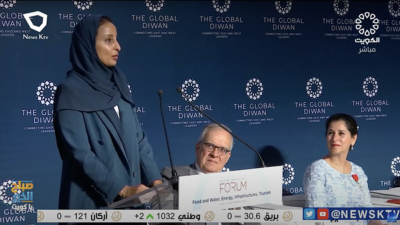 Featured in Kuwait TV
September 9, 2022
The Khaled bin Sultan Living Ocean Foundation's participation in The Global Diwan's Blue & Green Security Forum was covered by Kuwait TV! The event brought together environmental and business leaders from Europe and the Middle East to discuss some of the biggest challenges facing the region: food security and the environment.
Kuwait TV interviewed H.R.H. Princess Hala's, who spoke at the event about the Foundation's work to promote ocean health, our new UN Ocean Decade Project, and why marine conservation is so important–especially for the millions of people around the world who depend on coastal oceans for food, income, and coastal protection.
Image and video courtesy of Kuwait TV.