Science Without Borders®: Conserving the Tropics
A United Nations Ocean Decade Endorsed Action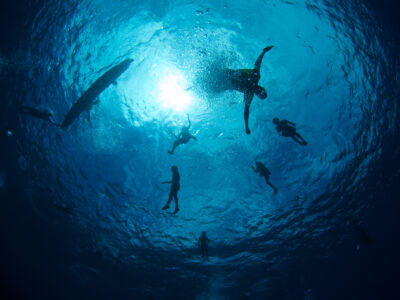 Humanity depends on healthy and diverse ecosystems. Mangroves, seagrasses, and coral reefs host some of the highest biodiversity on Earth. They provide habitat, food, and breeding grounds for marine life, and food, income, and protection to communities. However, these fragile ecosystems are rapidly being degraded.
The Khaled bin Sultan Living Oceans Foundation spent 10 years mapping and surveying the world's reefs, collecting an array of data, conducting outreach and education activities, and establishing a baseline status of the world's reefs and nearshore habitats. The Science Without Borders® project will leverage this dataset for conservation, using it to improve the monitoring and management of coral reefs, seagrass beds, and mangrove forests. Using our network of in-country partners, this project will allow us to bring co-designed science, outreach, and education programs to small island developing states (SIDS) and least developed countries (LDC's), engage communities, improve ocean literacy, and develop science-based solutions to conserve tropical marine ecosystems.

The objective of the Science Without Borders® project is to help communities leverage scientific data, resources, and technologies to conserve their tropical marine ecosystems and resources. Through applied science, outreach, and education, the program will provide science-based solutions to help communities protect coral reefs, mangrove forests, and seagrass beds. We will also work with communities to establish best practices for management plans, train community members to collect scientific data, improve ocean literacy, and expand existing education and restoration programs to more communities and schools around the world.
This project will enable communities to actively play a part in the conservation of their marine resources. The program will work closely with coastal communities, integrating traditional conservation practices into management plans, sharing knowledge of monitoring and management of coastal marine resources, and inspiring behaviour change to conserve the oceans.
The key outcomes of the Science Without Borders®: Conserving the Tropics project are:
Identify priority sites for conservation and help communities develop management plans to protect coral reefs, mangroves, and seagrasses. Through our previous work, we have strong working relationships with many coastal communities. Our data has been used to establish protected areas in the Cook Islands, Fiji, and The Bahamas. This project will advance this work globally by sharing of ocean knowledge, incorporating traditional practices, and working directly with community leaders and governments to co-design, develop, and implement adaptive marine management plans.
Improve ocean literacy of mangroves, seagrasses, and coral reefs. KSLOF has numerous education and outreach programs that improve ocean literacy, including a coral reef ecology curriculum (CREC) and a mangrove education and restoration program. This project will support the expansion of these resources into more communities and schools, and expand it for seagrasses, sharing knowledge about the importance of conservation of these tropical marine habitats.
Train communities to use new and existing datasets and technologies to advance ocean knowledge. KSLOF is working with partners, such as NASA, to develop quality habitat maps and tools. This project will bring these tools to ocean users, teaching them how to apply this knowledge in management and monitoring plans. We will also teach communities how to collect data and use low-cost technologies to monitor changes in their reef landscape. This capacity development will empower the communities to use the latest technologies, ocean knowledge, and scientific data in conserving their marine resources.
Inspire conservation action and behavior change. The program will invest in local outreach and communications efforts, hosting meetings, webinars, and visiting communities to inspire people to conserve coral reefs, mangrove forests, and seagrass beds. We will work with communities to develop co-designed adaptive management plans, catered to each location, and apply new technologies to management and monitoring practices.
This project has been endorsed by the United Nations Decade of Ocean Science for Sustainable Development.

About the Ocean Decade:
Proclaimed in 2017 by the United Nations General Assembly, the UN Decade of Ocean Science for Sustainable Development (2021-2030) ('the Ocean Decade') seeks to stimulate ocean science and knowledge generation to reverse the decline of the state of the ocean system and catalyse new opportunities for sustainable development of this massive marine ecosystem. The vision of the Ocean Decade is 'the science we need for the ocean we want'. The Ocean Decade provides a convening framework for scientists and stakeholders from diverse sectors to develop the scientific knowledge and the partnerships needed to accelerate and harness advances in ocean science to achieve a better understanding of the ocean system, and deliver science-based solutions to achieve the 2030 Agenda. The UN General Assembly mandated UNESCO's Intergovernmental Oceanographic Commission (IOC) to coordinate the preparations and implementation of the Decade.
About the IOC-UNESCO:
The Intergovernmental Oceanographic Commission of UNESCO (IOC-UNESCO) promotes international cooperation in marine sciences to improve management of the ocean, coasts and marine resources. The IOC enables its 150 Member States to work together by coordinating programmes in capacity development, ocean observations and services, ocean science and tsunami warning. The work of the IOC contributes to the mission of UNESCO to promote the advancement of science and its applications to develop knowledge and capacity, key to economic and social progress, the basis of peace and sustainable development.
Science Without Borders®: Conserving the Tropics
Science Without Borders®: Conserving the Tropics Program Description (2 MB PDF)