In surveying Hogsty Reef, the team aboard the Golden Shadow cannot help but notice at least two dramatic landmarks above the sea surface.  Shipwrecks.  The word summons images of high seas, blinding wind, adventurers, and a storied Caribbean history.  Because Hogsty Reef is a large reef, measuring up to 8 km across, with a broad, shallow reef rim, it was (and still is) a major hazard to ships cruising through this area.
The SS Richmond P. Hobson met her end when she was shipwrecked on July 17, 1963 on Hogsty Reef.  This reef wreck occurred exactly 20 years to the day, after she was launched by the North Carolina Shipbuilding Company, in Wilmington, North Carolina.  She was built as a Liberty ship during World War II.  The Liberty ships were used as cargo ships during the war.  In all, 2,751 Libertys were built in the United States between 1941 and 1945.  More than 2,400 of these survived the war and went on to be working cargo ships, but today only two are still in operation.  The SS Richmond P. Hobson had an active history, passing hands between five companies and bearing the flags of the United States, Panama, the United Kingdom and Yugoslavia throughout her career.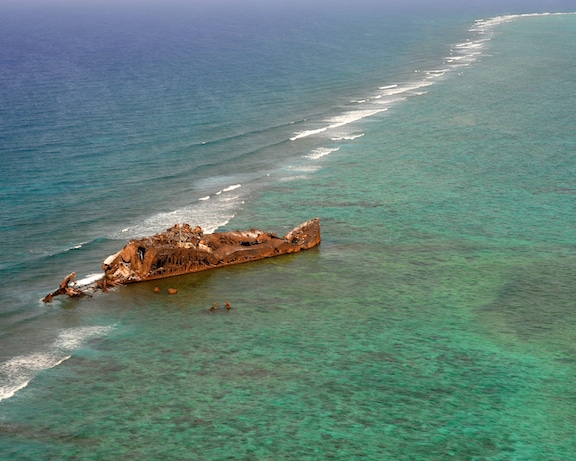 The Lady Eagle is a second visible shipwreck, much smaller than the Liberty ship that appears to be a more recent wreck.  This roughly 40 meter-long freight boat rests upright and level on the reef rim.  It appears that the captain and crew managed to run this ship firmly aground.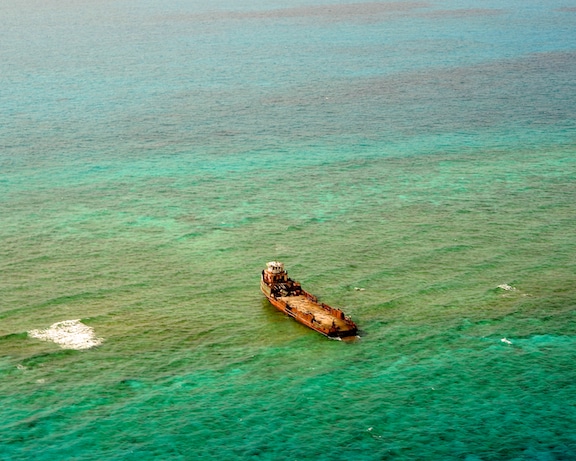 Without a doubt, there may be scores more shipwrecks on and around Hogsty Reef that have accumulated over hundreds of years of commerce and travel by sea.  It is likely that every year thousands of commercial and private ships run aground on coral reefs worldwide.  On the Great Barrier Reef in Australia alone, there have been around 1600 known reef wrecks.  The immediate physical damage to slow-growing corals from a ship's impact can be devastating, but there are also long-term repercussions that scientists are just beginning to discover.
Any corals surviving the direct shock of a shipwreck will have to contend with invading cyanobacteria, coral diseases and algae that colonize the damaged reef.  Many of these harmful organisms thrive on iron and as wrecks like the SS Richmond P. Hobson and the Lady Eagle slowly rust, they release iron onto the surrounding reef.  Iron, which is normally limited in the marine environment, supports the rapid growth of mats of some algae and cyanobacteria species that can outcompete corals and dominate the reef.  This can lower biodiversity and change reef habitat entirely.  The long-term impact of one careless lapse of judgment on board a ship may impact the reef for decades, if not centuries to come.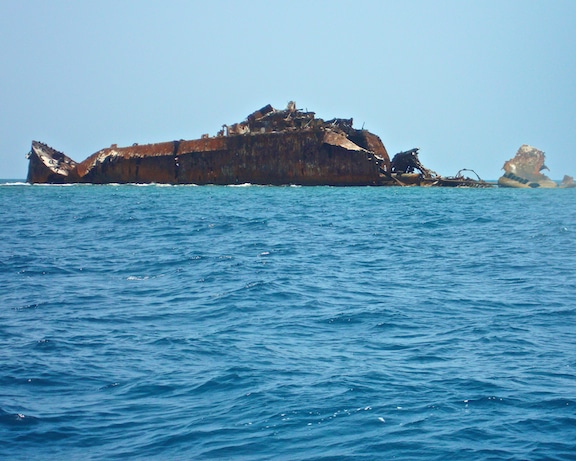 Although the scientists on board the Golden Shadow are not setting out to study the impacts of the reef wrecks on Hogsty Reef directly, results of their reef surveys here may illustrate reef degradation in the areas surrounding the two prominent shipwrecks as iron-laden flakes of rust will travel with the current to other parts of the reef.   There is still much to uncover when it comes to human impacts on reef health, and shipwrecks are just one part of the story.
Written by Kit van Wagner
(Photo/Images by:  1-2 CAPT Philip Renaud, 3 Agnessa Lundy)
To follow along and see more photos, please visit us on Facebook! You can also follow the expedition on our Global Reef Expedition page, where there is more information about our research and our team members.
Explore all our latest news from the field