There are risks in every work environment, so working on and around boats brings with it unique safety concerns. We stress safety at the beginning of every mission, and give reminders of various risks throughout the mission. In order to better prepare ourselves for these risks, we had an unannounced dive safety drill today after our morning dives. The drill was recovering an unconscious diver from the water and transporting them to the Golden Shadow. Our cameraman Ernie was gracious enough to play the part of the unconscious diver, Nick Cautin the dive safety officer called everyone's attention and told us what the dive safety drill was. Right away people were hopping into action! We had people get back in the water and swim out to the diver and bring him back to the dive boat.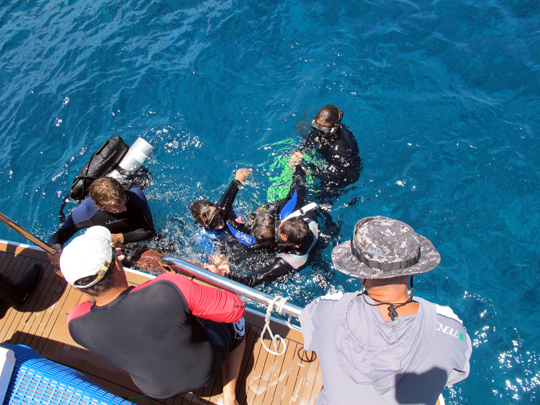 While this was happening, other people were clearing the aft deck and getting the medical supplies ready to treat the diver. Once the water rescue team had the unconscious diver to the boat, several people had to carefully lift the diver out of the water and lay him on a back board that was on the cleared aft deck. From there, Dr. Phil Hormbrey took over the dive safety drill and talked through what should be checked to properly diagnose the unconscious diver.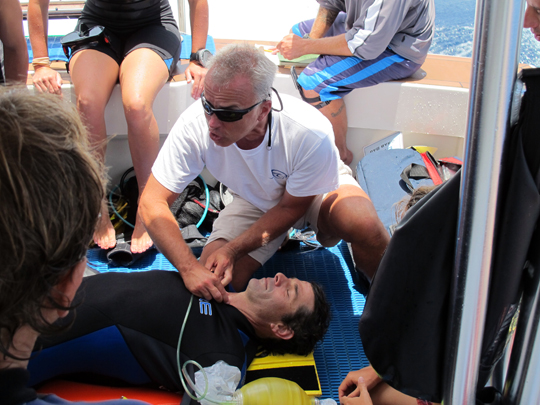 Meanwhile, second officer Will Thomas was radioing back to the Golden Shadow updating them on the situation. As soon as the Golden Shadow was notified of the dive safety drill, they prepped the crew on-board to receive the diver once the dive boat returned to the Golden Shadow. This involved a long checklist of procedures from getting the decompression chamber ready to calling to shore.
The entire dive safety drill went very smoothly and everyone performed their part well. It was good practice to keep everyone sharp, so that if there ever was an emergency out at sea, we would all be prepared to handle it. Ernie, our unconscious diver, gave everyone a glowing review saying that he felt very safe and in capable hands. I don't think you can get a better review than that.
(Photos by: Dr. Brian Beck)
Explore all our latest news from the field