Expedition Log: BIOT – Day 3
School is definitely in session here in Chagos! The fish team has had our hands full trying to identify, count, and size all the fish we've been seeing in our surveys. The reefs here are full of huge schools of fish of all sizes, shapes, and lifestyles. From the very small, decorative scalefin anthias (Pseudanthias squamipinnis), to typical schoolers like blue and yellow fusiliers (Caesio teres), and even large, predatory fish like red and black snappers (Lutjanus bohar and Macolor niger), it seems like nobody is too cool to school! We've seen schooling fish from every level of the food web, from various types of herbivorous surgeonfishes (family Acanthuridae), to goatfish and triggerfish (families Mullidae and Balistidae), who prefer invertebrates, and high level predators such as snappers (family Lutjandae). Sharks, although not schoolers, are also found in high abundance here, with silvertip (Carcharhinus albimarginatus), whitetip (Triaenodon obesus), and blacktail sharks (Carcharhinus wheeleri) becoming a common sight.
Why are there so many fish in Chagos? The main reason is the lack of fishing pressure. With only one inhabited island, and a ban on fishing across the archipelago, fish populations here remain intact. The Chagos Marine Protected Area is one of the largest no-take reserves in the world, covering 640,000 square km (397,667 square miles), or twice the size of the UK!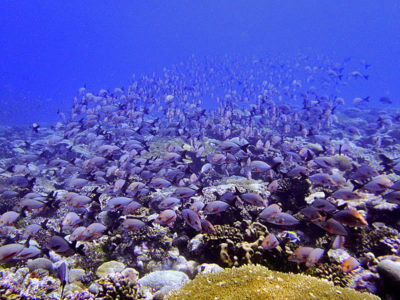 A large school of humpback snapper (Lutjanus gibbus) descends on the reef.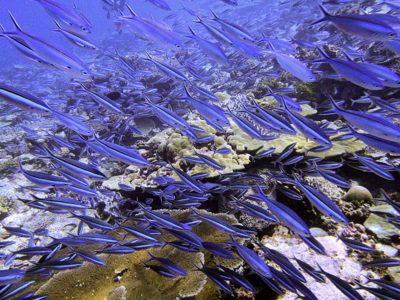 Schools of bluestreak fusiliers (Pterocaesio tile) can get so dense,
it gets hard to see much else!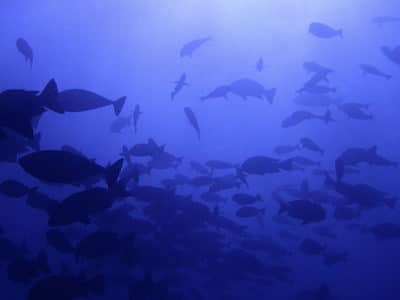 A mixed school of unicornfish (Nasinae) and snappers (Lutjanidae).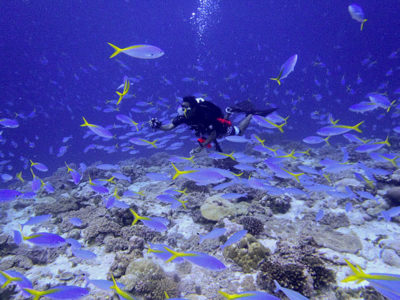 Fish team leader Badi surrounded by a school of blue and yellow fusiliers (Caesio teres).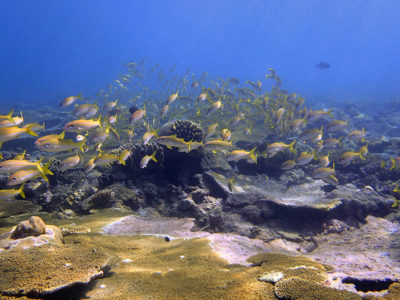 A school of yellowfin goatfish (Mulloidichthys vanicolensis).
Photos by Katie Lubarsky.
---
For more great images from Chagos, visit our BIOT Photo Album…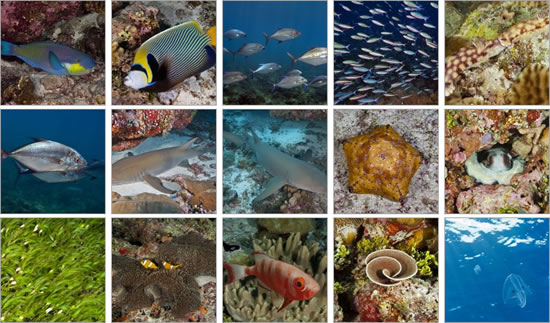 Explore all our latest news from the field