There are a lot of moving parts involved with a research mission. If one of these parts does not work, say the engines of the Golden Shadow, everything else shuts down. That has been the case so far on this mission. Before our dives on Friday, we were told that the part was delayed until Sunday, which meant that we wouldn't leave until Monday (possibly Tuesday) afternoon. However, when we got up from our first dive in Tahiti we were greeted with good news. The part had arrived early from Australia and we were going to be able to head to Rangiroa Saturday afternoon.
All of the schedule changing means a lot of impromptu planning for the Chief Scientist Dr. Andy Bruckner. When we first found out that we would not be able to leave Tahiti on time he quickly had to look at maps and charts and talk with local scientists and Captain Steve Breen to plan a short research schedule around Tahiti. The delay in Tahiti also means that we need to reduce the number of days we have to work in Rangiroa. This again means more schedule changing by Dr. Bruckner and company.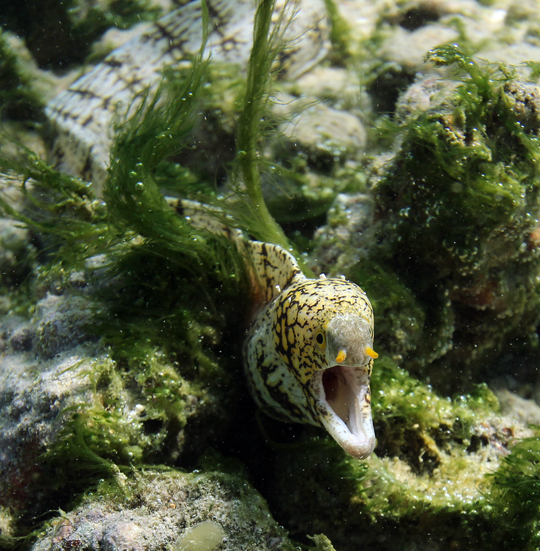 While in Tahiti we have been fortunate enough to use the Golden Osprey as a diving platform. The Osprey has provided us with ample room for tanks, cameras, equipment and researchers. We were able to survey 5 sites around the southwest side of Tahiti. These are areas that have not been surveyed and will provide a good comparison for the other islands we will be visiting. The reefs we saw are similar to those we surveyed last month around the Society Islands in terms of coral structure and fish population. Now, we are looking forward to pulling away from the dock and heading to the Tuamotus.

(Photos by: Serge Andrefouet)
To follow along and see more photos, please visit us on Facebook! You can also follow the expedition on our Global Reef Expedition page, where there is more information about our research and team members.
Explore all our latest news from the field