Our 17th mission of the Global Reef Expedition is to New Caledonia, a special collectivity (a former territory under special status) of France located in the southwest Pacific about 1200 km from Australia, and home to some of the most unusual and diverse coral reef systems in the world. This archipelago is massive, encompassing an area of over 1.74 million km2 which includes 18,575 km2 of land area and an estimated 7,300 km2 of reef habitat.   Most of the land is dominated by the main island of Grande Terre, followed by Ile des Pins to the southeast, the Loyalty Islands to the east, Chesterfield Islands and Bellona Atoll to the west, and a number of smaller islands and atolls to the north.  The archipelago sits on a shallow shelf platform which forms the northern end of Zealandia, a fragment of the ancient Gondwana super-continent separated from Australia some 60-85 million years ago, and gives rise to some of the most interesting coral reef systems we've seen.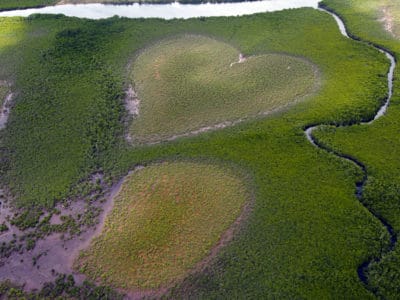 The Heart of New Caledonia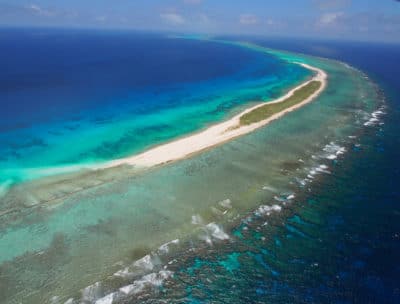 Huon Spur and Groove Coral Reef System

The Coral Reef Systems of New Caledonia
To get a better sense of the coral reef systems of New Caledonia, we used a two-seater Cessna 152 plane for aerial surveys. Its small size allowed us to fly a few hundred feet from the ground, below the clouds, which otherwise would have shrouded the view.  Landing and take-off were quite challenging with strong updrafts, very short, unpaved airstrips and a very light aircraft.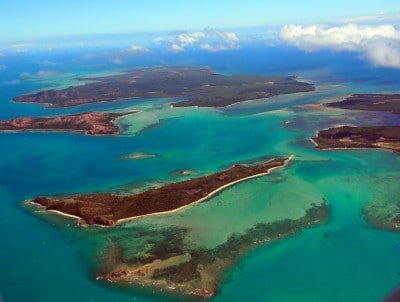 Islands North of Grande Terre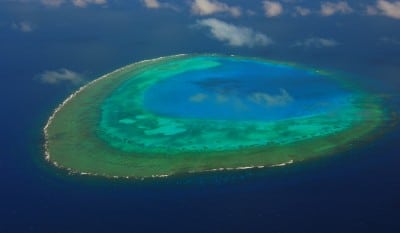 Merite
Over the next month, our research of these coral reef systems will focus on three distinct regions.  Our first stop is Ile des Pins, south of Noumea. Named for the pine-like coniferous trees (Araucaria columnaris) found here, much of the coastline is fringed with these living fossils, which date back to early in the Mesozoic age. This island is also home to the world's largest gecko (Rhacodactylus leachianus). In addition to the double barrier reef encircling the island, there are many smaller islands surrounded by coral reefs, extensive lagoonal reef systems and Nekanmue Atoll at the southeast tip. The underwater fauna and flora found underwater should be quite unique as it sits at the confluence of cold, southern Antarctica water and northern tropical waters.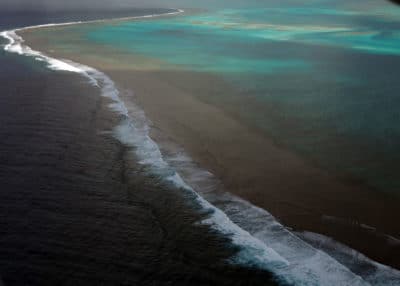 New Caledonia Barrier Reef
This is followed by Prony Bay, at the southern end of Grande Terre. Surrounded by stark, red hillsides with scrubby vegetation marred by nickel mining operations, the bay is quite murky after rainfall. The coral communities here are adapted to these extreme conditions and consist of species absent from most other locations.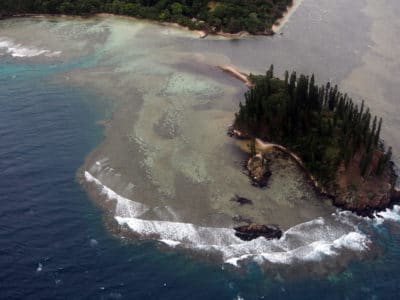 Prony Bay
From Prony Bay, we then head north, following the world's second longest barrier reef, over 1200 km in length. This coral reef system, stretching from Cook Reef in the north to the southern end of Ile des Pins and surrounds Grande Terre, enclosing a massive (40,000 km2 ) shallow lagoon. The lagoon is a World Heritage site, named for their natural history, exceptional diversity of animals and plants, and a continuum of marine habitats from mangroves to seagrasses and diverse concentration of reef structures.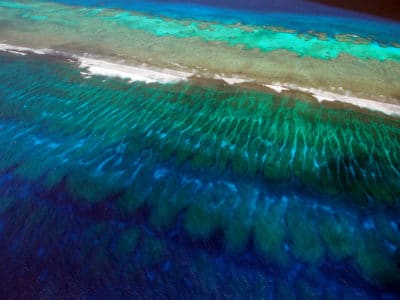 Spur and Groove Cook Reef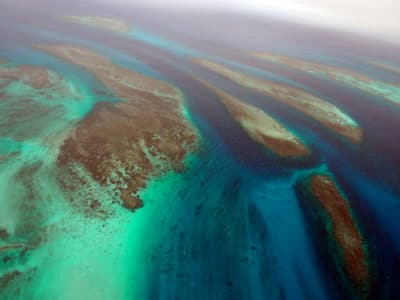 Pins Submerged Reef System
Our research will focus on the northern tip of the barrier reef, in an area called Cook Reef.  An extensive spur and groove coral reef system characterizes the outer reef with dramatic lagoonal reef habitat inside.
For the remainder of the trip we will survey six northern atolls, Pelotas, Portail, Surprise, Huon, Gilbert, and Merite. These are low-lying atolls with extensive fore reef communities around their perimeter that drops abruptly to deep water, fairly wide reef flats, and well developed lagoonal patch reefs and fringing reefs.  These atolls have very little emergent land – the largest is a 3 km strip of sand at Huon. This beach is home to large populations of birds and one of the largest turtle nesting sites in New Caledonia.  During the aerial surveys, we saw hundreds of sea turtles in the shallow water next to the beach, a sign that nesting season has begun.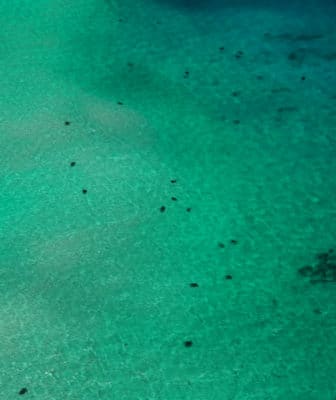 30 Sea Turtles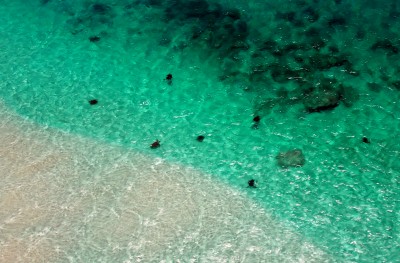 Sea Turtles Coming Ashore
Stay tuned-you'll hear more about these turtles and many of the other unique discoveries we make over the next month during our exploration of the coral reef systems of New Caledonia.
Photos by: 1-10 Andrew Bruckner
Explore all our latest news from the field