Following our overnight transit from Freeport, the M/Y Golden Shadow pulled into the southeastern corner of Cay Sal Bank known as Anguilla Cay.  It was already mid-afternoon, so the team divided up into three groups to do some prep and scout work, and practice dives.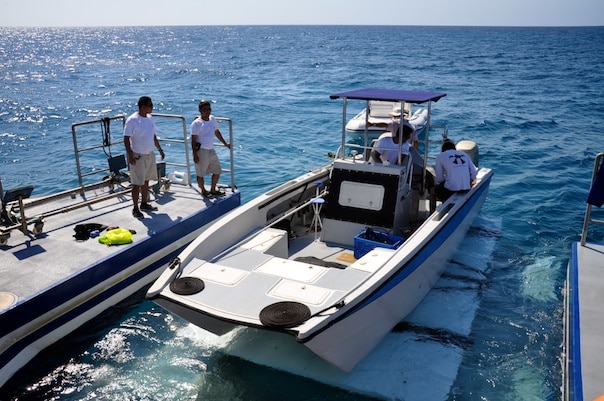 Dr. Sam Purkis and PhD candidate Jeremy Kerr from the National Coral Reef Institute headed out in their catamaran to do some preliminary testing. They will be launching from the Golden Shadow early in the morning every day to groundtruth sites with their satellite data for large scale mapping of the benthic (bottom dwelling) communities in Cay Sal Bank. Meanwhile Chief Scientist Andy Bruckner, and coral reef experts Judy Lang and Bernhard Riegl set out in a small RHIB with one of the ship's crew to scout potential dive sites for study over the next few days.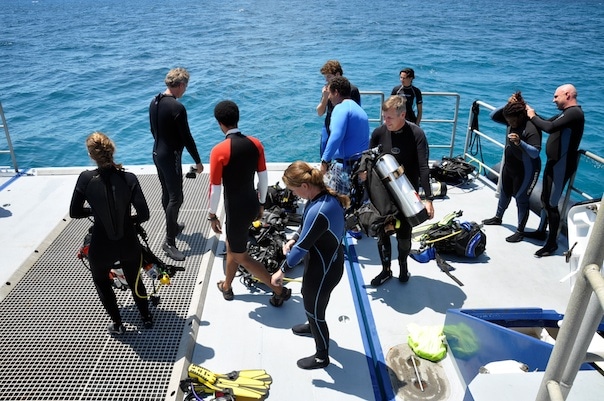 Back on the Golden Shadow, the rest of the expedition team put together their dive kits and prepared for a checkout dive with Dive Safety Officer (DSO) Tim Payne off the stern of the Shadow. The 10-meter practice dives gave everyone a chance to check out their dive gear and finally get their fins wet in Cay Sal Bank.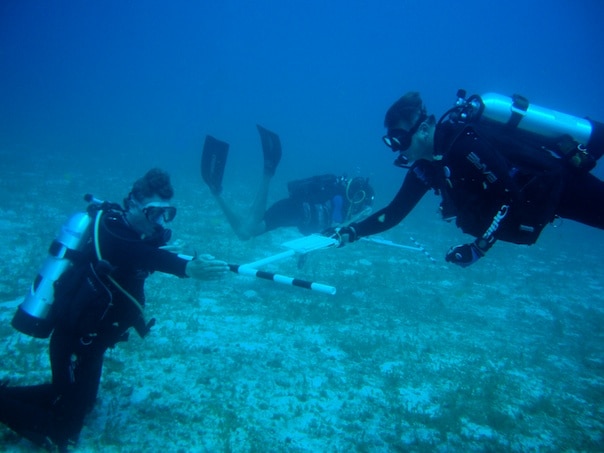 The survey team took their newly-made PVC fish surveying tools with them and did practice dives. Unfortunately, there were no fish to be seen at this particular site, so experienced surveyor Ken Marks used his imagination to create "hand-made" fish, allowing the rest of the team to have a chance at practicing their underwater surveying skills with the new tools.
Living Oceans Foundation Fellow Sonia Bejarano took several small GoPro underwater cameras down with her practice dives to set-up for her expedition experiment. She will be investigating the fish that graze on the reef top and are crucial for the reef's recovery after natural or man-made damage. Part of her research method involves placing up to 10 video cameras on the seafloor in one small area and returning later in the day to retrieve them. She hopes the cameras will allow her to study fish feeding behaviors while they are undisturbed by divers.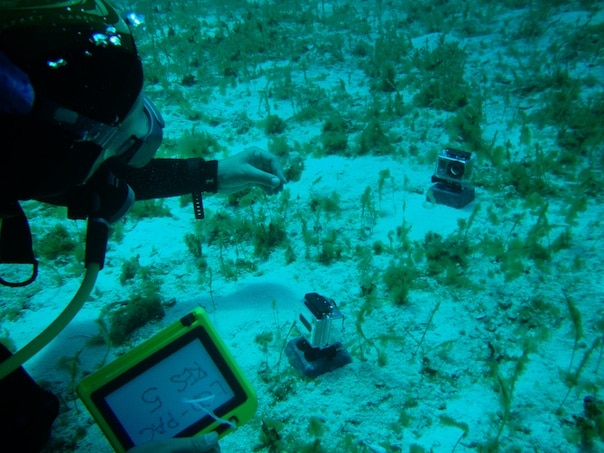 The expedition team had a great first day. We arrived on site, scouted the area, conducted practice dives, and spent the rest of the evening preparing for our first research dives in the morning. Tomorrow will mark the first data-collection day of the Global Reef Expedition and we are all excited to roll up our sleeves and get working!
Don't forget to follow along on Facebook to get blog updates and see more photos! You can also follow the expedition on our Global Reef Expedition main page, where there is more information about our research and our team members.
Post by Liz Smith
(Photo credit: 1, 2. Liz Smith; 3, 4. Leno Davis)
Explore all our latest news from the field