After months of anticipation, the Cay Sal Bank research team finally met up with their temporary home for the next three weeks: the M/Y Golden Shadow. The Shadow, along with the M/Y Golden Osprey, and their crews sailed yesterday from Miami to meet up with the team in Freeport, Bahamas. Living Oceans Foundation GIS Analyst Amanda Williams even managed to sight the Golden Shadow from the air during her crossing.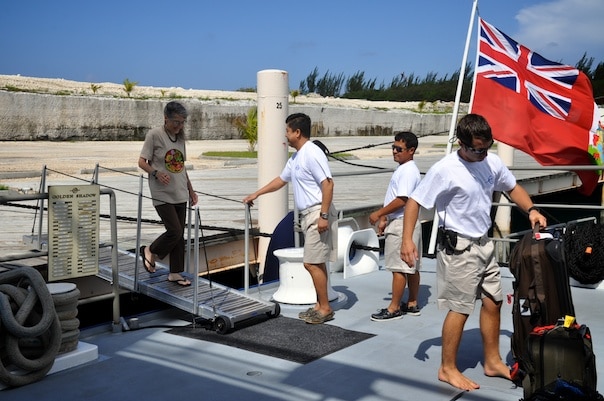 Golden Shadow Rendezvous
As our 17-member team of researchers, divers, and coral reef experts came aboard for the Golden Shadow rendezvous, they had a chance to tour the ship and see her accommodations. Everyone settled in immediately to their new digs and began to get to know one another over lunch. Shortly afterward, the Captain blew the ship's whistle seven times for an abandon ship drill. We donned our life jackets with the rest of the crew and gathered on deck for an obligatory safety tour of the ship.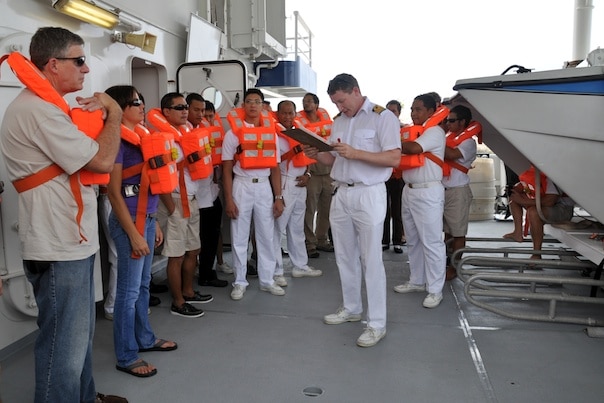 Later in the afternoon we had a chance to introduce ourselves to everyone in depth and start making plans for our first dives. One of the most alluring aspects of at-sea research is the variety of interesting people you get to meet. We are lucky to have several Bahamian reef experts from the Bahamas National Trust and The Nature Conservancy on board who have traveled to Cay Sal Bank before. They showed us some photos of the corals there and warned of potentially heavy currents. It's a major benefit to have them on our team. We made plans for tomorrow; our first day of research at Cay Sal Bank, which will mostly involve dive and equipment checkouts. With a 12-15 hour transit ahead of us, we don't expect to arrive at our first research site until midday tomorrow.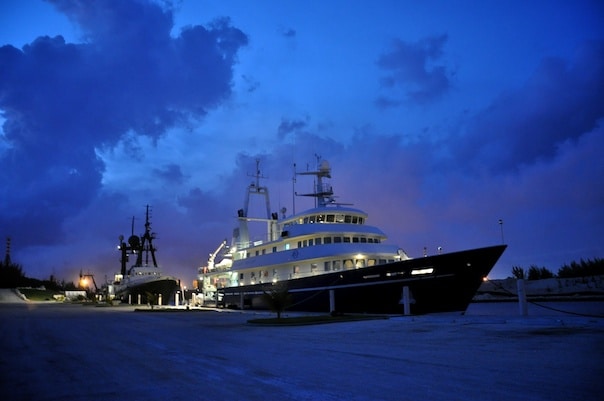 With the last bits of sunlight fading through some impressive, yet foreboding thunderclouds, team members were to be found all over the ship getting ready. The AGGRA survey team was busy in the lab making tools out of PVC pipe to assist them in their fish surveys and reef transects. The satellite groundtruthing team was going over final preparations for their survey catamaran with the Golden Shadow's Captain. And our new Dive Safety Officer (DSO), Tim Payne, was busy in the dive locker checking on gear and helping to outfit a team member with their SCUBA rig.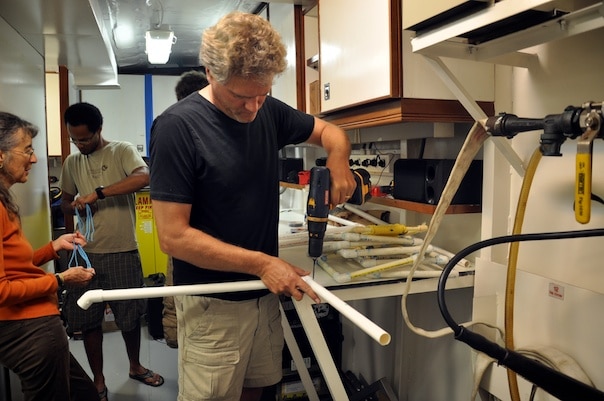 After our Golden Shadow rendezvous and much buzzing about, just before 11pm the ship's engines roared and the crew pulled the lines. Excitement was in the air as the Golden Shadow steamed for open seas. The whole team bedded down for the night with visions of Cay Sal Bank in their heads. We've set sail on the first adventure of many to be had for the Living Oceans Foundation on the Global Reef Expedition.
Don't forget to join us for updates on Facebook!
Post by Liz Smith
(Photo credit: Liz Smith)
Explore all our latest news from the field