Yesterday you were presented with a number of scenarios for the Golden Shadow to avoid Tropical Storm Emily.  Hopefully you spent some time considering the ship's options for dodging the storm and steering clear of its predicted path.  Assuredly, the ship's Captain went through a similar process.  In addition, he consulted with the Living Oceans Foundation's Executive Director, Captain Philip Renaud.  At length, a decision was reached and if you decided on Option 2, which was to head west, then you agreed with the ship's Captain.
Heading west into the Gulf of Mexico was the only option available to put the ship well out of the path of Tropical Storm Emily, but also moves us further from our ultimate destination: the Inaguas in the southeastern Bahamas.  In order to allow enough time for the storm to pass by the Inaguas (now predicted to happen on Friday), the ship will actually travel around the western tip of Cuba and then follow an easterly course towards the Inaguas along Cuba's southern coast.  The Golden Shadow will be safely in the lee of the island of Cuba throughout the voyage and will be positioned to arrive in the Inaguas on Saturday once the storm is well north of the region.  Congratulations if you came to this same conclusion – ever considered a maritime career?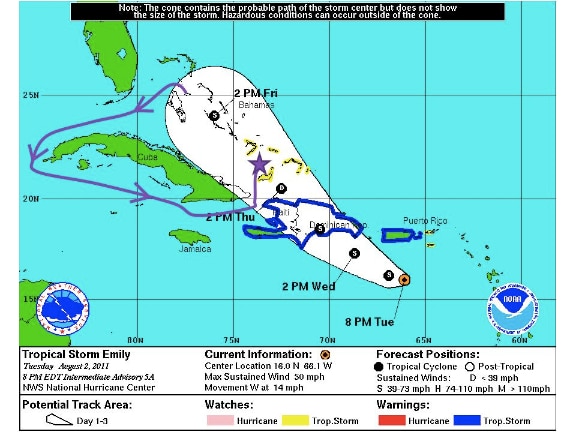 To pass time during our detour around Tropical Storm Emily, the research team has been preparing dive gear, data sheets and sampling materials.  Dr. Sonia Bejarano (Living Oceans Fellow) and Indira Brown of the Bahamas Department of Marine Resources, have been furiously building wire cages that will keep herbivorous fish away from tiles that Sonia will deploy to measure algal growth on the reef.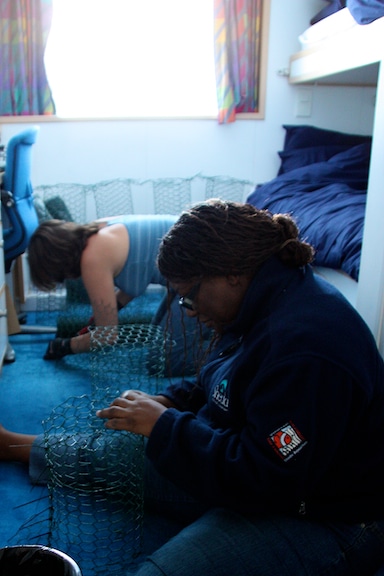 Others on board are brushing up on reef species identification skills to help with AGRRA surveys.  AGRRA stands for Atlantic and Gulf Rapid Reef Assessment Program and is an important component of the Global Reef Expedition in the Atlantic Ocean.   The program's goal is to work across international borders to determine the regional condition of reefs in the Western Atlantic and Gulf of Mexico.  Scientists and resource managers can then use this baseline data in their efforts to protect coral reefs throughout the project area. The AGRRA method is just one component of the Global Reef Expedition's research plan, as described in previous blogs.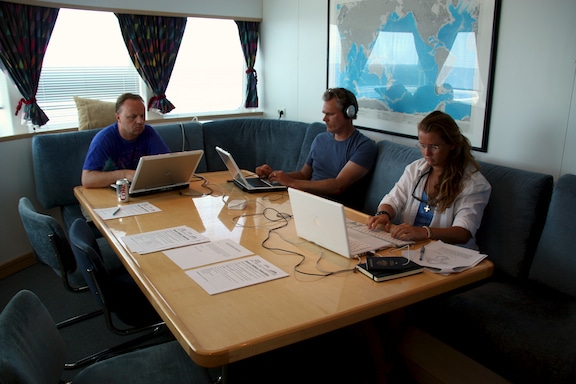 Written by Kit van Wagner
(Photo/Images by: 1 NOAA National Hurricane Center; 2 – 3 Kit van Wagner)
To follow along and see more photos, please visit us on Facebook! You can also follow the expedition on our Global Reef Expedition page, where there is more information about our research and our team members.
Explore all our latest news from the field