Founder
His Royal Highness Prince Khaled bin Sultan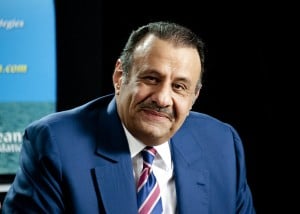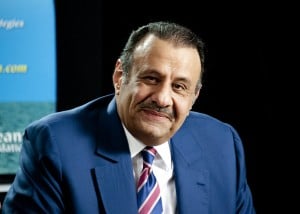 His Royal Highness Prince Khaled bin Sultan, of Saudi Arabia is the founder of the Living Oceans Foundation and an avid scuba diver.
Prince Khaled has always had a love for the oceans. As a young boy in Riyadh, he spent time wandering the desert, and was surprised to find the fossilized remains of sea creatures. It was then that he realized that much of the flat, endless desert of Arabia was in fact an ancient sea bed.
"This discovery led to a fascination with the unique geological evolution of my country- once an ocean floor, it transformed into a land filled with forest and wildlife, and then into the desert we know it as today," says Prince Khaled.
His passion to contribute to ocean conservancy and research only matured after he became a certified scuba diver in the late 1990s. Saudi Arabia has access to some of the most beautiful coral reefs in the world along its border with the Red Sea, and the Prince was able to experience what has been called "nature's richest realm" firsthand. The colors of the corals and the vibrant fish life were in stark contrast to what he had observed growing up in the desert.
As he traveled the seas and explored reefs around the world, Prince Khaled witnessed the rapid deterioration of the planet's coral reefs in the short time he had been diving. It affected him on a personal level, and he turned to experts to understand why this was happening. Upon learning that numerous human impacts, such as unsustainable fishing and terrestrial pollution were contributing to the decline in coral reef health, His Royal Highness was inspired to do whatever he could to contribute to ocean conservation. He established the Khaled bin Sultan Living Oceans Foundation in 2000, a non-profit organization dedicated to conservation and preservation of our precious living oceans for the sake of generations to come.
"I now have a passion for preserving and protecting the fragile balance of the seas – not only for my children, but also for future generations throughout the world. I have been fortunate to be able to support scientists in their efforts to preserve marine environments, search for new medicines, map global weather changes, and discover the symbiotic interaction of reef organisms, knowing that healthy reefs are a crucial measure of the vitality of the earth itself. But what we have done so far is just the beginning. There is much more that must be accomplished to guarantee the integrity of our oceans. That is why I look forward to a partnership with peoples throughout the world, working to benefit the oceans – and our future." -Prince Khaled bin Sultan
Prince Khaled received the Perseus award in 2012 as acknowledgment of his contribution to ocean conservation.