Our Science without Borders® Challenge is coming to a close at the end of the month. This international art competition engages students to promote the need to preserve, protect, and restore the world's oceans and aquatic resources. It also uses art to gets students and teachers interested in ocean conservation.
The Challenge is just one of the ways that the Khaled bin Sultan Living Oceans Foundation is incorporating STEAM into its education programs. But what is STEAM?
Standing for Science, Technology, Engineering, Art, and Math, STEAM is a movement to incorporate the innovation incited by the arts into the more well-known STEM formula. While many people today see art and science as two very separate worlds, teaching them together is more of a modern phenomenon. Many naturalists throughout history, the scientists of their time, had to draw the world around them in intricate detail. In fact, I would personally hold up Leonardo da Vinci as the poster child of STEAM.
Leonardo is famous for being an amazing artist (think: Mona Lisa), but he was the definition of a Renaissance Man. His artistic ventures made him a painter, sculptor, musician, and architect. However, he also was a scientist who explored anatomy, geology, and botany. His expertise even expands into engineering and math. The result of his knowledge means that popes, dukes, and other influential people requested Leonardo's advice for military strategy, protection, and city design, in addition to his artistic talent. He has been credited by some as the first to design a helicopter.
Before photography, scientists had to be able to accurately detail their subjects, like Leonardo did here while studying the bicep. He was also talented at engineering, detailing war machines and technological wonders. (Leonardo da Vinci drawings, public domain via Wikimedia Commons)
Some of you may be asking why a marine biologist and educator is waxing poetic about Leonardo da Vinci. Well, he embodies the need to incorporate art back into the world of science. Experts are starting to realize that the key to innovation (so desperately needed in this fast-paced technological world) is creativity. Encouraging artistic tendencies in our students can actually make them better scientists and engineers. Even President Obama has acknowledged this with his call to reinvest in arts education:
"To remain competitive in the global economy, America needs to reinvigorate the kind of creativity and innovation that has made this country great. To do so, we must nourish our children's creative skills. In addition to giving our children the science and math skills they need to compete in the new global context, we should also encourage the ability to think creatively that comes from a meaningful arts education."   -President Barack Obama
Science isn't for everybody; art isn't for everybody (just ask any of my students who have seen me try to draw!) However, when we combine the two, we open doors for potentially disengaged students. Both disciplines require learning by doing. We can give a creative outlet to the science enthusiast and, at the same time, we can open new doors of knowledge for the artistic soul.
This is where our Science without Borders® Challenge comes in. In the past, submissions have specifically discussed how the program fueled their desire to learn more about an issue and teach others. Art is a medium for both of these. As a previous semi-finalist Ainer Padrigo commented, "Honestly, I may not understand that much about reefs when I started this drawing but now that I finished it, it gets me thinking of how to care more …and I will start by spreading these words."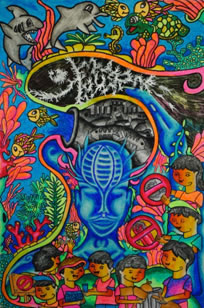 Think Reefs by Ainer Padrigo of the Phillipines
This year, we are using the SWB Challenge to educate the world about IUU fishing. We already have submissions from across the globe: India, Malaysia, Hungary, and multiple states like South Carolina, Virginia, and California. The deadline for entries is Monday, April 25, 2016. For more information, visit lof.org/SWBchallenge. For more reasons why you should integrate STEAM into your classroom, check out this article from The Washington Post.
Explore all our latest news from the field