Mangrove Education and Restoration Program Blog
After spending two weeks in the Caribbean, we have successfully implemented the J.A.M.I.N. and B.A.M. programs. This trip, my favorite part has been watching the students light up when they interact with the animals that live in the mangroves. Many of the students told me they have never held a sea star or a sea urchin before. The students were so intrigued by the animals that we had a hard time getting them to rotate to other stations to view other organisms during our mangrove show and tell.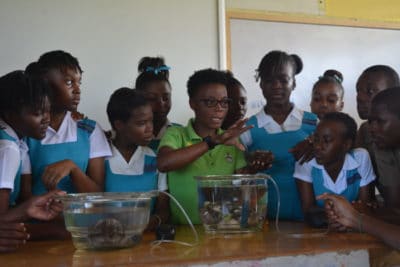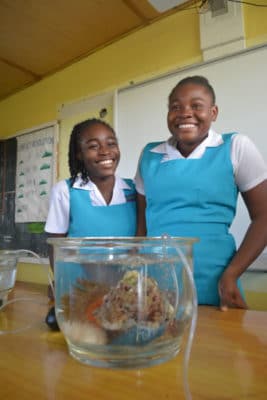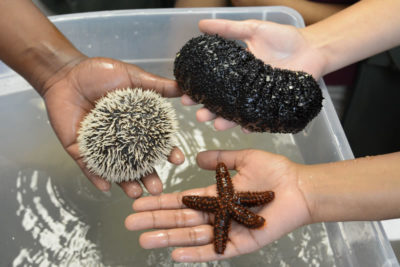 Students enjoying our Mangrove Organism Show and Tell presentation.
Probably the most interesting and fascinating animal that we bring to the classroom is the sea cucumber. Most students in the Bahamas and Jamaica have never seen, let alone touched one before. I attribute their curiosity to the sea cucumbers' peculiar shaped body, their role in the mangrove food web, and their interesting behaviors. One of the fun facts I like to tell them is that these animals are considered a delicacy in many Asian countries. They are completely shocked by this and immediately ask how they taste. I laugh and explain that I have never tasted sea cucumber before, but I was told it is very salty.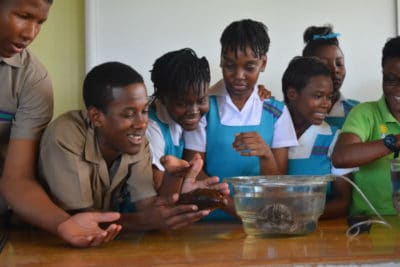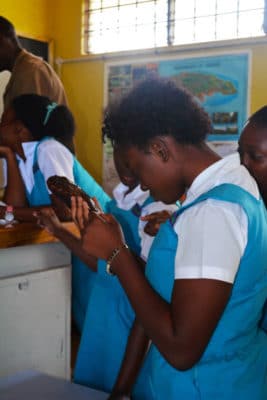 Students intrigued by the various mangrove organisms we presented.
Not only did the classroom visits go well, but I was also happy to see that the mangroves were being well cared for by the students. The propagule seedlings that started off with short stems, measuring only a few millimeters in length, have blossomed into young mangroves that have grown tall stems surrounded by multiple leaves.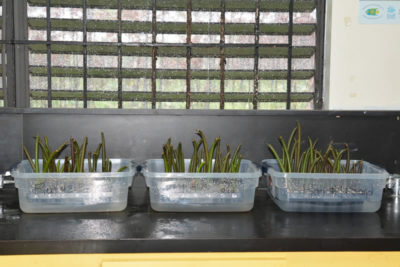 The red mangrove seedlings photographed just after the original planting.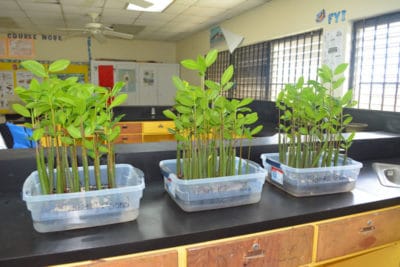 Five months after the original planting, the red mangrove seedlings are growing tall.
In a couple of months, I will return for the final phase of the J.A.M.I.N. and B.A.M. programs. I can't wait to see how much the mangroves will grow between now and then. In the meantime, the students will continue monitoring the growth of their mangroves. They will also slowly begin acclimating them to salt water, so that they are not shocked when they transplant them into the mangrove forest.
---
Journey with us back through our trip as we add more images to these photo albums over the next week…
BAM Photo Album:
JAMIN  Photo Album:
Explore all our latest news from the field