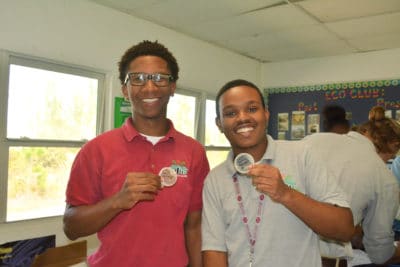 We are looking for educators and organizations to participate in the new Mangrove Detectives program! Mangrove Detectives is a citizen science program that consists of field and lab activities that involve students in the collection of unique data about disease and herbivory in mangrove forests.
We provide lesson plans, supply kits, and instructional videos to educators to aid in data collection. Our lessons are written to Ocean Literacy Principles and Fundamental Concepts and are geared toward high school students. However, these lessons can be adapted for younger students and larger groups.
We encourage you to explore the website, videos, and lessons to help you decide if incorporating the Mangrove Detectives program into existing programs or curriculum will work for you. Follow the steps below to sign-up and participate in Mangrove Detectives!
Become a Mangrove Detective:
Navigate to https://mangrovedetectives.org/participate/and fill out the sign-up form with your name, school or NGO, and email address. We will reach out to you within 3 days to gather more information about the size of your class or group and to answer any additional questions you may have about the program.
Once you've decided whether the Mangrove Detectives program is a good fit for you, your classroom or NGO general location will go live on our Mangrove Detectives map here: https://mangrovedetectives.org/map/
Look out for the supply kit! We will ship a supply kit to you with enough materials for a trial run (which we highly recommend!) and your class or group. Let us know if any questions come up throughout your trial run and administering the program in general.
After completing the lessons, submit your data on the website using google forms and upload any photos you'd like to share.
Send us samples for further analysis (this is only necessary for the outbreak investigation lesson).
Keep an eye out for reports on your class or group's findings as they come in from the lab. We will post to the website and send an email with your results. Please note that this may take up to 3 months.
About the Program:
Mangrove Detectives provides unique educational opportunities for students. By coupling field and lab activities and online tools, students receive a multi-faceted educational experience while contributing to science as mangrove detectives. We hope that this will introduce many students to the sciences and serve to encourage them to enter scientific disciplines.
For more information on the Mangrove Detectives program visit our website: https://mangrovedetectives.org/
Explore all our latest news from the field