My two weeks aboard the Golden Shadow have come to a close. During that time, I spent the days diving with the science team.  At night, as the ship swayed with the swells of the ocean, I reflected on their research as a coral reef educator. I've always been interested in coral reefs and now I have an insider's view that few have seen. I have discussed coral reef sustainability with scientists who've worked in this field long enough to see firsthand the changes that are occurring. Instead of an Internet search, I've been here, in the Pacific Ocean, watching the data being collected, discussing how it will be analyzed, and understanding the larger picture of coral reef health.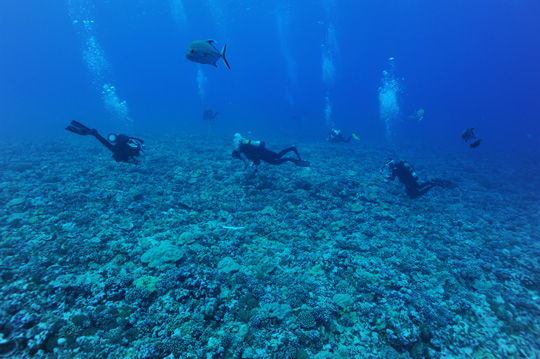 I came to French Polynesia to do more than to simply observe or have a once-in-a-lifetime scuba diving experience with coral reef ecologists. I came here to be moved, to be inspired, and to spread the story of coral reefs as far as I can … to truly be a coral reef educator. As scientists work against the clock to help these fragile ecosystems, I truly believe people can care enough to protect these areas if they know more about them. My role here is not as a scientist, but as an educator. I have been moved by the beauty of what I've seen, and the passion that the researchers have in contributing to the ongoing understanding and preservation of coral reefs. However, I am also alarmed. We know that there are many factors that negatively affect coral reefs; many of them human-induced. It's a question of assessing the factors and determining the impacts. This perspective will help me bring the ecology, the status, and the issues related to coral reefs not just to my students in my role as a coral reef educator, but to as many other educators and students as possible.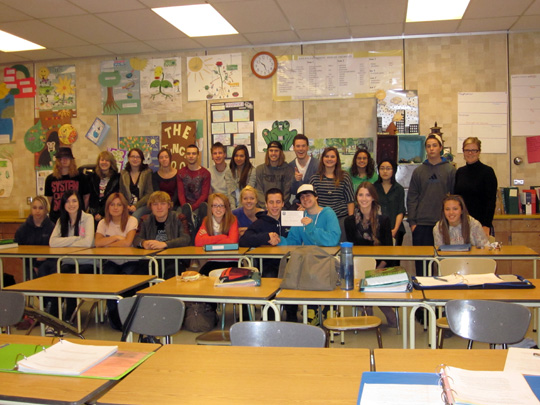 I take with me personal stories about the experience that I can share with my students from here forward. Although I use a variety of technology and teaching methods in my pedagogy, I truly believe that personal stories are the most powerful teaching tool. They create an authentic connection between students and content, such as climate change, island succession, survey methods, biodiversity, fish density, symbiotic relationships, water chemistry, and much more. As a future coral reef educator, being able to have these stories is something I'll be forever grateful to the Khaled bin Sultan Living Oceans Foundation for giving me.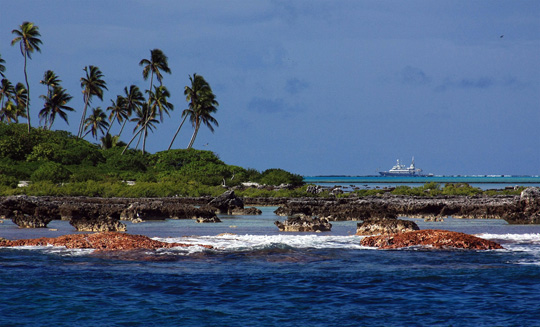 But these messages must spread farther than the walls of my own classroom. For this reason, I will be creating teacher resources that educators can use to bring coral reefs alive. The materials will be drawn from actual data, images, and videos gathered by the Living Oceans Foundation science team. The materials will be relevant and useful, and show students concrete examples of what scientists see and do in the field. There are many resources available to teachers, but many fall short of teaching curricular concepts or engaging students. I have the unique opportunity to bridge two worlds – the scientific information I saw collected firsthand and the educational delivery I feel will engage students using what I've learned in my teaching career. These materials will be tested in my own classroom so that I can evaluate their strength and value as a coral reef educator. The Living Oceans Foundation can then share these resources with other teachers wanting to introduce coral reefs in their classrooms.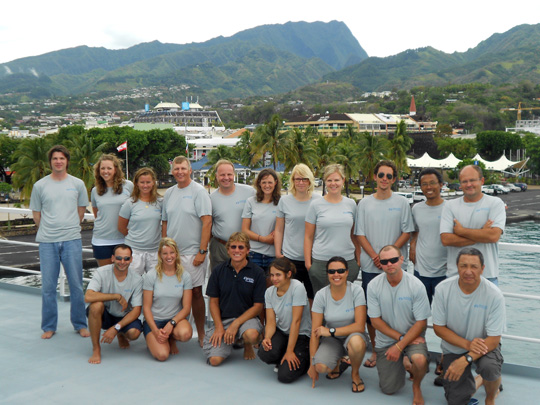 Research data assessments and findings cannot be restricted to the scientific community if we are to raise the flag on the need to preserve and protect coral reefs. Awareness is key, yet most people will never see a coral reef. Students, teachers, and the public need more conduits to connect to these underwater habitats. The collaboration of scientists and educators is powerful, and it is my hope as a coral reef educator that the impact of that relationship can lead to a collective mission to help coral reefs.
(Photos by: 1 CAPT Phil Renaud, 3 Serge Andrefouet, 2,4 Candice Jwaszko)
To follow along and see more photos, please visit us on Facebook! You can also follow the expedition on our Global Reef Expedition page, where there is more information about our research and team members.
Explore all our latest news from the field