The Golden Shadow is docked in Papeete, Tahiti and the scientists are arriving tonight for our second mission in French Polynesia. Originally, we had planned a midnight departure to arrive at Rangiroa to start research on the 16th. However, after we had landed and got to the ship we found out that not everything goes to plan.

The unforeseen is a part of every research mission, and this one is no different. The Golden Shadow was in need of repairs between our last mission and this one. Unfortunately, they are going to take a little longer than expected. While this might delay our departure from Papeete, it will not delay our research. We will instead use this time to look at some of the reefs around Tahiti. This island is the main population center for French Polynesia and we are curious if this is seen in the health of the reefs. It is important to survey reefs with a variety of human impact as our scientific research here is valuable in understanding the overall status of the coral reefs of French Polynesia.
We believe it is also important to share our findings with the people of French Polynesia so they know what we are doing and why we are doing it. On Tuesday, we spent the day doing just that. Our Executive Director Phil Renaud spent the morning talking to the French Polynesian House of Representatives, telling them about the Foundation, what we are planning on doing this research mission and what we observed during our research mission in the Society Islands a month ago. The evening was spent at The University of French Polynesia where Phil and Chief Scientist Andy Bruckner gave a presentation to the general public talking about the reefs of French Polynesia and what our observations have been so far. There was a lot of interest and a great question-and-answer session after. Andy also took time before and after the presentation to talk with local reporters about our work.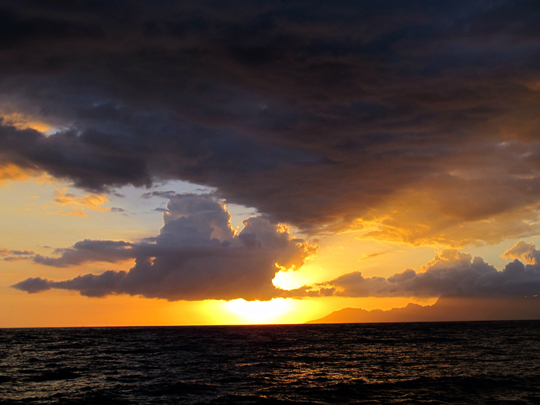 While we are busy with public meetings, the officers and crew of the Golden Shadow are busy getting everything in order. This not only involves the repairs that are needed, but making sure that the ship is refueled, supplying the ship with enough food to feed 45 people for a month, making sure all of the boats are fully operational, knowing where we will anchor at each location, cleaning the ship from top to bottom, plotting the course we will navigate to all six islands we will visit and much more. It is all tiring work, but the crew is very capable and work very hard to make sure the research missions go as smoothly as possible. It is an understatement to say that this would not be possible without their hard work.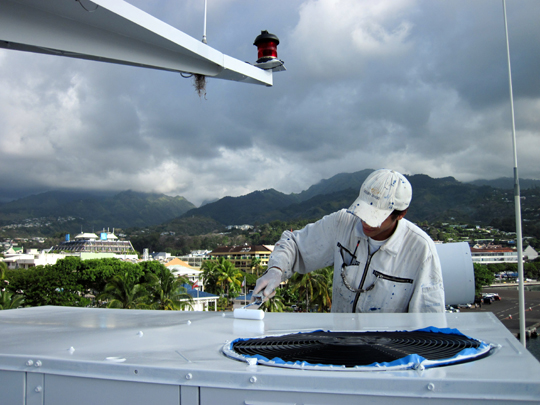 (Photos by: Dr. Brian Beck)
To follow along and see more photos, please visit us on Facebook! You can also follow the expedition on our Global Reef Expedition page, where there is more information about our research and team members.
Explore all our latest news from the field