How to Use Our Curriculum
We have an online Coral Reef Ecology Curriculum that is hosted on a unique and engaging learning platform. Our curriculum was designed for middle and high school students; however, there are some activities and videos that are appropriate for those of you who have elementary school students. We use coral reefs to teach about a variety of science topics, providing a fun, interesting, and educational experience for all.
There are multiple ways to utilize our curriculum. You can pick and choose the activities, videos, and quizzes that you want your children to learn about; you can complete an individual unit; or, you can take the course in its entirety. To get the most out of this educational resource, we suggest that you navigate through the curriculum one unit at a time. Below, we describe how to use our education portal, and how we would navigate through a unit.
Sign up & Login
In order to get full access to all of the features in our Coral Reef Ecology Curriculum, including quizzes and the ability to track your progress and earn badges, you'll need to create an account.
Students can sign up for an account at lof.org/CoralReefCurriculum. There are two ways to sign up:
REGISTER AS A GUEST if you are a student that was NOT assigned by a teacher to take this course. This will allow you to go through the units at your own pace and track your progress. You can register as a guest by scrolling to the bottom of the page and selecting "guest" on the dropdown menu under Account type. When asked for your User Type, select "other" and write in "student."
REGISTER AS A STUDENT only if you were assigned by a teacher to take the course. To sign up as a student, scroll down to the signup section at the bottom of the page, and select "student" on the dropdown menu under Account type. Your teacher will provide you with a class code you will need to enter in order to register as a student.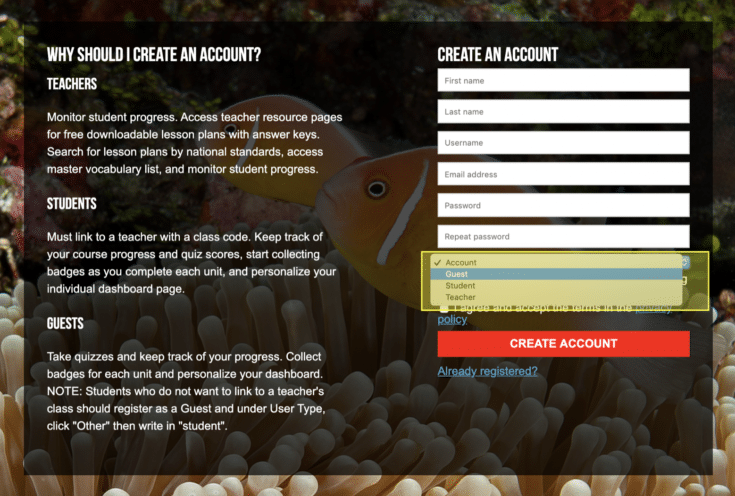 NOTE: If you are under the age of 13, your parent or guardian must approve your usage of this curriculum. Please enter a parent's or guardian's email address. They will receive an email asking them to confirm that it is okay for you to sign up for an account. Once they confirm, you will be able to login to your account.
Start Learning
Once you are signed in, you're ready to start learning! Our course is divided into twelve units, each of which covers a particular topic. If you are learning on your own, we recommend going through the units one at a time, starting with Unit 1: Ecology.
Navigate to the "Dashboard" on the left-hand sidebar to see the full list of units you can explore on the Coral Reef Ecology Curriculum.

Choose the unit that you want to study and click on the banner for that unit. Let's use Unit 3: Coral Anatomy as an example.

Watch the video! Almost every unit begins with a short educational video, which is a good overview of the unit. Start by watching the video (if available) and for bonus points, fill out the corresponding Watch It! video worksheet.

Read the background information. Each unit contains Background Information that teaches you about the topic area, such as coral anatomy. This section contains all the information you'll need to know to take the online quiz. It also contains Fun Facts (by clicking on a purple octopus) that provide interesting information about the topics in the unit and important Vocabulary words, which are emphasized in bold and blue. Hover over the word to see the definition or click on the word to obtain a written and audio pronunciation.

Complete one of the educational activities. After reading the Background Information, you can apply what you learned in the real world by conducting an educational activity. We have assembled a list of educational activities that are easy to do from home. Each unit in the Coral Reef Ecology Curriculum has at least one activity and corresponding worksheet that guides you through each step of the process. These lessons are designed to be fun, hands-on, and engaging exercises that reinforce the background knowledge that you learned in the unit. There are a variety of activities you can do, such as surveying your backyard ecosystem, making an edible coral polyp, or completing a crossword puzzle. The worksheets are organized by unit and can be downloaded here.
Take the Quiz
Are you ready to test what you learned? Time to take the quiz!
Questions?
We hope that you enjoy our curriculum! If you should have any trouble logging in or have any questions, please contact us at [email protected].