Learn About the Theme
Hidden Wonders of the Deep

The 2024 Science Without Borders® Challenge theme is "Hidden Wonders of the Deep." To apply for this year's contest, students should submit artwork depicting mysterious and unique deep-sea creatures or ecosystems, highlighting the beauty and diversity that often goes unseen.
When we think about life in the ocean, we often imagine dolphins, sea turtles, clownfish, sharks, and amazing places like colorful coral reefs, kelp forests, and mangrove forests. So, while we often think about these ocean examples, it's important to remember that a whole other world exists in the deep sea. It's a mysterious and fascinating place that is home to some of our planet's most unique and resilient creatures.
What is the deep sea?
To understand what constitutes the deep sea, let's learn about the zones of the ocean. The oceanic zone is deep and lies off continental slopes. Within this zone, there are five vertical zones that are defined by depth and how far light can reach. They include:
Epipelagic zone: ocean surface to 200m
Mesopelagic zone: 200-1,000m
Bathypelagic zone: 1,000-4,000m
Abyssopelagic zone: 4,000-6,000m
Hadopelagic zone: deep ocean trenches greater than 6,000m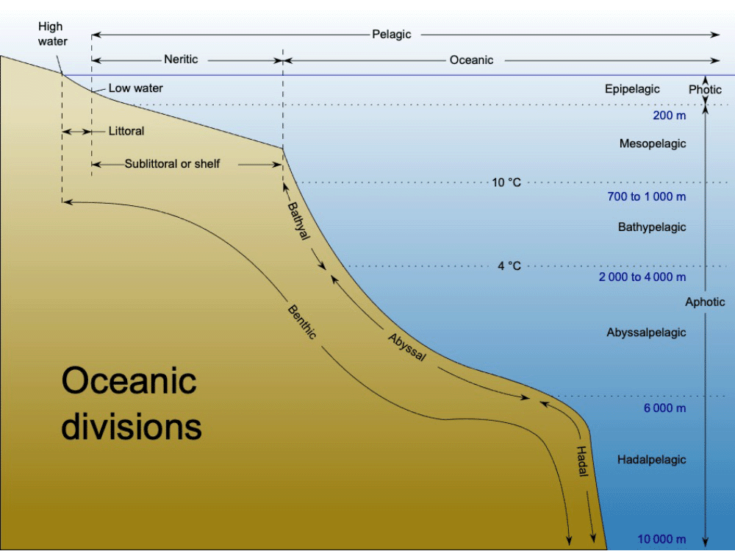 The photic (light) zone contains the first zone, called the epipelagic zone, and it goes from the ocean surface to 200 meters. This is the zone where sunlight reaches, and it's where an estimated 90% of ocean life thrives. Sunlight gives energy to plants and algae through a process called photosynthesis. These plants and algae are at the bottom of the food web, providing energy for other animals.
The aphotic (without light) zone comprises the mesopelagic, bathypelagic, abyssopelagic, and hadopelagic zones. In these zones, there is little to no light. That's why it's called the aphotic zone. Photosynthesis cannot happen here because plants and algae need light to make food. Instead, animals in the deep sea have to find other ways to survive, like finding food that falls from above or producing their own light through bioluminescence. More on that later.
Scientists have different ways of defining the deep sea, but for our contest, we will consider the deep sea as the zones where photosynthesis cannot occur. So, the mesopelagic to the hadalpelagic zones will be part of the deep sea.
Deep Sea Ecosystems
Just like in the shallower areas of the ocean, a variety of ecosystems exist in the deep sea. Shallow and deep-sea ecosystems differ significantly in environmental factors. As you have already learned, the deep sea lacks sunlight. Deep sea ecosystems are characterized by extreme conditions, including cold temperatures, high pressure, darkness, and a lack of nutrients. Below is a list of some deep-sea ecosystems, but we encourage you to explore others.
Hydrothermal Vents: Deep underwater, there are cracks in the ocean floor where hot magma (hot melted rock) meets cold seawater. These cracks are called hydrothermal vents. When this happens, the vents release hot water that is full of minerals and looks like a smoky cloud. These vents create special homes for unique creatures that can survive in really tough conditions. Unlike organisms at the base of the food web in the photic zone that creates food using sunlight, deep-sea bacteria and archaea have a special way of getting energy. They can turn the chemicals in the vent water into energy using a process called chemosynthesis. Some examples of these special creatures are tube worms, giant clams, shrimp, and different kinds of fish.
Cold Seeps: Cold seeps are places where chemicals, like methane and hydrogen sulfide, along with other gases and fluids, escape from cracks in the seafloor. They are called "cold" seeps because the chemicals that escape are similar to the temperature of the surrounding seawater. They are different from hydrothermal vents, where extremely hot fluids are released. Like hydrothermal vents, these spots are homes to special communities of creatures that can survive in the presence of these chemicals and use chemosynthesis to make food. There are different types of seeps, and they are named after the chemicals that escape. Some examples include oil seeps, mud volcanoes, methane seeps, and brine pools.
Whale Fall: When a whale dies and falls to the deep-sea floor, it creates a special ecosystem called a whale fall. Many creatures come to feed on the whale's body, like large scavengers such as hagfish and sharks. Then, other smaller creatures like worms, crustaceans, and bacteria come to break down the remaining parts of the whale. It's like an entire community forms around the whale's body. The whale can feed various communities for years to decades.
Deep-sea Reefs: Corals come in two types – warm-water corals and cold-water corals. Warm-water corals live in tropical waters and have tiny algae living inside their tissues. These algae use sunlight to make food through a process called photosynthesis. On the other hand, cold-water corals live in the deep sea, where there is very little to no sunlight. They don't have algae inside them and get their food by using their tentacles to catch tiny particles from the surrounding water. Unlike many of their relatives in shallow water, cold-water corals don't create hard skeletons made of calcium carbonate. Instead, their bodies are soft, which is why they are called soft corals. These deep-sea coral reefs provide important benefits to other creatures. They create homes for animals to live in, a surface for other organisms to grow on, places to hide from predators, and a source of food for many creatures. A diverse number of species live there, including many species that we eat, including lobsters, crabs, and fish.
Adapting to Extreme Conditions
The deep sea is a very challenging place to live, so the creatures that call it home have developed special tricks to survive there. These tricks are called adaptations, and they're like superpowers that help organisms to survive and reproduce. For instance, some animals can make their own light to find food or talk to each other in the dark. If you decide to draw one of these creatures, it would be wonderful to show what makes them unique in your picture. Here are some cool adaptations deep-sea creatures have, but for the contest, we want you to explore them further. Dive deeper into the world of these mysterious creatures and learn all about their incredible adaptations!
Bioluminescence: Some deep-sea creatures can make their own light. They do this through a process called bioluminescence. It's like having their own built-in flashlight! They use this light to talk to each other, attract food, or scare away enemies.
Pressure Resistance: The deep sea is very deep, and the water is heavy. Deep-sea animals have bodies that can handle this pressure. It's like they have strong armor to protect themselves from the weight of the water. These organisms have bodies that can bend and squish, strong skeletons for support, and cells that can handle the pressure.
Slow Metabolism: In the deep sea, there isn't a lot of food available. So deep-sea animals have learned to use very little energy. They can survive for a long time without eating because their bodies work slowly, like a slow-motion video.
Gigantism: Some deep-sea creatures are much larger than their shallow-water relatives. Scientists are not exactly sure why this happens, but they have some ideas. One reason could be that there's not a lot of competition for food down there, so these creatures can grow much larger. Another possibility is that the colder temperatures and more oxygen in the deep sea help them grow bigger. It's still a bit of a mystery, but it's fascinating to think about why these deep-sea creatures become giants!
Adaptations to Darkness: In the deep sea, it's very dark because sunlight can't reach there. Deep-sea animals have special ways to see and move around in the darkness. Some have big eyes that can see very tiny bits of light, while others use special sensors to find their way.
Feeding Strategies: Deep-sea animals have clever ways of finding food. Some filter tiny particles from the water, like using a special sieve to catch food bits. Others eat dead things that sink down from above, like a scavenger cleaning up after a meal.
Reproductive Adaptations: Deep-sea creatures have special ways of having babies. Some lay a lot of eggs or have a lot of babies to increase their chances of survival. Others have unique partnerships or rituals to make sure their babies have the best chance of growing up.
It's important to note that deep-sea ecosystems are still not fully explored, and new discoveries are continually being made. The extreme conditions and the lack of sunlight make these ecosystems fascinating and unique, with adaptations and species yet to be fully understood by scientists.
Ocean Literacy Principles
When aligning your coursework with the Ocean Literacy Principles, there are specific standards that focus on the "deep sea." These standards emphasize the significance of comprehending the deep sea and its ecosystems. It's important to note that besides these mentioned standards, there are additional standards that can also be fulfilled.
Grades 6-8
Principle 5, A6: Ecosystems, such as deep-sea vents and cold water seeps, depend on chemosynthesis — a process similar to photosynthesis, but with a different energy source — for primary productivity.
Grades 9-12
Principle 5, C11: Most marine bacteria are heterotrophs that break down detritus and recycle essential nutrients back into the environment. Some symbiotic bacteria are responsible for the bioluminescence of some deep-sea fish and squid.
Principle 5, C38: Some marine organisms have strategies and/or structures for finding food in the vast ocean where there is: varied abundance of food in specific locations like in coastal regions and upwelling zones; or scarcity of food in large expanses like the open ocean and deep sea.
Principle 5, C39: For exploiting patchy distribution of food, some strategies include: migrating long distances (e.g., Gray whales, chambered nautili, and zooplankton); and having fat reserves (e.g., marine mammals and sea birds). For surviv­ing in environments where prey are hard to find, some strategies include: having large stomachs and mouths (e.g., deep-sea hatchet fish and gulper eels) to take advantage of prey when they find it; and hydrodynamic tuna that chase down prey at high speeds.
Principle 5, C54: These strategies include: using multiple environmental cues, such as day length, tidal cycles, seasonal variations in current patterns, to synchronize their breeding or spawning cycles (e.g., grunions, elephant seals, and butterfly fish). For species that have external fertilization, females and males produce millions of eggs and sperms (e.g., sea urchins, squids); and for deep sea and pelagic species, producing bioluminescent signals to attract mates (e.g., some pelagic octopuses).
Related Educational Resources
Khaled bin Sultan Living Oceans Foundation Education Portal
Our Coral Reef Ecology Curriculum offers an engaging way to explore educational concepts. Students can dive into Unit 2 to learn about hard and soft corals, Unit 4 to understand coral feeding through symbiosis and photosynthesis, Unit 7 to explore warm vs cold-water corals, Unit 10 to discover bathymetric features of the ocean, and Unit 16 to delve into food webs and different feeding strategies, including photoautotrophs and chemoautotrophs.
Deep sea experts, NOAA Ocean Exploration, Ocean Exploration Trust, and Schmidt Ocean Institute teamed up to make ocean exploration education more accessible to educators and learners of all ages by combining resources to learn about and participate in ocean science and exploration.
Monterey Bay Aquarium Resources Institute (MBARI)
Contains a variety of resources about the deep sea, including lesson plans, an interactive deep sea guide, and multi-media and information about deep-sea organisms.
Ocean Networks Canada provides lesson plans and educational resources on various ocean-related topics, including the deep sea. Their lesson plans cover subjects like deep-sea exploration, hydrothermal vents, and underwater mapping.
This website has many resources about deep sea creatures and ecosystems for all grade levels. The link above includes a search for the term "deep sea."
This monthly show is hosted by Thom Linley, a deep-sea fish expert and advocate. Hear about cutting-edge deep-sea science and technology.
THE DEEP SEA is an educational, interactive online platform for ocean exploration and discovery, utilizing high-resolution video, models, and descriptive materials of newly discovered deep-sea ocean species and environments observed during science expeditions aboard research vessel Falkor with the underwater robot (ROV) SuBastian. The virtual aquarium allows users to explore deep-sea ecosystems that cannot be observed in a traditional aquarium setting, such as hydrothermal vents, whale falls, and interactions with 3D models of newly discovered species.
OTHER RESOURCES