Tips for Success
Each year we receive hundreds of pieces of artwork. How do you make yours stand out against the rest? Make sure to read these tips and review the Grading Rubric before creating your artwork.
Research the Theme
Before creating your artwork, make sure that you research the theme. Your artwork will be judged on how well you understand the theme and portray this information in your art. Keep in mind that even if you create a beautiful piece of art, but the theme is not present, you will not win.
Learn Something New
Often participants choose an obvious topic to portray in their artwork. For example, during our 2020 contest "Take Action: Conserve Coral Reefs," we received a lot of artwork about how to reduce plastic pollution, but few on more effective conservation measures such as creating marine protected areas or establishing nearshore fishing regulations. Although this is fine, we would like to encourage you to learn about something new that might open up more creative pathways. Also, choose a topic that you are passionate about. Think about how your artwork can educate and inspire others to conserve marine ecosystems.
Write a Good Description
The written description, or artist's statement, is very important. The description may be the difference between you getting third or fourth place, or even being considered a finalist at all. Sometimes the judges look at a piece of artwork and they can't quite figure out what the artist is trying to portray. Once they read the written description, they say things like, "Oh wow! I never would have understood what the artist was trying to show unless I read the description." Please make sure to explain what it is that you want the viewer to understand about your artwork and how it relates to this year's theme. When writing your description try to answer these questions:
How does my artwork relate to the theme?
What would people not know about my artwork without a written description? (For example, describe symbolism and the use of color, texture, or contrast that might have meaning, etc.)
What message am I trying to represent in my artwork?
Here is a good example of a beautiful piece of artwork that includes a great description. The theme was "Why Coral Reefs Matter."
Written Description: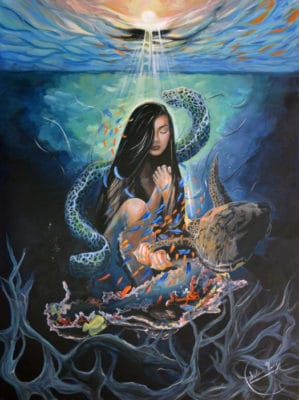 "Coral reefs provide beauty and life. The girl personifies the last coral in a vast empty ocean. Coral reefs provide oxygen and habitats that are vital for fish and other animals to live. They are also the most biodiverse water ecosystem. This is demonstrated by the diverse life surrounding and flocking to her in hopes of finding a home and oxygen. Light illuminates on the last coral reef symbolizing the potential hope for revitalizing coral reefs. Life only exists around the coral reefs and the ocean, not near her is void and desolate. There is a stark contrast between where there is coral and where there is not. Where there are coral reefs, there is life, beauty, and diversity. Where there is not, there is vast dark emptiness."
In the description, the artist shows that she understands why coral reefs are important. She states that the corals provide oxygen, habitats for animals, and biodiversity. She also describes information about the meaning of her artwork. Without the written description, you would not know that the girl represents the last coral reef. She explains how darkness symbolizes emptiness and the light symbolizes the life and diversity of the coral reef. It is always a good idea to have someone else look at your artwork and review the description. It is likely that if they don't know what you are trying to show in your artwork, neither will our judges.
NOTE: We understand that this is an international art contest and English may not be your first language. For this reason, spelling mistakes and incorrect grammar will not impact your score.
Portray the Theme
Every year we receive lots of beautiful pieces of artwork, but sometimes the art has nothing to do with the theme. We can't emphasize enough that you must make sure that the theme is reflected in your artwork. Your artwork should illustrate the theme and the written description should help explain how your artwork relates to the theme. If the theme is not present, then you will not win.
Be Original
Creating a beautiful piece of artwork isn't enough. The artwork should be unique, original, and compelling. Your artwork should evoke some type of emotion from your viewers, or make them think deeply about the issue you portray. Think "outside of the box" and use your own creativity to develop a unique art piece. Sketch an outline of what you plan to do and ask others to critique it before you start creating your artwork.
Don't plagiarize. Plagiarism is the use of someone else's work, either word for word or with the ideas in the same order. All descriptions must be in your own words. Additionally, artwork must also be your own idea. Drawing a character from a cartoon or movie is not considered an original work, nor is copying someone else's artwork idea.
View past winners to see what types of artwork have won in the previous years, but do not replicate their ideas. The judges are familiar with past submissions and will be looking for this. Try to create something that is new and unique. Avoid ideas that have been submitted in the past to our contest, or to other contests.
Please try not to base your art on these themes, as they are now overused:
Bottles
Hands holding an ecosystem
Hearts
Hourglasses
Mermaids and mermen
Mother nature figure
Make a Statement
The best pieces of artwork make a statement without saying a word. In this contest, we're looking for original pieces of artwork that make a bold and compelling statement illustrating this year's theme. Often, that can be done without words, but as long as the phrases being used in the artwork are not plagiarized or created digitally, then words can be used in your artwork. Keep in mind that words can distract from the artwork. Sometimes it is best to let the visual image speak for itself.
Keep it Clean
Make sure that your artwork is clean and neat, and clear of any tears, smudges, or smear marks, as this will impact your final score. Also, make sure that the art that you are submitting isn't offensive or inappropriate. The first round of judging will be done using only the digital version of the artwork you upload on the application form, so make sure to take a high-quality scan or photograph to show off your work in the best light. For tips on how to photograph, scan, and upload your artwork, see Digitizing Artwork.