Last week, we proudly announced the finalists in the ages 11-14 category of our 2022 Science Without Borders® Challenge. Today, we are excited to announce the 15-19 year-old finalists of our art contest.
Contest finalists are from China, Indonesia, Korea, Thailand, the United Kingdom, and the United States. The theme, "Ridge to Reef" was portrayed in the students' artwork through a variety of different actions such as planting corals, cleaning up pollution, preventing overfishing, and planting trees. We were amazed by these students' creativity, execution of the theme, and artistic abilities.
Without further ado, please meet our 15-19 year old finalists:
"When Water Flows from Ridge to Reef" by Xixi Yu, Age 16, California, United States of America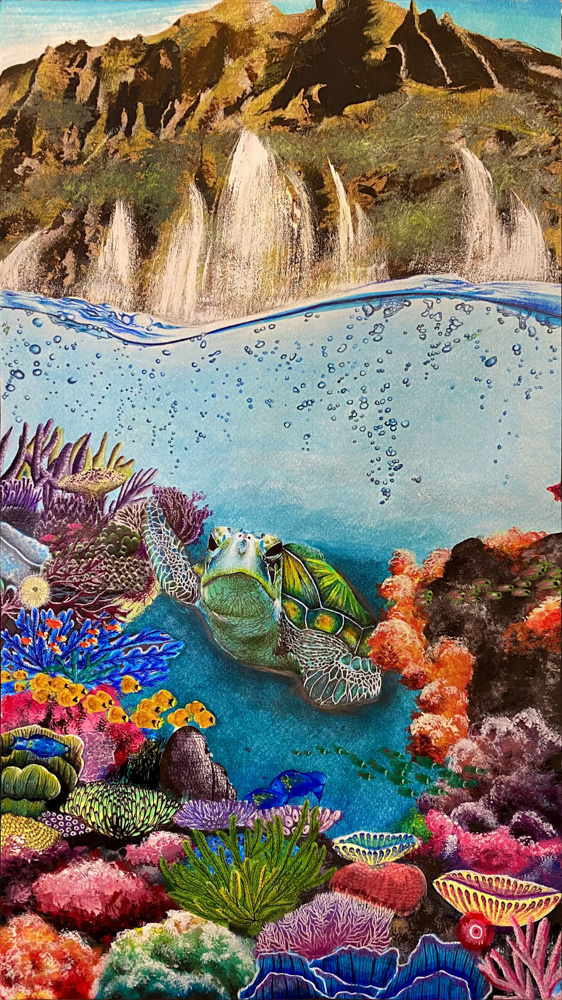 Picture 17 of 17
ARTIST'S STATEMENT: Water itself has no life, yet it cultivates countless lives. The biodiversity of the underwater world and the quality of their growing environment are indivisible from the purity of their water source. Clearwater, free of any pollution or sediment, allows corals, turtles, and various species to thrive. Therefore, natural water drainage in the concept of "Ridge to reef" protection of coral reefs seem to be a highly viable approach. Thus, I constructed a scene of a natural river meandering down from a ridge peak, forming several waterfalls that fall into the lake. A sea turtle swims around many coral reefs which each have different pigment and configuration while some minor schools of fish interact around them. Such a harmonious scene is the outcome of this resolution in my idealization. This approach brings clear water into the lake that houses the many diversities that nurtured and thrived.
Stay tuned! We will announce the winners in the next couple of weeks.
Explore all our latest news from the field