The Khaled bin Sultan Living Oceans Foundation is pleased to announce the finalists of the 2022 Science Without Borders® Challenge, our annual student art competition. This year we asked students to create a piece of art that illustrates one or more actions that governments, non-profits, park managers, and indigenous communities can take to preserve coral reefs using a ridge to reef approach to conservation. We are thrilled with the entries that we received!
We received 510 qualifying pieces of artwork from 49 different countries, so picking the finalists was a difficult decision. Ultimately, finalists were chosen based on how well the artwork exemplified this year's theme, the quality of the artwork, and the creativity and originality of their artwork.
We hope you will be as impressed with the submissions we received as we were. Without further ado, here are the finalists for Ages 11-14 of the 2022 Science Without Borders® Challenge:
"Restoration" by Emily Zhang, Age 13, Canada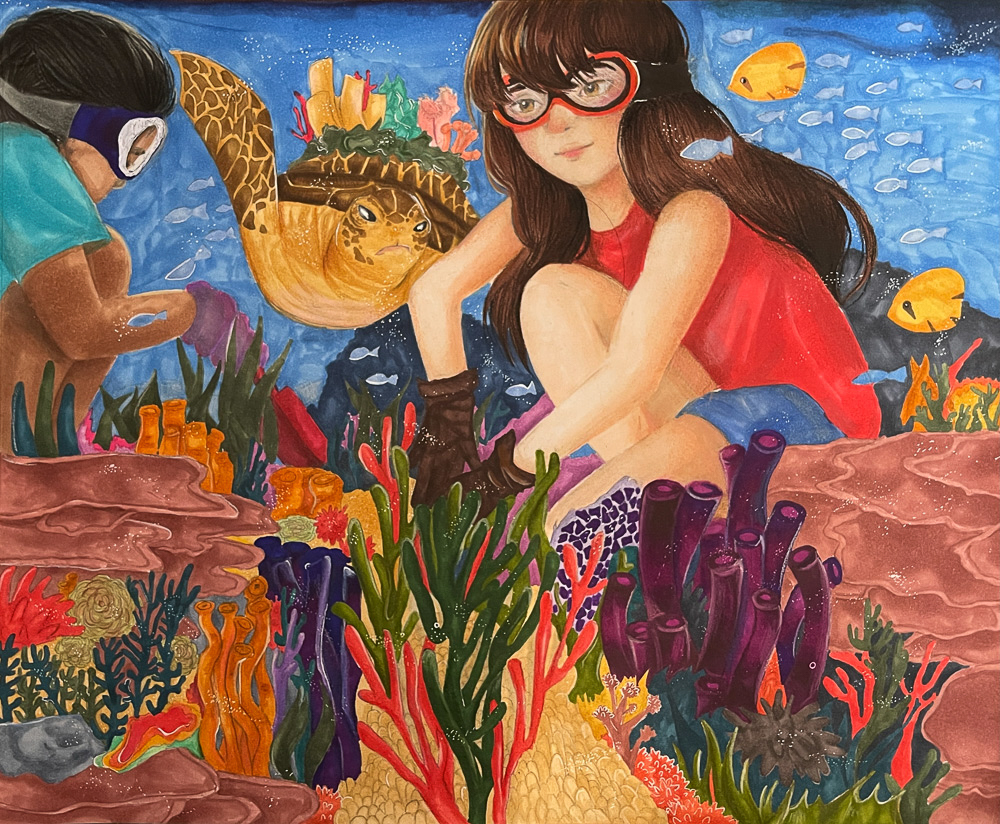 Picture 1 of 15
ARTIST'S STATEMENT: When habitats are destroyed by human activity, restoration efforts are needed to return them to their original condition. In marine ecosystems, this process of renewal is made possible when ocean plant life is transplanted and encouraged to grow. In my piece, we see two characters engaged in the process of coral reef restoration. The work being done in the background reveals the result of their efforts in the foreground. The bright greens, reds, and purples of the foreground attract our attention, but then lead our eyes to the background work which made these colours possible. A sea turtle can be seen swimming between the characters, with coral reef on his back, representing the need to work with nature and not against it.
Stay tuned to find out who the finalists are from students in our 15-19 year-old category!
Explore all our latest news from the field