On the Global Reef Expedition, our team of scientists assessed the reef fish populations in both fished and remote locations to help identify if reef fish were being overexploited. This type of research is important for the health of the coral reef ecosystem, but also for the people who depend upon them.
An estimated six million fishers in 99 countries and territories target reef fish species for sustenance and subsistence. The world's reefs produce 10-12% of the fish caught in tropical nations and 20-25% of the fish caught in the developing nations of the Pacific, Indian, Middle East, and the Caribbean. Across the tropical Pacific nations, it is estimated that 90% of the daily protein consumed by local communities comes directly from adjacent reefs. With so many people relying on reef fish for their daily lives, managing fish stocks is imperative.
Some studies suggest minimum reef fish biomass targets should fall between 1,195 and 1,900 kg per ha (or 11-19 kg per 100m2) to help maintain sustainable reef fish populations and help maintain critical ecosystem services, food security, and resilience of coral reefs. In most locations, we found the fish biomass fell at or below this.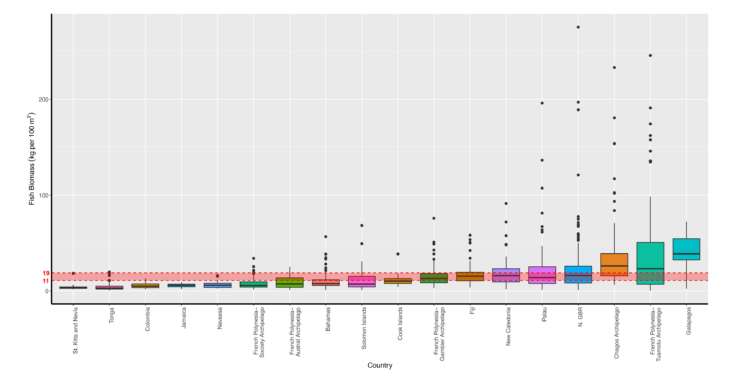 Colombia, Jamaica, Navassa, St. Kitts and Nevis, Tonga, and the Society and Austral Archipelagoes of French Polynesia all fell below the suggested threshold; The Bahamas, Cook Islands, Solomon Islands, and the Gambier Archipelago of French Polynesia fell within the range. When we completed these surveys, many of the countries that had low fish biomass lacked substantial reef fisheries management and will need aggressive regulations and enforcement to prevent the reef fish populations from declining further.
One important finding from our surveys was that across all Pacific Ocean locations, the most economically important species were less than 20cm in length. This indicates that the larger reef fish in these families are being overexploited and could have long-term repercussions on reef fish populations in the future. The locations with the largest fish had the highest protections in place. Areas such as the Chagos Archipelago and Galapagos are both highly regulated with either no-take, no-entry, or highly permitted and enforced fishing practices.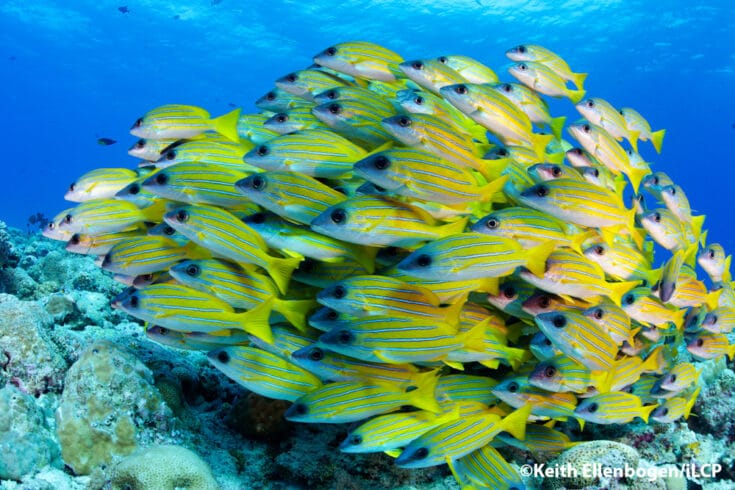 There are many ways reef fish biomass can be managed and maintained in a way that benefits both the reef fish and the people relying on the reef fish for sustenance and subsistence. Creating and enforcing management practices such as size and catch limits to ensure the larger fish are being preserved, local closures against fishing during spawning to help maintain a suitable fish population, or establishing no-take, no-entry areas can help bring fish populations to a more sustainable level.
Our reports from the Global Reef Expedition can help reef managers assess the state of fish on the reef. They also provide valuable baseline data to managers to see how reef fish populations change over time. For a more in-depth look at our findings, read our Global Reef Expedition Final Report.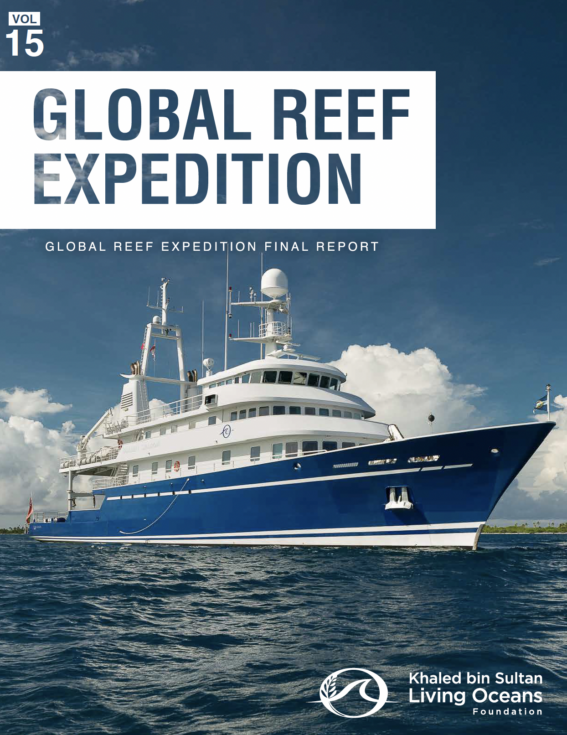 Global Reef Expedition Final Report
Learn more in the Global Reef Expedition Final Report. Over the course of ten years, the Khaled bin Sultan Living Oceans Foundation circumnavigated the globe studying the health and resiliency of coral reefs. This report summarizes our findings from that research mission, provides valuable baseline data on the status of the world's reefs at a critical point in time, and offers key insights into how to save coral reefs in a rapidly changing world.
Explore all our latest news from the field