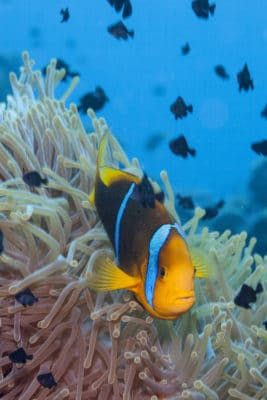 French Polynesia was one of the most magnificent countries we studied on the Global Reef Expedition. While there, we experienced first-hand some of the most beautiful coral and fish communities in the world. There are times, though, when the data analysis back in the office really shows the true conditions of the reefs. In the case of French Polynesia, we found the data highlighted how remarkable the fish community was in the Tuamotu Archipelago.
We discovered that the reefs in Tuamotu had the highest species richness, density, and biomass of fish in French Polynesia. The Tutamotu Archipelago had more rare species and a higher abundance of larger sized fish than the other areas we visited in French Polynesia. Our data also showed this archipelago had the highest abundance of economically important species and top predatory fish such as sharks, groupers, and barracuda. On a global scale, this was some of the highest recorded on the Global Reef Expedition.
These findings are particularly important because a productive fish community often translates to an overall healthier coral reef. A diverse fish community, both in fish size and number of species, helps maintain a balanced reef ecosystem, oftentimes through what they eat. Small herbivorous fish consume fleshy macroalgae from the substrate, which can take up valuable real estate, preventing coral recruitment and growth. Slightly larger omnivorous and carnivorous fish often eat other smaller fish or invertebrates that, if unchecked, may overconsume other reef organisms or have a negative effect on the reef ecosystem. Maintaining a balanced healthy food chain is vital to the success of the reef, so seeing a thriving reef fish community in Tuamotu was exciting.
The Tuamotu archipelago is also a notorious aggregation site for breeding groupers, bringing in fish from the surrounding islands. The site also attracts many other smaller fish as well as predatory fish and sharks who come here to prey on the grouper and gametes. We actually made a film about this phenomenon, Sharks of the Coral Canyon, which I highly recommend checking out.
Overall, the fish communities of French Polynesia were excitingly diverse and abundant, with a notable presence of economically important and predatory fish. With the continued enforcement and adaptation of the current management strategy, we can be hopeful these reefs will continue to flourish for generations to come!
Photo: ©Michele Westmorland/iLCP
---
Explore all our latest news from the field