Sharks of the Coral Canyon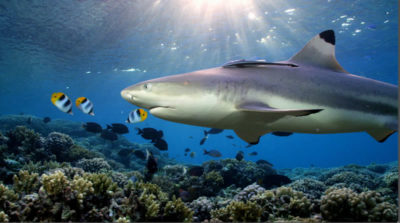 Sharks of the Coral Canyon tells the story of how sharks and coral reefs are intricately linked. It follows one of the largest marine science studies in history as researchers work to uncover the inner workings of pristine coral reefs, including the predators. The film tracks scientists as they venture into ferocious ocean currents to reveal first time ever footage of sharks hunting at night, as well as brand new shark hunting behavior. The film witnesses a rare natural spectacle involving thousands of large fish trying to lay their eggs and simultaneously survive a shark onslaught. The film uncovers how two of the most threatened groups of animals in the ocean, corals and sharks, depend on one another, and must be protected together if either of them is to survive into the future.
The film is now airing under the title Mysteries of the Coral Canyon on PBS, check your local station for listings.
Awards
Winner, Suncoast Emmy® Award, Best Environment-Program, 2015
Finalist, Best Exploration and Adventure, Blue Ocean Film Festival, 2014
Finalist, Best Marine Life Film, Blue Ocean Film Festival, 2014
Winner, Davey Award, 2014
Selected for Screening at Wildlife Conservation Film Festival, New York 2014
Winner REMI, Worldfest, Houston, 2014
Screened at Blue Bahr film festival in Beirut, Oct 2015
Sharks of the Coral Canyon Hangout
Want to learn more about Sharks? Watch our Google Hangout, Shark Byte! The feeding strategies of reef sharks, featuring shark scientist Dr. William Robbins, the star of Sharks of the Coral Canyon.