Expedition Log: Maldives – Day 2
In May of this year we began receiving emails from marine biologists based in the Maldives requesting assistance to manage the growing crown of thorns starfish (COTS) populations. Although COTS have been seen here before in very small numbers, for the first time, their populations seemed to be booming out of control. COTS were becoming a regular feature on many resort house reefs and after large and noticeable losses of coral and a few nasty guest injuries, these resorts knew something had to be done. Luckily, the marine and conservation community in the Maldives is very active and many resorts are equipped with several highly experienced and knowledgeable resident marine biologists who are responsible for watching and taking care of their reefs.
The first resort we worked with was Gili Lankanfushi. This small, but beautiful island paradise has the capacity for approximately 100 guests, a full range of water-based activities on offer and a picture postcard backdrop. The two resident marine biologists, Deborah Burn and Josie Chandler, work every day to educate and excite the guests on all aspects of marine life, conduct reef surveys, ID manta rays and maintain a coral regeneration program amongst other things. After removing over 100 COTS from the reef, they realized they were facing an outbreak.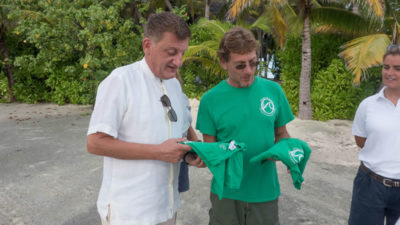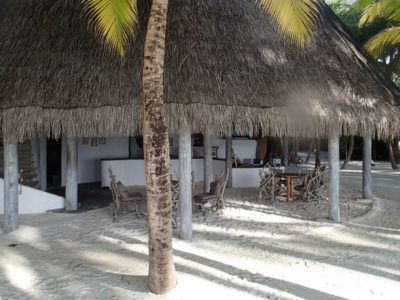 Steven Phillips, General Manager Gili Lankanfushi Resort, and Dr. Andrew Bruckner, Chief Scientist for Living Oceans Foundation (left) and the Marine and Dive Centre at Gili (right).
When we arrived, equipped with our removal kits and enthusiasm, we were amazed at how supportive and welcoming the Gili team was. We were met at the dock by the marine team, and whizzed up to the resort's marine centre where we soon became part of the team. We set up our "office" on a picnic table on the white sand, surrounded by palm trees and wildlife. We are joined by one or both of the marine biologists when we dive the reef, to assist us with collecting or transferring the COTS onto the boat. Each time we bring our COTS haul up to the beach we are swarmed by other staff members who eagerly want to help, ask questions about these animals and understand how serious this problem really is.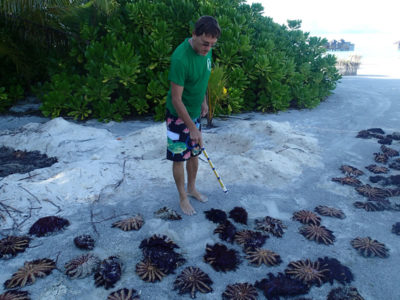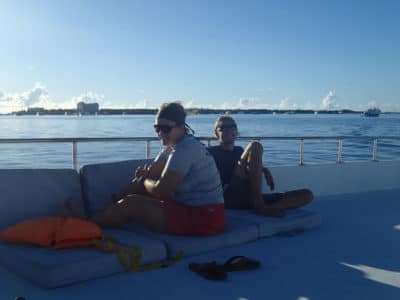 Dr. Andrew Bruckner counts COTS on the beach (left) and the LOF Science Team enjoys the view while taking the ferry to Gili (right).
The Khaled bin Sultan Living Oceans Foundation team would like to thank Gili Lankanfushi Resort, their managers, the marine team and all the other staff that are being so supportive and accommodating for our research.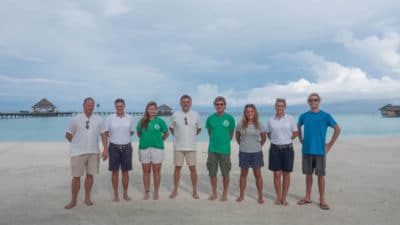 The Gili-LOF COTS collecting team.
Explore all our latest news from the field