Expedition Log: Maldives – Day 1
From the window of our airplane, I gaze in amazement at the expanse of high rise buildings crowded onto the tiny, low lying Indian Ocean island of Male, the capital of Maldives. Home to nearly half of the country's 328,000 people, crowded together in an area of 1.8 km2, this metropolis is a buzz of cars, motorbikes and water taxis. Dozens of ferries and speedboats line the wharf, providing the main mode of transportation between islands.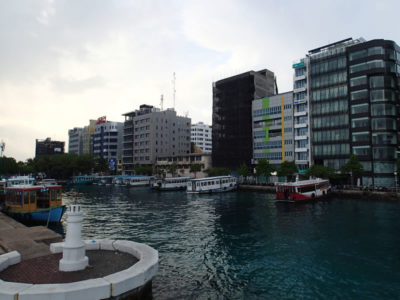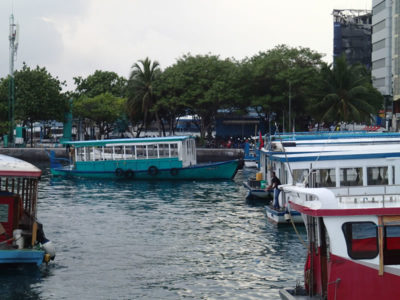 Male waterfront lined with high rises and filled with ferries.
We land on the neighboring island of Hulhumale, a completely man-made patch of rock and sand first constructed in 2004 and now home to a rapidly expanding residential area and the international airport. Male and Hulhumale are located at the southeastern end of North Male atoll (Kaafu Atoll). Dozens of other islands encircle the atoll, most each home to a luxurious resort, water villas, uninhabited stretches of coconut palm and sea grape lined sandy beaches, sea grass beds, and coral reefs.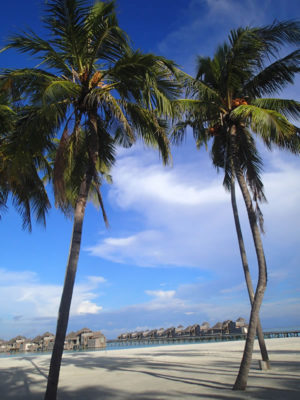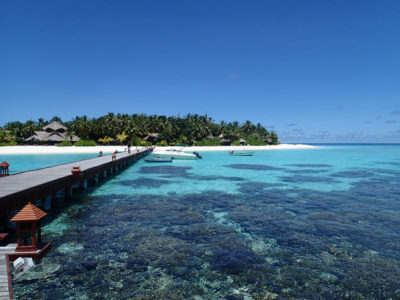 Coconut palm beach and water villas at Gili Lankanfushi luxury resort (left). / Coral surrounding Banyon Tree resort (right).
North Male atoll is one of the Maldives 26 atolls. The atolls form a double chain extending 900 km north-south between latitudes 1° S to 8° N. In total, there are 1,192 islands spread over an area of about 90,000 km2, but only 192 are inhabited. These islands are the lowest in the world, with a maximum elevation of 2.4 m and more than 80% which are less than 1 m above sea level.
The Maldives is home to the seventh largest reef system in the world. Because more than 80% of these islands are made of coral, and reef-based tourism is the predominant source of economy and employment, coral reefs are critical to the survival of the Maldives. In recent times the reefs have been badly damaged during mass bleaching events, but recovery has been fairly rapid. Potential degradation due to predicted temperature stress from the current El Nino event is disconcerting, as particularly severe outbreaks of crown of thorns starfish (COTS) have plagued many areas.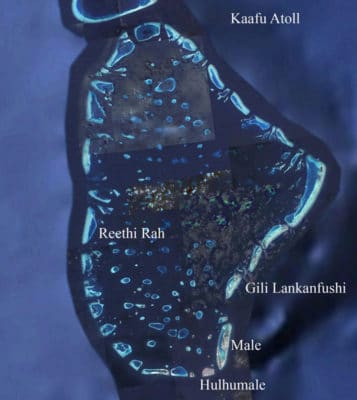 Targeted locations for SCAR program in North Male.
To help reduce ongoing coral losses from COTS, our team of scientists is implementing the Starfish Control and Removal Program (SCAR) in the Maldives. Over the next few weeks, we'll tell you more about our efforts and successes here as we undergo this COTS venture.
Photos by Andrew Bruckner
Explore all our latest news from the field