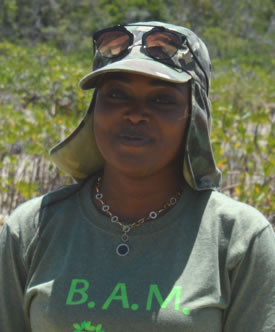 A guest blog by: Cassandra Abraham 
Education Officer 
Friends of the Environment
Mangrove Education and Restoration Program Blog
Mangroves are one of the most productive ecosystems in the world. In small island nations like The Bahamas, where most people thrive off fisheries, mangrove ecosystems serve as the lifeline for this vital industry. However, not everyone understands this dynamic. This is how projects like The Bahamas Awareness of Mangroves (BAM), and organizations like Friends of the Environment can and do play a big role. Friends of the Environment is a nonprofit non-governmental organization that focuses on environmental education heavily geared towards not just schools, but also communities and visitors. The BAM project helps students not only to understand the importance of mangroves, but it has also helped to foster an appreciation for them.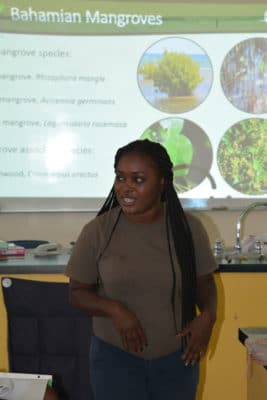 Cassandra Abraham teaching students about the types of Bahamian mangroves.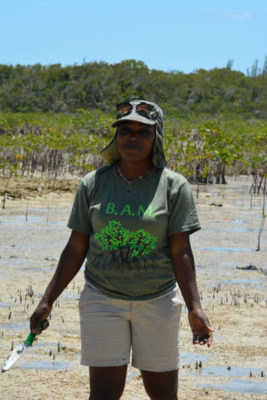 Cassandra Abraham plants mangrove propagules during the B.A.M. restoration at Camp Abaco.
On our very first mangrove expedition with the students, they were not excited about walking in the "stinky mud." I can distinctly remember one student in particular screaming out "Ms. Cassie? Ms. Cassie?" In a panic I turned around thinking that she was hurt, but instead was greeted by a big smile and an even louder outburst "This feels so REAL."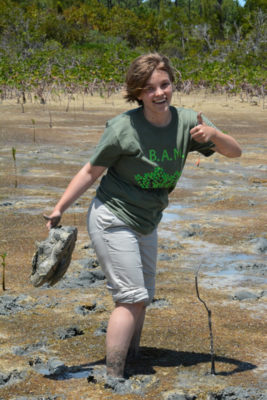 Even after sinking in the mud, this Forest Heights Academy student is excited to plant her mangroves.
This was a great moment for me. Yes, this student was taught all about mangroves in her classroom, but for the first time, she was able to connect to this ecosystem that previously only existed for her in books and dull discussions.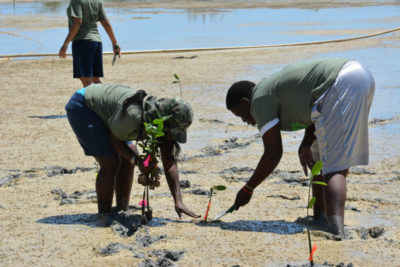 Casandra Abraham helps a student from Abaco Central High School plant mangrove propagules.
Baba Dioum said "In the end we will conserve only what we love, we will love only what we understand, we will understand only what we are taught." This is so true! With programs such as BAM, we are helping students to love and appreciate the functions and values of our natural resources. These students are going to be the future leaders of this country. We must therefore ensure that we are not only handing over our precious resources in good condition, but we must also ensure that they know how to take care of them.
Explore all our latest news from the field