The Khaled bin Sultan Living Oceans Foundation is bringing marine science education to students around the world through our new Coral Reef Ecology Curriculum. This custom-built online platform contains educational videos, interactive exercises and games designed to educate people about life on coral reefs. It is free to anyone with an internet connection. Try it now to be one of the first people to get full access to this state-of-the-art educational resource.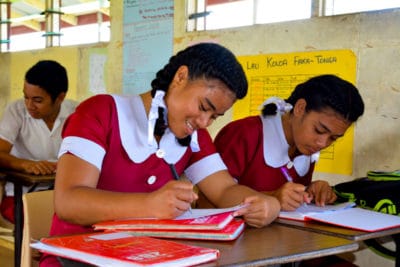 These innovative coral reef education materials engage and inspire students
to learn about coral reefs and to become stewards of this vital ecosystem.
'Our marine science curriculum provides an exciting opportunity for students, teachers, and the general public to explore the natural world of coral reefs' says Amy Heemsoth, Director of Education at the Khaled bin Sultan Living Oceans Foundation.
The new Coral Reef Ecology Curriculum uses marine science, conservation, and coral reefs as examples to teach broad themes relating to the natural world and our environment. The development of the curriculum is part of the Foundation's broader mission to improve ocean health through science, outreach, and education.
'The complexity of environmental problems today creates barriers for effective public engagement in policymaking,' says Captain Philip Renaud, Executive Director of the Khaled bin Sultan Living Oceans Foundation. He continued, 'Our new Coral Reef Ecology Curriculum knocks down those barriers through a fun and interactive learning platform. Best of all, it's free.'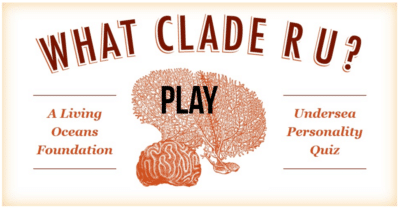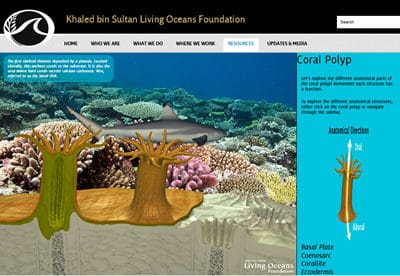 Interactive elements of the new Coral Reef Ecology Curriculum
The Khaled bin Sultan Living Oceans Foundation developed the curriculum to improve ocean literacy by incorporating marine science into everyday subjects. Most lessons target S.T.E.M. (science, technology, engineering, and math) subject areas, but it includes many lessons appropriate for English and art classes as well. All of the lessons are aligned to the latest educational standards including the Common Core State Standards, Next Generation Science Standards, and Ocean Literacy Principles.
The Coral Reef Ecology Curriculum promises to be a great resource, especially for middle and high school science teachers, but it is a useful teaching tool for anyone interested in learning about coral reefs. Teachers can download worksheets, get ideas for fun and instructive classroom activities, and track the progress of each of the students in their class. Students and life-long learners can test their coral reef knowledge with interactive quizzes, earn badges, and learn at their own pace.
'By educating people about the ocean, we hope to inspire them and give them the knowledge and understanding they need to become lasting stewards of our shared marine resources,' said Ms. Heemsoth.
SIGN UP!
To learn more and sign up for a free user account, visit: www.lof.org/CoralReefCurriculum
Explore all our latest news from the field