Our Global Reef Expedition is one of the largest coral reef studies ever undertaken. Throughout the entire mission all our research is supported by the research vessel M/Y Golden Shadow. Now at 20 years old, Golden Shadow is required to undergo a series of inspections, surveys and thorough maintenance to ensure that the ship and machinery are in good condition. This detailed survey requires the vessel to be out of the water for just over a month.
Why is Golden Shadow Dry Docked?
And so that is why Shadow, as she is affectionately known, is in the Captain Cook Graving Dock in Sydney Australia, near the iconic Sydney Opera House and Harbor Bridge. There are only a few places in Australia that have the specialized facilities for a ship to be taken out of the water and dry docked. http://www.gardenisland.info/1-02-010.html
Over the coming weeks, the painting of the hull will be completed, the shafts and propellers will be fitted and the ship will be floated once more. The engines will be rebuilt and then the ship will be taken out for a day to conduct sea trials to ensure everything still works. Take a look at the photo gallery and captions to see exactly what is going on.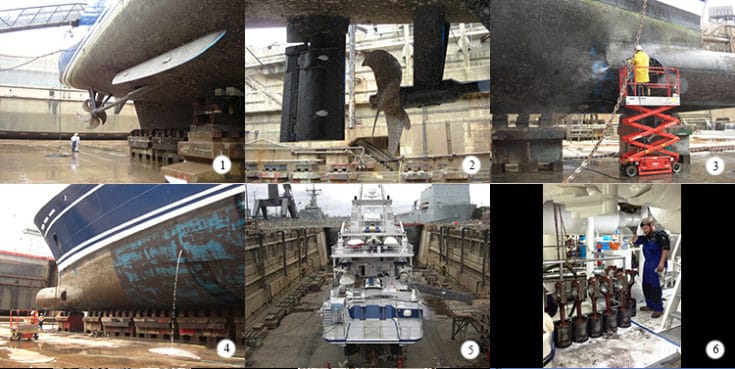 Photo 1:  20th January.  The water has been emptied and an initial inspection of the hull is being completed.  The ship sits on concrete & wooden supports, evenly distributed along the bottom to spread the weight.
Photo 2 :  One of the two rudders and propellers.
Photo 3:  The process of high pressure washing over 1000m2 of steelwork begins. This process removes the algae & barnacles, but not the existing paint.
Photo 4:  Before and after cleaning of the hull.
Photo 5:  Golden Shadow dry docked, as seen from astern.  More about this in full Gallery.
Photo 6:  Inside the engine room, one of the German technicians wipes the sweat from his brow after lifting one of the 9 pistons from the port main engine.  All of these will be taken ashore for overhaul.
Explore all our latest news from the field