In Rarotonga, I joined the Golden Shadow to research the presence and distribution of Humphead Wrasse (Cheilinus undulatus) on Aitutaki and Palmerston. I aim to collect this data to add towards a Key Biodiversity Area (KBA) analysis I've just completed with the help of the Critical Ecosystems Partnership Fund (CEPF). A KBA analysis is used for both terrestrial and marine environments. It selects sites for conservation based on whether they contain globally threatened species, restricted range or endemic species, bioregionally restricted species assemblages and/or globally significant congregations (breeding colonies etc).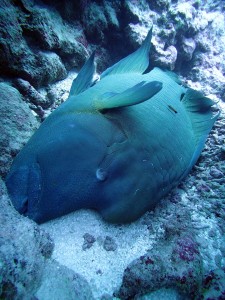 Aitutaki island has been identified as a KBA. Marine species that trigger Aitutaki's KBA status are the endangered Humphead Wrasse (Cheilinus undulatus) and Green Turtle (Chelonia mydas). Palmerston has also been identified as a KBA due to the Humphead Wrasse, Green Turtle, Loggerhead Turtle (Caretta caretta) and Big Eye Tuna (Thunnus obesus). During our time in Aitutaki, 17 Humphead Wrasse have so far been found at seven dive sites. On one dive, a Humphead Wrasse was found lying on its side getting cleaned by two cleaner wrasse (Labroides dimidiatus). It will be interesting to see what Palmerston has in store.
(Photos by Badi Samaniego)
To follow along and see more photos, please visit us on Facebook!
Explore all our latest news from the field