It's sunny and warm outside and the students are eager to learn more about mangroves. I'm back in Jamaica for phase two of the Jamaica Awareness of Mangroves In Nature (J.A.M.I.N.) project. I've returned to provide more professional development training to science teachers, educate students about the organisms that live in the mangroves and how they are interconnected, and check on the growth and condition of the mangrove propagules that the students are growing in the classroom.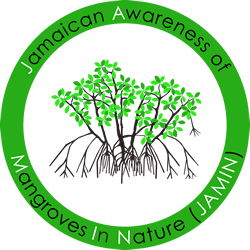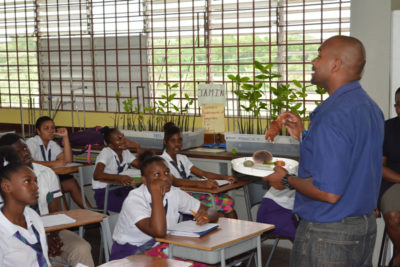 University of the West Indies partner, Camilo Trench, explains how sea stars, sea urchins, sand dollars, and sea cucumbers are part of the Phylum Echinodermata.
The last time I was here, I implemented the J.A.M.I.N. project in two high schools in the Falmouth area, Holland and William Knibb. Read more about my last trip here.
The students have been growing their mangrove propagules, a seed-like structure, in the classroom for the past five months. The propagules are definitely growing! Most have at least three leaves and they have grown several inches in height. They have even produced several roots at the bottom of the propagule (not photographed).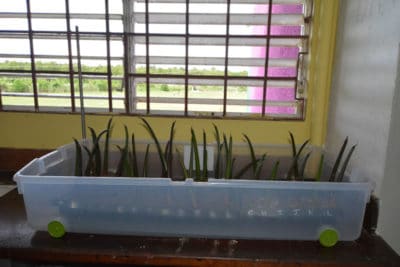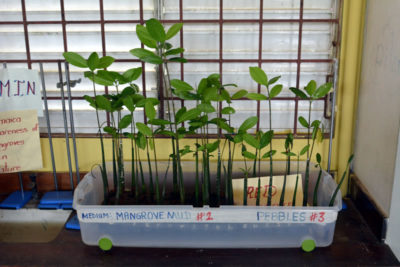 The photo on the left was taken at the beginning of the project and the photo on the right was taken 5 months later.
Since our last trip, the students have even presented the J.A.M.I.N. project to the Ministry of Education in Jamaica as part of a STEM day initiative, which several area schools took part in.
William Knibb teacher Fulvia Nugent explains, "The students were so excited and proud to show the Ministry of Education their mangrove project display. They really have taken ownership of their mangrove propagules."
It's comments like these that make me think this project is really making a difference in the lives of these students. They are the future stewards of this important ecosystem, and I believe they will protect and care for Jamaica's mangrove forests for many years to come.
Photos by Amy Heemsoth.
Explore all our latest news from the field