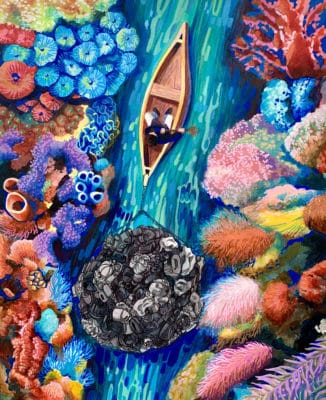 There is still time to participate in our international student art competition, the Science Without Borders® Challenge! Submit your artwork by March 1 for your chance to win up to $500.
This year the theme for the Science Without Borders® Challenge is "The Magic of Mangroves." Mangroves are extremely important ecosystems that provide many benefits, such as coastal protection, nursery grounds, and habitat. For this year's theme, we are asking students to create a piece of art that illustrates how mangroves are important.
The Science without Borders® Challenge is an annual art competition that engages students to promote the need to preserve, protect, and restore the world's oceans and aquatic resources. The international competition is open to all students 11-19 years old. First-place winners in the middle and high school categories will each receive a $500 scholarship. We strongly encourage international students to apply and look forward to judging a large and diverse pool of entries this year.
For teachers, this activity is a great way to include STEAM in their classes, especially while remotely learning. Although the contest requires students to individually apply, it is a great assignment to give to an entire class as well.
For more details, please visit our website at www.lof.org/SWBChallenge.
Do you have questions about the contest?
Join us for a Q&A session on February 11th at noon ET for a Zoom meeting where you can get your questions answered. Register for the meeting here.
To apply to the Science Without Borders® Challenge, read the Contest Rules, fill out the online Submission Form online, and upload a photograph or scan of your original artwork (along with a completed COPPA Privacy Form for students under the age of 13).
Illustration above:
"Hero and Villain"
2020 Science Without Borders® Challenge High School Finalist
By Kelly Yan, Age 17, United States
Explore all our latest news from the field