Previously, we introduced you to Cassandra Kapsos, one of our judges for our Science Without Borders® Challenge. This year, we invited a new judge to aid us with the contest, but this person is no stranger to those of us working at the foundation. Meet conservation artist, Ryan Sobel. I first met Ryan in 2013, when he was a budding high school artist. Though raised in northeast Ohio, nowhere near an ocean, Ryan became passionate about conserving the ocean.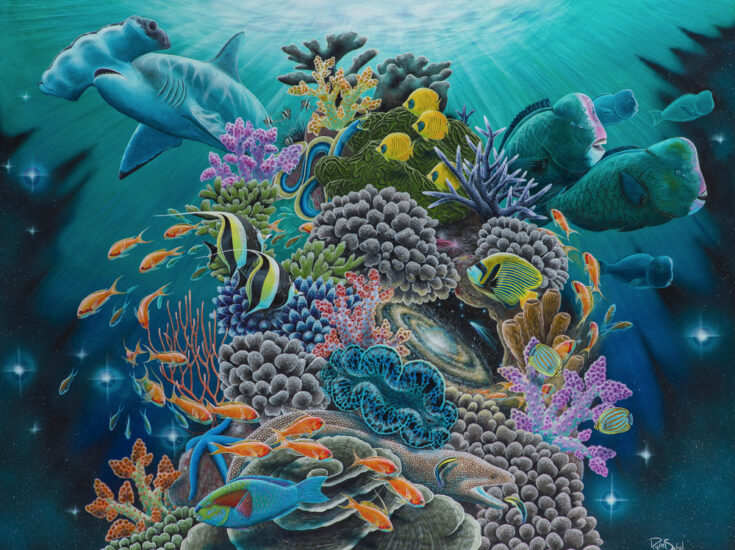 During his youth, Ryan was first introduced to the ocean through family visits to the coast of Florida, non-fiction books, and television documentaries. He explains, "Being from the Midwest, the ocean felt like an inaccessible and bizarre world full of unknowns. It was completely different than any place or landscape I was familiar with, and I was fascinated." Wanting to learn as much as possible, he made weekly visits to his local library, returning home with a stack of books on marine topics. These visits furthered Ryan's interest in the ocean. He states, "The more I learned, the more I fell in love with the ocean world."
Ryan participated in natural history-themed art programs offered by his local park district. He began taking private painting lessons from the program instructor. Being enthralled with the ocean, Ryan started painting ocean animals. Initially, Ryan painted anatomically and behaviorally accurate ocean animals to learn more about them. Before painting them, he would conduct extensive background research on the species he included in the artwork. Through his research, Ryan says, "I learned a great deal about their ecology, threats they face, and conservation status. Understanding this information led me to curve the direction of my creativity towards a conservation focus, creating works of art that would highlight certain marine animals or environments."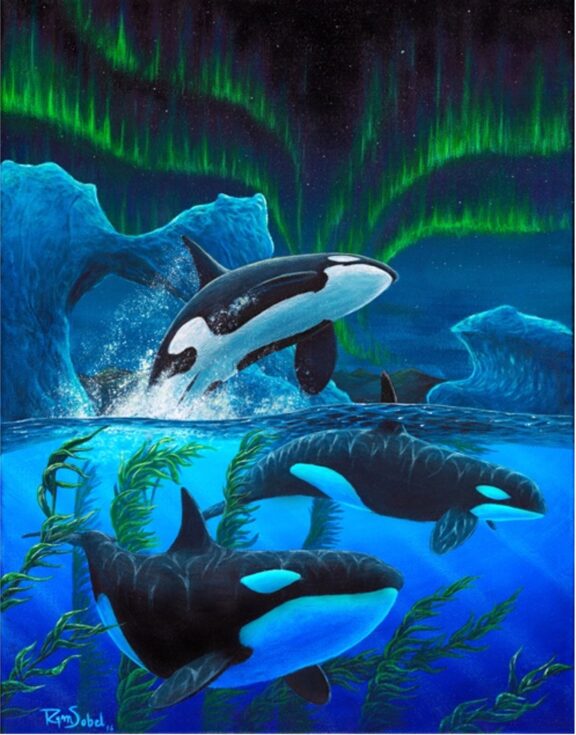 With a passion for conservation driving him, Ryan started produced more paintings. Eventually, he started to become nationally recognized for his work. During high school and the years that followed, Ryan travelled across the country to speak about his artwork and the use of creative mediums in promoting environmental campaigns and grassroots efforts.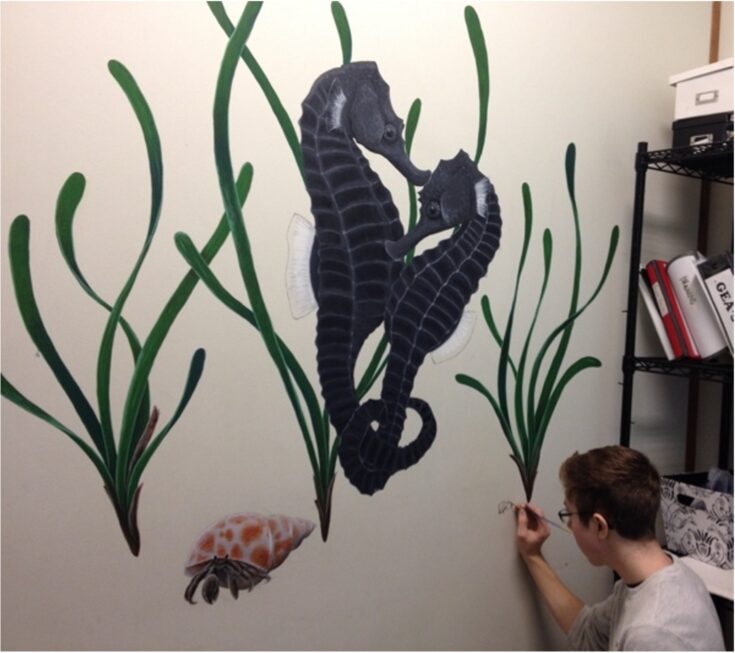 Going back to the place that first spurred his interest in the ocean, Ryan decided to attend college at Florida Atlantic University. While pursuing a Biology degree, Ryan continued his conservation efforts in Florida while working for an ecotourism scuba organization. He was actively involved in elasmobranch (sharks, skates, rays, sawfish) protection efforts throughout Florida and the Bahamas. Ryan used his artwork to inspire conservation of these majestic creatures, expressing, "People protect what they love, and unfortunately many marine species, such as sharks, didn't historically receive the conservation attention that cute or fuzzy land-dwelling animals received. If you can lead someone to see beauty in mere brushstrokes and dyes on a canvas, then perhaps through discussion, you can lead them to see the true beauty of the marine creatures depicted."

After receiving his bachelor's degree, Ryan considered becoming a conservation biologist. Instead, Ryan decided to pursue a master's degree in Biotechnology. Although he didn't pursue an ocean career, he continues to create environmental awareness through his artwork and his actions. For the past eight years, he organized and led workshops at the annual Youth Ocean Conservation Summit (YOCS) to inspire youth to use their creative talents for ocean conservation. Ryan is also illustrating a children's book that focuses on teaching youth about marine conservation issues. Now that he is has finished his final semester of graduate school, Ryan states, "I can't wait to take on additional creative projects and continue to use my artwork as a tool for environmental education."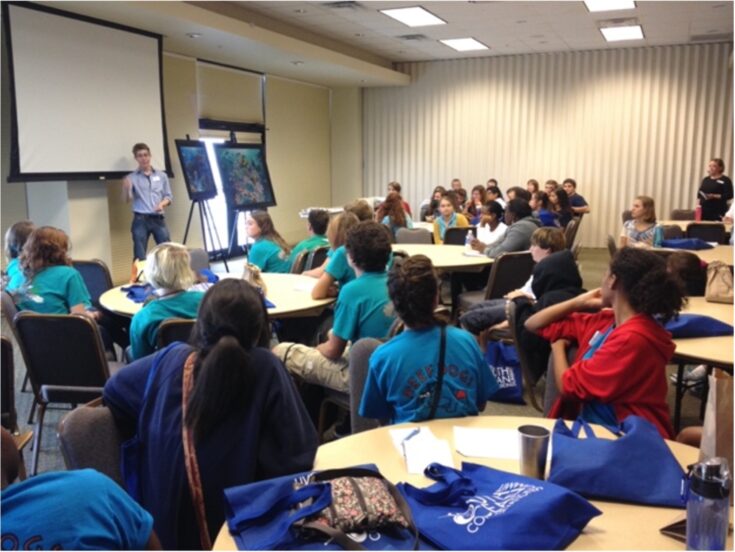 Even though his career path has changed over time, he still finds a way to contribute to conservation issues that he is passionate about. Ryan Sobel is an inspiration to us all. He proves that you don't have to have a full-time career in a particular science field to be an environmental activist. Thanks, Ryan, for volunteering to judge our student art contest and continuing to create awareness about important conservation issues!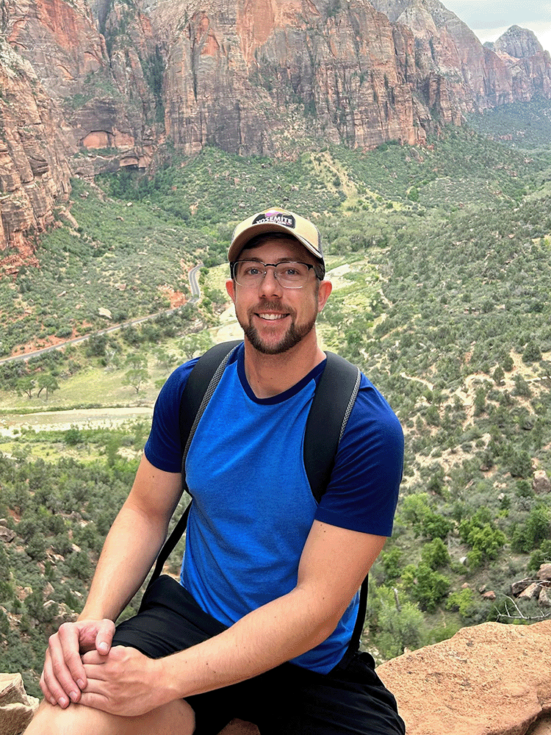 About the Artist
As an artist and science advocate, Ryan Sobel is passionate about using his artwork to communicate the beauty and fragility of nature. His career journey has included experiences in the arts, public aquariums, marine ecotourism, non-profit organizations, and most recently, the field of biotechnology. Beyond his professional life, Ryan enjoys outdoor adventures such as hiking and scuba diving, alongside his love for traveling and volunteering. Currently, he serves as the Grant Program Manager for the Youth Ocean Conservation Summit. In this position, he helps to empower youth ocean stewards, providing them with the knowledge, tools, and financial support required to launch solution-focused conservation projects within their local communities.
Explore all our latest news from the field