Have you ever dreamt of working with corals? Our interns here at the Khaled bin Sultan Living Oceans Foundation are making it happen. Meet Janelle, our newest communications intern. Read on to see how she made her way to us!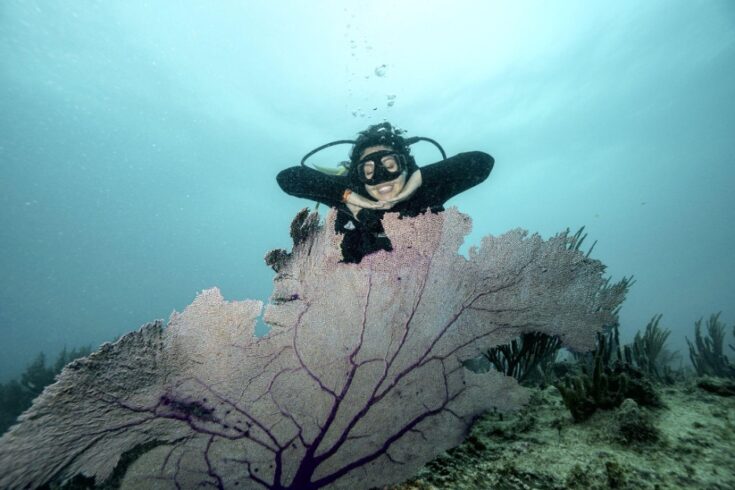 Can you tell us a bit about your background?
I have a very non-traditional background, and made my way to the Living Oceans Foundation in a pretty roundabout way. My undergraduate degree is actually in philosophy with a focus in philosophy of science.
After graduating into the recession of 2008, one of my first jobs was at a scuba shop. I had never been scuba diving and was hired to help with swim lessons, but quickly found myself partaking in the scuba classes, as well. I spent a number of years helping with scuba classes, as well as diving recreationally and volunteering in an aquarium. As part of my job at the dive shop, I would often play the 'victim' in scuba rescue classes, meaning the scuba instructor would find me a spot underwater, and I would sit still in the shallow water, waiting for the rescue students to recover me. This was where I really fell in love with the underwater world – sitting still in calm silence for up to 45 minutes, breathing steadily through my regulator, looking up at the sun shining through the kelp at the surface of the water. If you are still enough, the animals start treating you like part of their environment and will swim right up to you. I was so lucky to start my scuba career exploring the kelp forests in California, a truly remarkable habitat. Through years of diving, I really started feeling a deep desire to understand how underwater habitats are formed, and the role of ecosystem engineers within them.
I eventually changed careers and started making my way up the corporate ladder, but never stopped reading and learning about marine biology and ecology. A couple of years ago, I decided that I wanted to do something more meaningful, so I quit my job and applied for grad school. I was so lucky to be accepted into IMBRSea's program for marine resource management, and feel so lucky to now be interning for KSLOF as a part of my education!
What drew you to the Khaled bin Sultan Living Oceans Foundation?
A general interest in habitat restoration drew me to this internship. There is a lot of hype in the media about restoring coral reefs right now, which is great, but these restorations need to be backed by real science. For example, you can take lots of fragments of a coral, "plant" them, and grow a brand new reef from them, but if too many initial fragments come from genetically similar corals, your new reef may end up sterile and unable to continue propagating. Alternatively, if you're working with a species that is sensitive to temperature and pH fluctuations, your new reef may not be able to withstand climate change conditions in a few years from now. All that to say, if we don't have good data on the corals we're trying to restore, we will likely end up with a lot of unsuccessful restorations. The Global Reef Expedition was able to bring in tons of data, and fill a lot of knowledge gaps that will be vital to coral restoration efforts in the future.
Why is what you're doing important?
Simply put, we save what we love, and we can't love something that we've never even heard of. If you don't know how awesome coral reefs are, why bother trying to save them? Through this internship, I hope to make information from the Global Reef Expedition more accessible, and I believe that accessible information on coral reefs is the first step on the path to saving them.
Explore all our latest news from the field