Expedition Blog: Cook Islands – Day 8
On one of our last nights in Aitutaki we feasted on a traditional Aitutaki buffet, featuring locally grown root crops, breadfruit, spinach, bananas, salads, potatoes, free range chicken and locally caught barbequed fish. While many of the starches, vegetables and fish are staples for tropical island nations worldwide, we were concerned that the menu included both pelagic species (tuna) and reef-associated fishes (snapper). We had eaten pelagic fish at previous meals – restaurants served sailfin, wahoo, tuna or Dorado, depending on what the fishermen caught that day. Restaurants rarely seemed to serve reef fish, however.
Aitutaki is one of the areas where ciguatera is quite common, occurring in nearly all reef fish species, especially predators such as snapper, grouper, trevally, and even many of the herbivorous parrotfish and surgeonfish. We've mentioned ciguatera during our research mission to Gambier, French Polynesia, as this was where the single-celled dinoflagellate that produces the toxin was first discovered.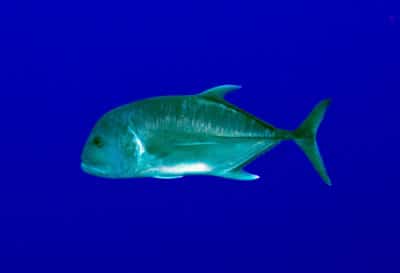 Giant trevaly (Caranx ignobilis).
While the fishermen claim to know when they can fish for reef-associated species, and they also know the locations that are presumed to be free of ciguatera, we decided to stay away from the snapper. It's probably a good thing too, as we learned that there are frequent cases of ciguatera poisoning among the locals.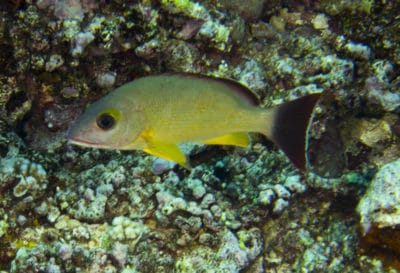 Flametail snapper (Lutjanus fulvus).
It does appear that the fear of ciguatera has stopped fishermen from targeting certain species of fish. One fish that can be highly toxic is the Napoleon (Maori) wrasse (Chelinus undulatas). This fish is highly prized, especially in the live reef food fish trade. Throughout the Indo-Pacific small, plate-sized individuals are captured live, and sent to Hong Kong where they are maintained in aquaria in restaurants until a hungry diner purchases one for dinner. A single Napoleon wrasse can fetch up to $200 in a Hong Kong restaurant, making them highly sought after by fishermen.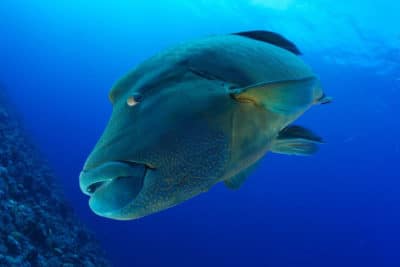 Napoleon wrasse (Chelinus undulatas) photographed in Palau.
(©Keith Ellenbogen/iLCP)
The highly destructive live reef food fish trade is one of the primary reasons these species are in trouble throughout their range. Back in 2004, they became the first coral reef fish to be listed on Appendix II of the Convention on the Trade in Endangered Species (CITES), in attempt to ensure that the trade became more sustainable. One of the largest concerns is that they are harvested at a small (8-12 inches) size when they are still juveniles. By removing all of the small individuals, they never have a chance to reproduce and thus there is no replenishment of the population.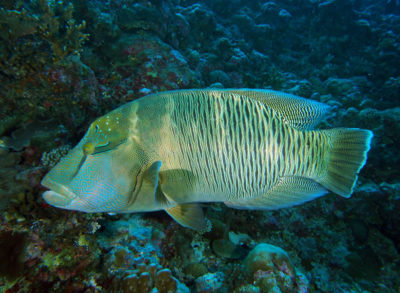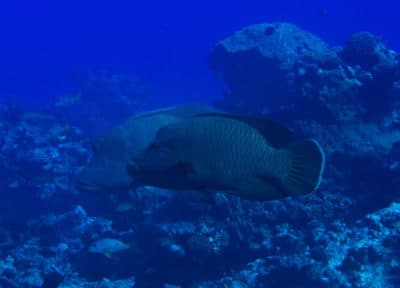 Napolean wrasse (Chelinus undulatus).
In Aitutaki, the Napoleon wrasse was the most common reef predator we recorded during our surveys. We saw at least one fish on every dive and often counted 5-10 large individuals at a time. While consumption of a ciguatoxic fish can make you very sick, and in some cases the symptoms can linger for months, this may be the primary reason why Napoleon wrasse populations are still flourishing in Aitutaki.
Photo credits: Andy Bruckner & Keith Ellenbogen/iLCP
Explore all our latest news from the field