Written by Carly Reeves
Expedition Log: Cook Islands – Day 7
We've been chasing down the crown-of-thorns starfish (COTS) here on Aitutaki for twelve days now, and I've got the scars to prove it. A spine to the leg / knee / hand does not feel good, and tends to bleed profusely. COTS are covered in venomous spines, and even after repeated cuts, collecting these deadly coral predators doesn't get any easier. Collecting COTS is no easy feat.
The weather this time of year is normally calm, but we hit a bad patch of weather that made diving difficult, so we spent some days snorkeling in the lagoon instead. Despite that, we've already collected over 250 COTS, mostly in the lagoon of Aitutaki. They're big (the largest COTS we caught was 49cm) and heavy (about 2.5kg). When we come up to the surface with a mesh bag full of COTS, it weighs almost 25kg.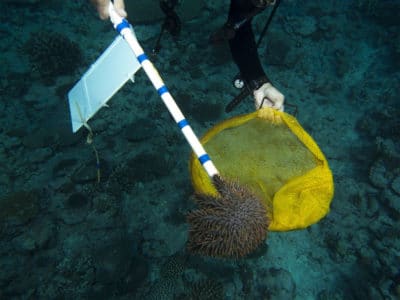 Putting COTS into the mesh bag for removal
The ideal COTS collecting tool would be something like a cross between a plastic gaff hook and a long-handled rubbish picker. But when needs must, a length of PVC pipe has proven effective enough during the expedition here in Aitutaki. A tactical approach must be taken to ensure the starfish isn't given the chance to wedge itself into an inaccessible position. Once disturbed, most COTS will 'run' for cover, backing themselves into whatever crevice is available and holding on with their thousands of tube feet. Should you fail to dislodge the animal with your first attempt, prepare for a wrestling match that may involve many seconds holding your breath and splashing about upside down. It has also been interesting to note that nearby COTS appear to be alarmed by this and begin making attempts to hunker down.
Aside from the logistics of removing and transporting the collected COTS, nature has also thrown some challenges at us here on Aitutaki. The water temperature was an unpleasant surprise, combined with mid-20s air temperature and a biting wind – our favorite part of the day quickly became a hot cup of Milo and biscuits presented by Onu, our dive boat skipper for the expedition.
The surge at some sites made collection particularly challenging. At other sites the current was almost comical. A number of our COTS snorkels have been in very shallow water, with a 'crawl and drift' approach being more effective than actually swimming.
All of these challenges cannot stand in the way of our determination to intercept the repeated devastation of local coral reefs here on Aitutaki, and despite the chilly hours spent in the water, and the grazes, bruises, cuts and punctures, it has been a rewarding experience. Aitutaki is a tropical paradise with coconut-palm lined sandy beaches, incredibly beautiful lagoon coral reef communities and surprises behind every coral head – from the spotted moray to a giant green turtle, and even whales. We have been rewarded with praise from the locals for our efforts in protecting their coral reefs, and have seen early signs of recovery on some reefs that were completely devastated.
Photos: Carly Reeves
Explore all our latest news from the field