Throughout our international student art contest called the Science Without Borders® Challenge, I have the pleasure of communicating with participants, teachers, and parents from all around the world. Numerous individuals express gratitude for the contest and share how it has increased ocean literacy and awareness.
This year, I received an email from Dr. Perry Louden, a Special Education teacher at Oakland High School in Tennessee. At first, I thought I was receiving another gratuitous email from a teacher, but as I kept reading, I realized that his students didn't enter our contest. Despite this, Dr. Louden explained how he was motivated by our contest theme to implement an art unit on endangered species and used our past contest entries to inspire his students to learn about and create their own artwork.
Later, I found out that some of the students intended on entering the contest, but due to weather cancellations, the students couldn't complete the original artwork in time for submission. Nevertheless, Dr. Louden created a classroom display for the students to showcase their artwork, which they named "No More Disappearing Acts."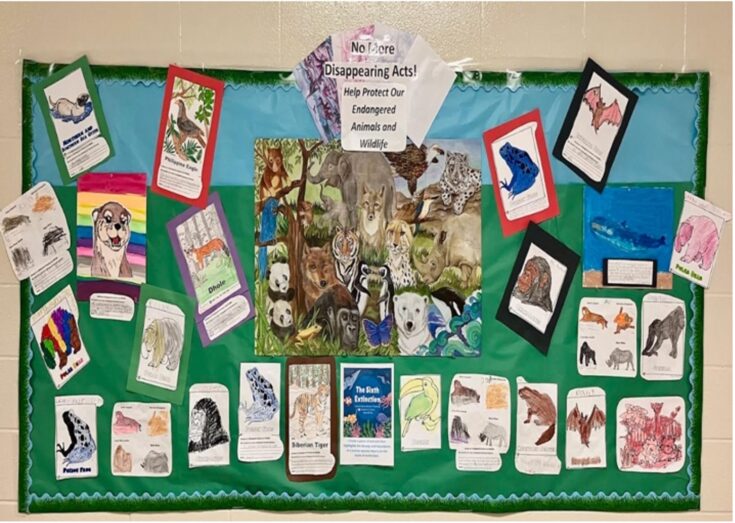 Along with his colleagues, Chrissy Dunn, Stan Joslin, Phillips Seals, and Dr. Florence Omachonu, they prepared two Special Education Core Art classes to create artwork. The group started by teaching students about extinct and endangered species. Students learned about different species by watching videos and engaged in subsequent discussions about how they can protect these endangered creatures.
To draw inspiration for their artistic creations, students examined nine years of artwork produced by participants of the Science Without Borders® Challenge. The students discussed the artwork and tried to determine the theme of some of the art pieces. Upon seeing the artwork, Mr. Seals observed, "Seeing the artwork of the animals helped pique the students' interest on the topic. It grabbed their attention and got them to focus on something in a way a simple lecture couldn't have."
When examining the artwork, students made a variety of observations, including, "They are colorful, have different things in them, and different meanings." Other students noted the conservation messages being portrayed in the artwork. They stressed the importance of taking care of the environment and wildlife with comments like "we need to help them," "give them more shelter," "take care of them," and "protect and pick up litter."
Students in these classes varied in their strengths and abilities. Some colored pre-printed animals, while others created original artwork. These young people were not only learning about some of these creatures for the first time, but also using different types of media to create their artwork.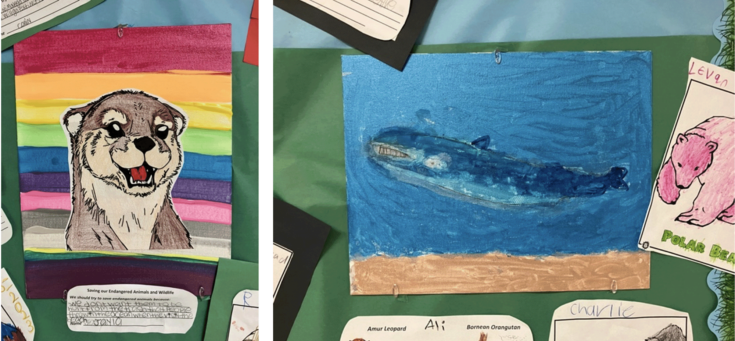 The students' teachers felt that this activity had a considerable impact on their students. Mr. Joslyn acknowledged, "Students enjoyed learning about the interesting animals, however, they were truly concerned about their well-being and that some animals may not be around in the future. This project helped establish a strong foothold of concern and awareness for our students."
Not only did students gain knowledge and awareness of this issue, but they also learned how they can individually make an impact on the environment as Ms. Dunn reported, "This project engaged them in many ways and gave a newfound knowledge on small things they can do that can make a big impact towards preservation."
Each year, the reach of the Science Without Borders® Challenge always astonishes me. Our aim is to use art as an educational tool to teach youth about different conservation issues and inspire them to want to protect the ocean and all its creatures. Even without entering the contest, these students were able to learn about endangered species and create their own artwork. I'm inspired by the dedication and creativity of the teachers at Oakland High School, who are educating their students about these important topics and creating environmental awareness. I look forward to watching the continued growth of our contest and hope that we will continue to inspire the future generations of environmental stewards.
"No More Disappearing Acts"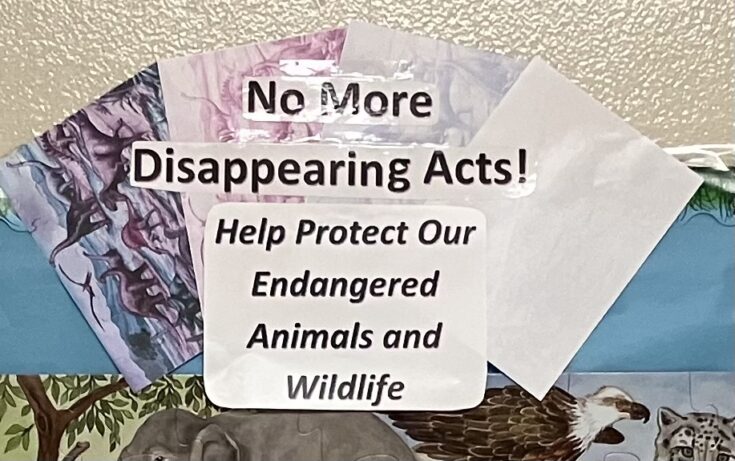 Explore all our latest news from the field