Expedition Log: Maldives – Day 9
What has been really interesting for us during this research mission are the differences between each resort; the people, the location, the resort, the transport, the reefs…
After we finished working at Gili Lankanfushi Resort we began the next stage of our mission to remove crown of thorns starfish (COTS) from reefs in the Maldives. One & Only Resort is a beautiful and exclusive resort located on the western edge of North Malé Atoll. Reethi Rah translates to 'beautiful island', and is aptly named.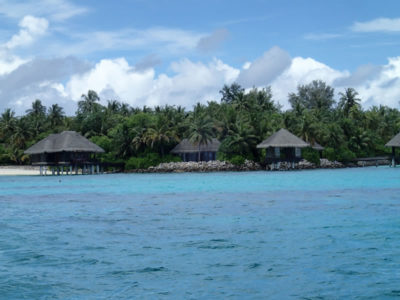 One & Only Resort at Reethi Rah.
The beautiful guest transfer yacht to One & Only Resort becomes our office for two hours a day. The boat is equipped with power plugs, granola bars, WIFI and tables for us to take over and enter data, write blogs and download and prepare yesterday's photographs.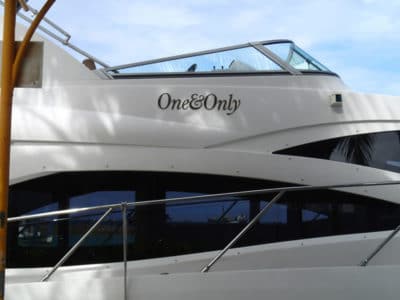 The resort guest boat is our moving office.
Once we reach the resort we are escorted to the dive centre by the resident marine biologist, Kylie Merritt. Our daily schedule works around the availability of boats. Normally after reviewing the diving sites map and choosing a location, we will kit up our tanks and head out for one or two dives in the morning on the diving dhoni.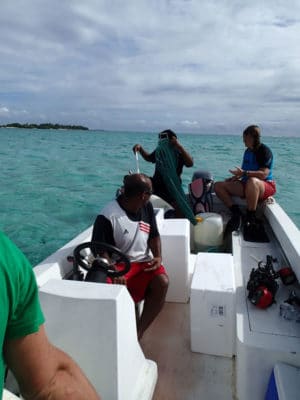 Snorkeling with the lifeguard.
Working as a team, we each swim along a different depth contour collecting COTS in our bags as we swim. Once the bags are full, we send them up to the surface using diving safety sausages. Kylie and the dhoni team empty these bags into crates and get ready to pass the bags down to us to fill again. We can remove over 300 COTS in a morning.
Afternoons usually involve a snorkel around the resort's house reef to collect COTS that have begun venturing into the lagoon. Once the sun begins to set we head back to the dive centre to wash our gear and then move to the cafe where we tally the number of COTS removed, map the areas, begin entering data and plan our dives for the following day.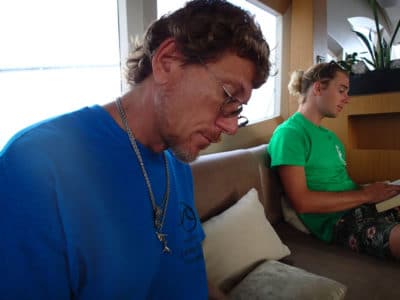 Hard at work on the guest boat.
Photos: Stefan Andrews
Explore all our latest news from the field