Expedition Log: BIOT – Day 12
The distances in Chagos are vast, but we know we are nearing a new island when we begin to see more seabirds – a technique sailors have used for centuries. Today, like most days, as we head off to do our surveys we are accompanied by a squadron of magnificent frigate birds and boobies circling overhead.
The islands offer a close up view of these birds. In total, there are seventeen species of seabirds that have breeding populations throughout the archipelago and ten of the islands have received the formal designation of Important Bird Area by Birdlife International. In our first mission to BIOT, I've managed to photograph nine of these species on Danger Island and South and Middle Brother. What follows are few interesting facts and selected photos of each of these birds:
Red-footed Booby (Sula sula)
The Red-footed Booby, as suggested by its common name, always has red feet as adults. The color of the plumage varies though with several distinct color morphs recognized. The two that are present in the Chagos Archipelago are the white morph with mostly white plumage and black flight feathers and the brown morph which is overall shades of brown. They nest in the trees and shrubs on all of the islands in the southern and central part of the archipelago. They have no bare brood patch but the feet are highly vascular which helps heat to be transmitted from the parent to the offspring.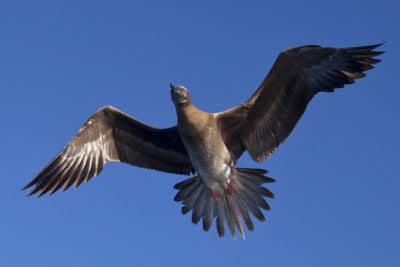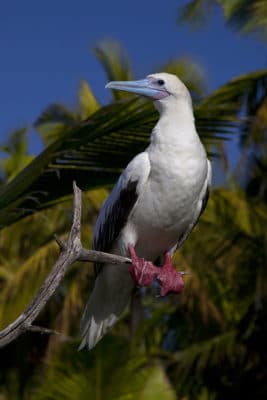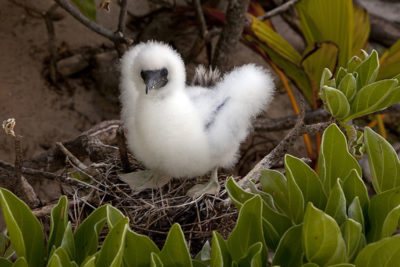 Brown morph is identifiable by the red feet. (left) / White morph with characteristic red feet and legs and pale blue bill. (middle) / Fluffy chick covered in a dense white down. (right)
(click-thru on images for greater detail)
Brown Booby (Sula leucogaster)
The Brown Booby has a head and upper body that is covered in dark brown with the belly being a bright contrasting white. This sharply demarcated white area is expressed in the Latin name of the species which means "white stomach." Nests are made in shallow depressions in the ground lined with vegetation, feathers or marine flotsam and usually contain a pair of eggs.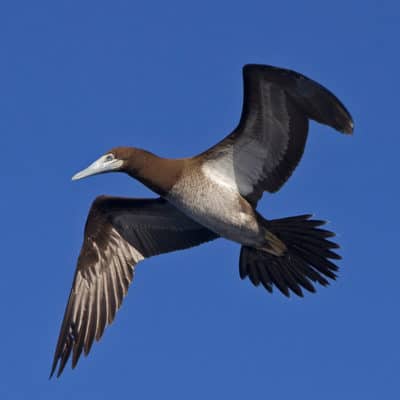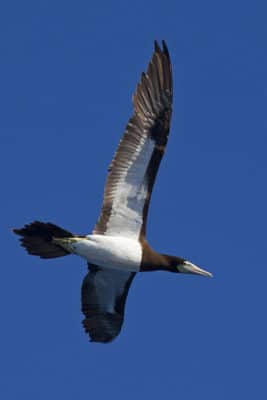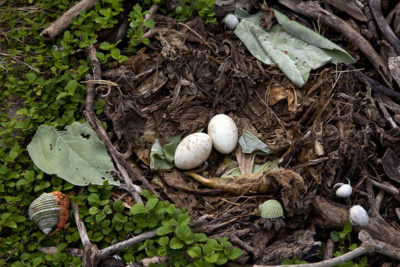 Males can be recognized by the blue-gray skin coloration on the face. This one may be immature as the belly plumage is still slightly brownish. (left) / Female (distinguished by yellowish facial skin) showing the distinct line separating white belly from brown head. (middle) / Rather than nesting in trees, the Brown Booby creates a simple nest in a depression on the ground. (right)
(click-thru on images for greater detail)
Great Frigatebird (Fregata minor)
The seemingly incongruous species name minor has an interesting explanation. When the species was first described in 1789 it was classified as a small pelican, and as such named Pelecanus minor. Many years later it was moved to its present genus but the rules of taxonomy state that the specific epithet remain the same and so the Great Frigatebird is still dubbed "minor." Frigatebirds are sexually dimorphic and the male has a striking red gular sack (bare red throat patch) which it can greatly distend during breeding season to attract a mate. In addition to taking fish from the surface of the water, it indulges in kleptoparasitism where other seabirds (mainly boobies) are harassed till they drop their fish catch. This has earned them the nickname "pirate bird" which also explains their family name as frigates were the small, maneuverable boats favored by pirates. They have the highest ratio of wing area to body mass and the lowest wing loading of any bird which enables them to soar effortlessly on thermals.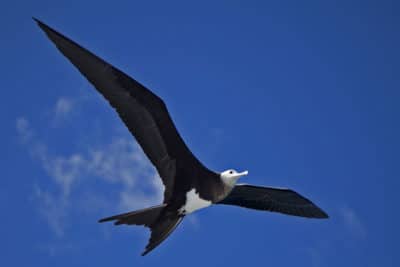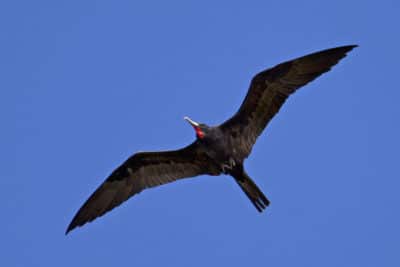 Females are easily identifiable by their white head and belly patch. (left) / Males are all black and have a read gular sac (throat patch). (right)
(click-thru on images for greater detail)
Lesser Frigatebird (Fregata ariel)
I assumed that all of the frigatebirds I've seen here were Great Frigatebirds, but a check of the inventory of the species found here turned up a second—the Lesser Frigatebird. While the males are more difficult to tell apart (also all black but having a white patch on the flank which extends onto the underwing), the females are more distinctive. They have a white breast and belly and a black head.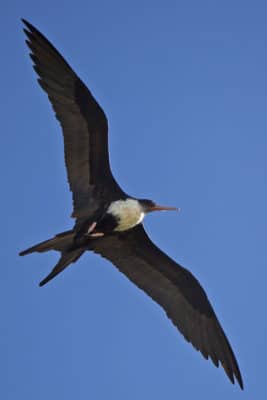 Female Lesser Frigatebirds can easily be distinguished from female Great Frigatebirds by their black head.
White Tern (Gygis alba)
Related to the noddies, the White Tern is a delicate seabird with all-white plumage and a long black bill which, uniquely among terns, curves upward. It catches small fishes at the surface by plunge diving. This species is notable as it does not build a nest but lays a single egg on bare branches in a small fork or depression. It also nests on rocky ledges or even man-made structures. The absence of a nest may be beneficial as it reduces nest parasites though it also increases the chance of the egg blowing or rolling off its perch. The parent is quick to lay another egg should it lose one in this way. The newly hatched chicks have well developed toes and claws to aid them in hanging onto their precarious nesting site.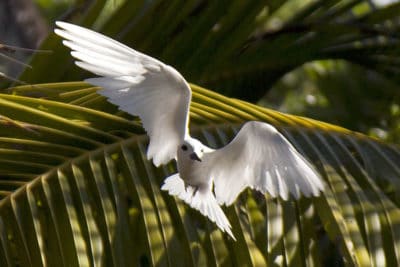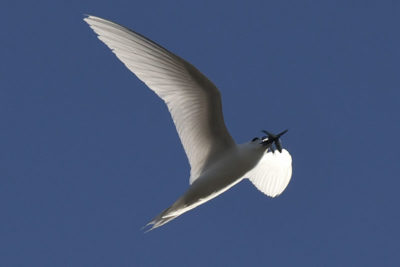 With immaculate white plumage it is easy to see why this species is sometimes called the Angel Tern. (left) Returning from the water with a bill full of fish it obtained by plunge diving. (right)
(click-thru on images for greater detail)
Black-naped Tern (Sterna sumatrana)
This species forages by plunge-diving or picking fishes off the surface and most frequently feeds in lagoons and close inshore over breaking waves. They form small colonies in shallow depressions in the sand close to the high tide line. They have a grayish-white back and wings with white face and underside. The name "black-naped" comes from the thin black band starting at the eyes and running around the nape (back of the neck).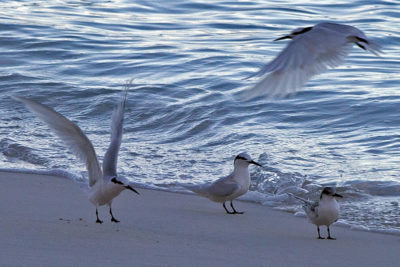 Black-naped Terns were always seen on the beach along the waterline.
Great Crested Tern (Thalasseus bergii)
This species was previously classified in the genus Sterna but recent DNA studies in 2005 have suggested that it be moved to its current genus. It is a widely variable species throughout its range and contains five described subspecies. It has gray plumage on the back with a white underside and a bright yellow bill which helped to distinguish it from other tern species. The shaggy black crest is variable and recedes in winter.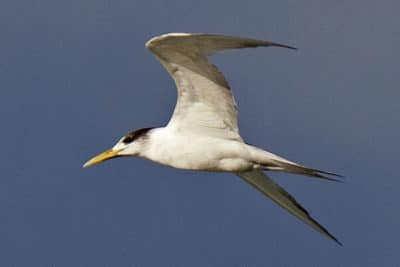 Great Crested Terns were often seen plunge diving just offshore.
Brown noddy (Anous stolidus)
The Brown Noddy is a medium-sized brown seabird with a white-gray forehead extending over the top of the eye. It has gray-brown cheeks and black lores (the area between the eyes and the bill). The wings and tail often have blackish tips which helps to distinguish it from the closely related Lesser Noddy (which is also smaller). Both species of noddies are found on South Brother but the Brown Noddy is much less common than the Lesser, possibly because it nests on bare ground.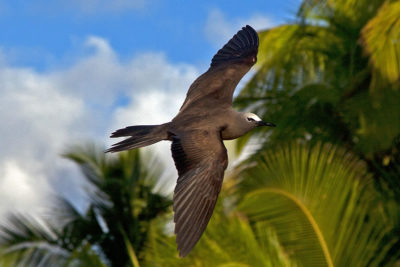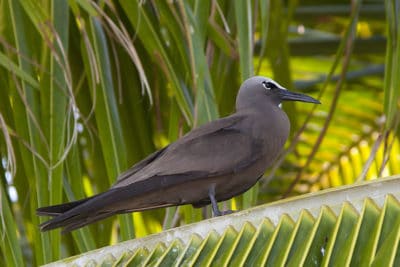 Brown Noddies are larger than the more slight Lesser Noddies. (left) / Black lores (area in front of eyes) and dark wing tips distinguish this from the similar Lesser Noddy. (right)
(click-thru on images for greater detail)
Lesser Noddy (Anous tenuirostris)
This species, as the name implies, is a smaller noddy which is largely blackish-brown. It has a whitish-gray head that fades gradually into the darker body color around the neck. Its smaller size and paler head allowed it to be readily distinguished from the larger Brown Noddy. On South Brother small groups of Lesser Noddies can be seen flitting about on the beach. As birds left the group it seemed that new birds flew in to keep the number a relatively constant handful. This was the breeding season for Lesser Noddies and I would occasionally spot one fly up and attempt to land on another in an attempt to mount it—though I never saw them successfully mate. The action was so quick that I was never able to capture one of these attempts with my camera no matter how many times I tried. Short coconut palms that occur at the edge of the beach appear to be important nesting habitat as several Lesser Noddies had formed crude nests of seaweed and vegetation, held together by a plaster of white excrement. These tiny nests were mostly located in the shallow curved troughs formed by the petioles of the palm fronds. I watched one of the birds sitting in a nest at eye level for a bit and soon noticed characteristic movement under the feathers on the breast that indicated a chick stirring underneath. After about fifteen minutes of standing stock still with the camera raised to my eye, I was rewarded by seeing the chick emerge from under its parent.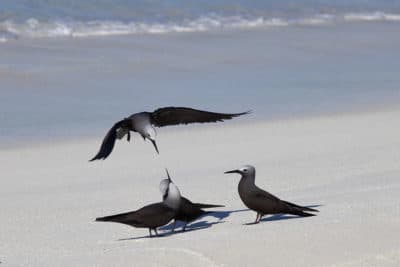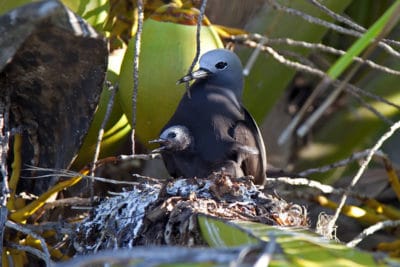 Small groups of Lesser Noddies gathered on the beach sometimes bounding up in an attempt to mount each other. (left) / After a long wait, this simple nest on the petiole of a coconut palm frond revealed a chick nestled under the parent. (right)
(click-thru on images for greater detail)
Photos by Ken Marks.
---
For more great images of the beach creatures we encountered on these islands, visit our 'Islands of the Chagos Archipelago' Photo Album: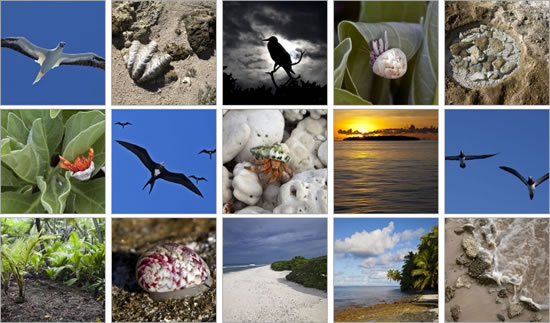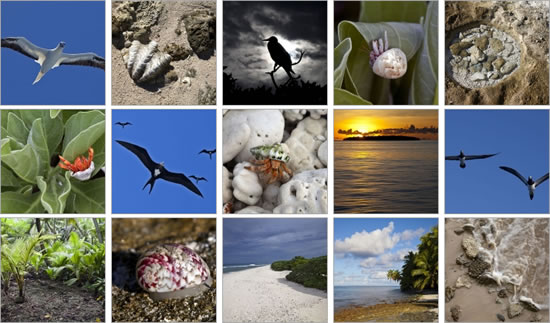 Explore all our latest news from the field