Our fourth research mission to French Polynesia provides an opportunity for a more detailed examination of Rangiroa, the largest atoll in the Tuamotu Archipelago and one of the largest in the world. Rangiroa (meaning Vast Sky) consists of 415 small islands, motus, islets and sandbars, with a total land area of only 170 km2. Two islands on the northern end are permanently inhabited, but the total population is less than 2500.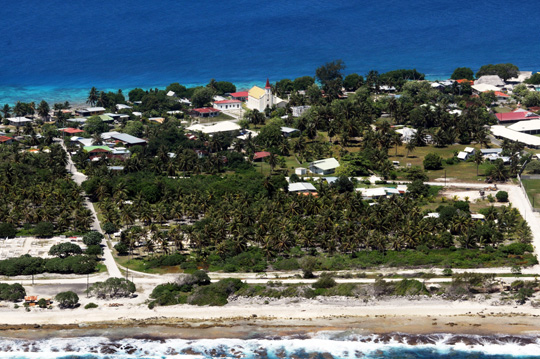 The coral islands surround a deep (up to 35 m) lagoon, with numerous submerged patch reefs, about 100 narrow spillways (or hoas) connecting to the ocean, two main channels (Tiputa Pass and Avatoru Pass) that are large enough to allow boat access, and a well-developed fore reef. Rangiroa is classified as an atoll, elliptical in shape, about 80 km in length and 5 to 32 km wide.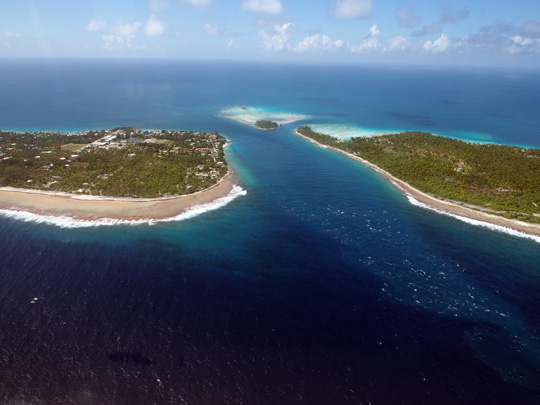 French Polynesia contains 85 of the world's 425 atolls. Seventy seven of these are in the Tuamotu Archipelago, forming the largest chain of atolls in the world, roughly the size of Western Europe. The rest are spread throughout the tropics, primarily in the Pacific and Indian Ocean, with a few in the Atlantic.
The definition of an atoll varies widely.  They tend to be circular, oval or horseshoe-shaped arrays of low-lying coral islets perched around a volcanic seamount and enclosing a central lagoon.  Rangiroa fits nicely to Charles Darwin's theory. He concluded that an atoll forms around a volcanic island that becomes extinct.  As the volcano cools it becomes denser and begins sinking into the water. Coral grows around the rim of the volcano, upward, to form a fringing reef.

Over time the ocean floor and the volcano continues to subside, and the fringing reef becomes a barrier further from shore, separated from the volcano by a lagoon. Eventually the volcano completely sinks below the water and the reef remains, encircling a central lagoon. Many of the Atlantic atolls such as Hogsty Reef in the Bahamas clearly differ in origin and morphology, however. These atolls are defined based on its geologic structure, having steep upper slopes, reef flat, lagoonal patch reefs, and a lagoonal pass connecting it to deep water, and not formed through the subsidence of a volcano.
Rangiroa was the first coral reef system ever examined by researchers using the Golden Shadow. Our team of scientists examined the effects of a coral reef bleaching event in 1998 and this time will evaluate changes that have occurred over 15 years.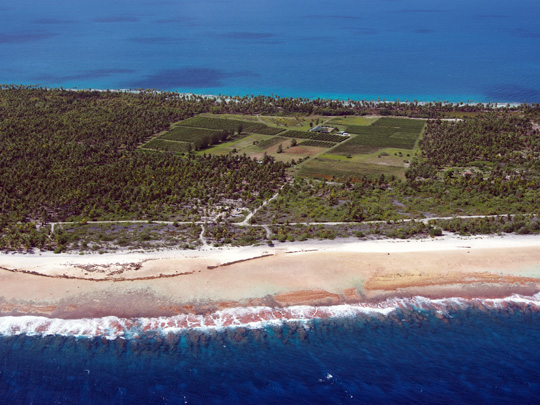 The atoll of Rangiroa is known for its vineyards, which are unique in the world. The vines grow on the edge of a lagoon beside coconuts, and produce two harvests per year. The types of grapes grown on the atoll include Carignan, Italia and Black Muscat
(Photos by Dr. Andrew Bruckner)
Explore all our latest news from the field