This guest blog comes from Angelique Rosa Marín, a PhD student in the Marine Geoscience Department at the University of Miami's Rosenstiel School of Marine and Atmospheric Science. Angelique and her advisor, Dr. Sam Purkis, are working with the Khaled bin Sultan Living Oceans Foundation on a new project that uses foraminifera as a bioindicator of coral reef health.
Coral reef ecosystems are rapidly declining due to numerous local and global pressures such as climate change and pollution. In response to the coral reef crisis, the Khaled bin Sultan Living Ocean Foundation (KSLOF) conducted the Global Reef Expedition (GRE) to assess the state of coral reefs in 16 countries around the world. The expedition helped generate extensive data collection including coral reef maps and benthic surveys and 2,500 sediment samples from the Atlantic, Pacific, and Indian oceans. After traveling more than 50,000 km conducting research, the GRE's valuable data opens the curiosity to explore unconventional approaches to globally evaluate coral reef health.
Now, the Khaled Sultan Living Oceans Foundation and the University of Miami's Rosenstiel School of Marine and Atmospheric Science are working together on a new project called Protist Prophets. Run by Dr. Sam Purkis's lab at the University of Miami and funded by the National Science Foundation, this exciting project uses the sediment samples KSLOF collected on the GRE to evaluate global reef health using benthic foraminifers (forams) as markers of environmental changes and stressors. Our innovative scientific efforts will inform reef conservation strategies and develop non-traditional reef management techniques. Plus, we will assemble the Little Creature with a Big Message educational curriculum using the foram data to complement the foundation's existing Coral Reef Ecology Curriculum available in the KSLOF Educational Portal. 
This 3-year project opened the opportunity to create the Foram Lab, a laboratory focused on advancing foraminiferal research using our global sediment database in the Rosenstiel School of Marine and Atmospheric Science. We have trained 30 undergraduate students from diverse backgrounds such as Anthropology, Marine Geoscience, and Marine Affairs (Fig. 1).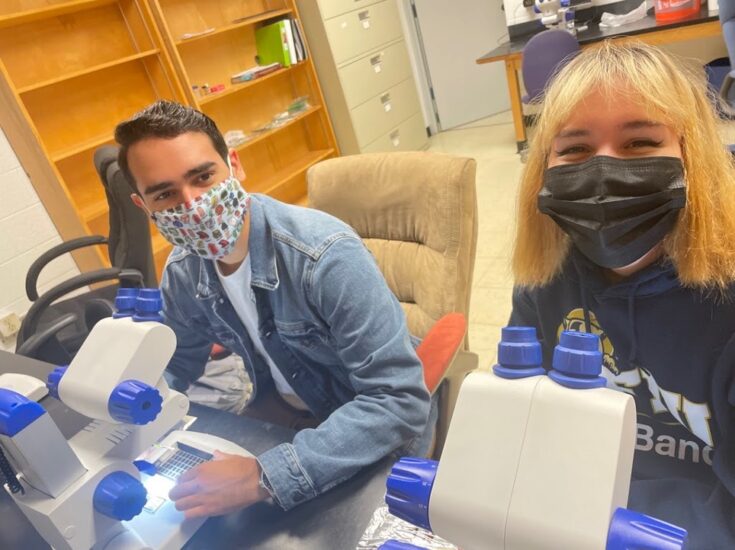 Students learned the basics of micropaleontology techniques such as foram picking, gluing, and identifying. They need to go over the sandy samples, hunt the forams using an art brush, glue them in a micropaleontology slide, and identify the forams to their genus (Fig. 2).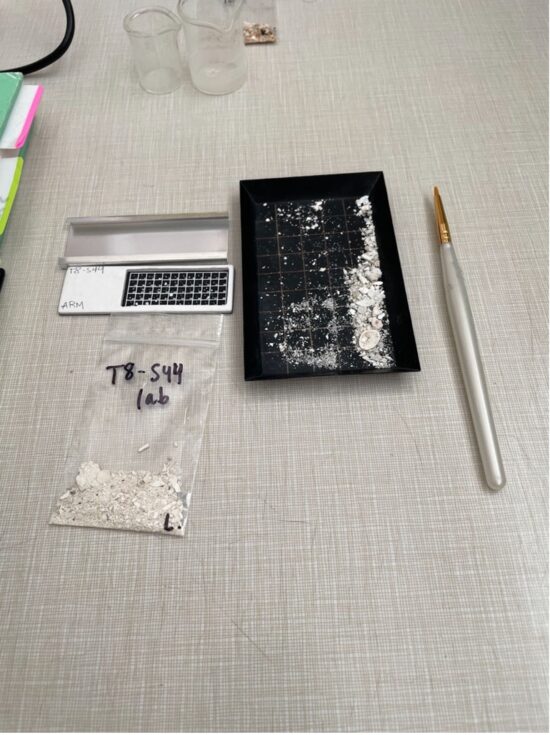 Now, we have hired a team of 6 undergraduate research assistants devoted to pick, glue, and identify forams in the lab. Some of the students' thoughts about working on the Foram Lab:
"This opportunity has allowed me to explore a different area of marine science that I ordinarily wouldn't have been able to access."

-Alanna Franolich
"The work has been both interesting and rewarding as we are searching for a new way to improve reefs."

-Georgia Ahumada
"I'm excited to pick samples every day because it means we're getting closer to revealing our findings of the study."

-Laura Jones
"I find picking forams very relaxing and I enjoy admiring the many different patterns and shapes they form"

– Nora Downing
Not only will we understand the past, present, and future state of our corals, but we are also delivering the tools for the next generation of scientists to create impactful science.
Explore all our latest news from the field