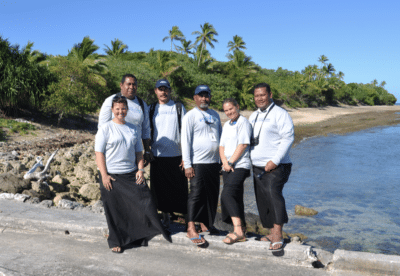 While our scientists were hard at work studying the Kingdom of Tonga's coral reefs on the Global Reef Expedition, the education team was on land teaching students and communities about this valuable ecosystem and what they can do to protect it. In return, we learned valuable local knowledge from the communities and the people of Tonga.
The Foundation led the education team that was composed of local experts from the Tongan government and the Vava'u Environmental Protection Association (VEPA). Our team shared our knowledge of coral reefs with over 2,300 people, speaking with 17 communities across the islands, teaching students at 15 schools, and talking to government officials and local leaders.
Our mission was extremely successful and well-received by the Tongans, who were very eager for additional knowledge about coral reefs. In 2015 and 2016, we decided to return to the Vava'u Island Group to conduct more extensive education programs with primary and secondary students.
Please watch the video below for additional information about our Tongan education programs.
Lessons Learned from the Global Reef Expedition
After our education seminars, we had in-depth conversations with each of the communities that we visited. Many people had concerns about the current conditions of their coral reefs. It was often the community elders that voiced their opinions and concerns about the difficulties that future generations might encounter. Some concerns were about climate change and sea-level rise. Others were about destructive fishing methods. There was one comment that seemed to be reiterated time and again throughout each of the communities. It often began with one of the elders standing up and speaking with his/her hands, "We used to see fish this large (arms open wide), but now the fish that we see are very small (hands very close together)."
The communities knew exactly what was happening on their reefs, and our scientists were able to confirm this once we analyzed the data collected on the expedition. The fish and invertebrate communities were likely overfished as the communities had suspected, which is having a detrimental impact on Tonga's coral reefs.
Although this is troubling, it's not too late. In an effort to continue our commitment to providing knowledge and information, here are some actions that can aid in rebounding fish and invertebrate populations: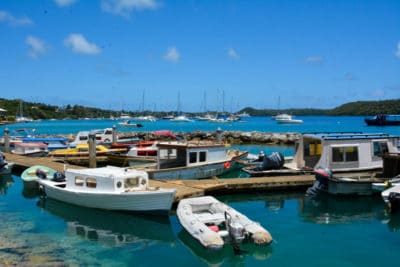 SIZE LIMITS: For species that have low population numbers, it may be necessary to implement size restrictions when harvesting these organisms. This allows organisms to survive to adulthood so that they can reproduce, creating more offspring and increasing the population size.
QUOTA RESTRICTIONS: Fishing quotas also help to increase population size. Creating a fishing quota limits the number of a particular species that can be caught.
AREA CLOSURES: In some instances, it's best to ban different activities (such as fishing) in a defined area of a coral reef to protect the different organisms and habitat that's present. This allows organisms to thrive and grow to adulthood. They will be able to reproduce, replenishing the populations in the area closure. Some organisms will also seek new habitats at nearby coral reefs outside the area closure, providing economic benefits for communities and ecological benefits for coral reefs.
SUSTAINABLE FISHING GEAR: Fish poisoning is detrimental to coral reefs. The poison kills organisms in the area where it's released, and it can be carried over large distances by ocean currents. Many organisms that were not targeted, are also unintentionally killed, such as corals and sea stars. Instead of using fish poisoning, use more sustainable fishing gear such as rod and reel.
SPECIES BANS: Banning certain species that have extremely low populations (e.g. sharks and barracuda) from being harvested can aid in helping a particular species to increase in size and abundance.
ESTABLISH ADDITIONAL SMAS: Tonga implements Special Management Areas (SMAs) to help protect defined areas of coral reefs and other coastal ecosystems. SMAs are created for different reasons, therefore, each one has its own customized management plan. For example, if the purpose of the SMA is to increase fish and invertebrate populations, then the SMA may include different conservation actions like the ones listed above.
EDUCATION: Education not only includes teaching about coral reefs, but also any conservation actions (SMAs, gear choices) or laws that have been implemented (size limits, species bans). If communities learn about the ecology of coral reefs and understand why these conservation laws and actions are being implemented, they will be more likely to become active participants in protecting this valuable ecosystem.
It should be noted that multiple actions, like the ones listed above, are often implemented to aid in fish and invertebrate populations rebounding.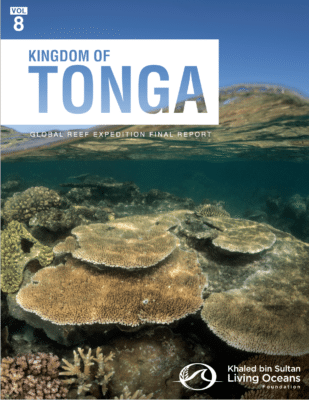 For more information about our scientific findings and recommendations to protect and conserve Tonga's coral reefs and coastal marine resources, see our latest publication, the Global Reef Expedition: Kingdom of Tonga Final Report.
Explore all our latest news from the field