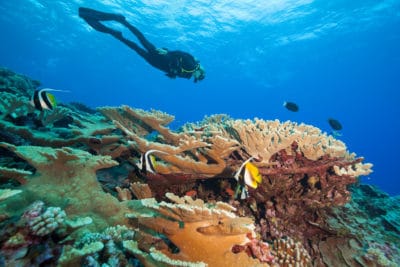 We understand that these times are challenging, especially with students, parents, and teachers adjusting to homeschooling. To make life easier, we have compiled our best e-learning videos, activities, and worksheets on our website, so that you can easily find engaging and educational activities to do with your students and children.
Our Coral Reef Ecology Curriculum is hosted on an easy-to-use learning platform. Although our curriculum was designed for middle and high school students, there are some activities that are appropriate for elementary school students too. You can find a list on our educational activities webpage that includes descriptions and suggested grade levels for each lesson.
Videos are a great way to connect with nature, especially when you're stuck inside. Our award-winning education videos and documentaries are a wonderful way to get lost in the underwater world of coral reefs. If you are looking for more structure, we also have Watch It! worksheets that accompany each of our education videos.
Would you like for your students or children to do more reading? We have hundreds of blogs on our website from our Global Reef Expedition, a five-year expedition around the world studying coral reefs. Some of our blogs even come with personalized worksheets called Read Its! that help students to think and write like a scientist.
Do you know a budding artist (11-18 years old) who is looking for a challenge? Encourage them to participate in our Science Without Borders® Challenge, an international annual art contest that inspires students to create a piece of art that promotes ocean conservation. Winners can earn up to a $500 scholarship. The theme for this year's contest is "Take Action: Conserve Coral Reefs." Due to COVID-19, we are extending our submission deadline to May 4, 2020.
For more instructions on our online educational content, see "How to Use Our Curriculum." Additional materials will be added to our website soon. Please follow us on Facebook, Twitter, and Instagram to receive more curriculum updates.
We hope that you will explore the underwater world of coral reefs with us!
Explore all our latest news from the field