Ocean Odyssey Educator's Guide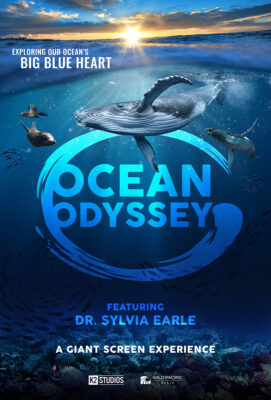 The Khaled bin Sultan Living Oceans Foundation has developed an Educator's Guide to accompany a new IMAX® film, Ocean Odyssey.
Narrated by legendary oceanographer and conservation icon Dr. Sylvia Earle, Ocean Odyssey takes viewers on a spectacular 3D underwater journey from the Great Barrier Reef to Antarctica, following a whale mother and calf on their 1,500-mile migration. Through their journey, viewers will learn about the remarkable ways ocean currents nurture a diverse cast of marine creatures, how the ocean sustains all life on earth, and what we can all do to protect our living oceans. Designed for giant screens, this IMAX® film contains stunning imagery and award-winning cinematography to transport viewers deep into the blue heart of our planet—our oceans.
The Educator's Guide we created in partnership with K2 Studios contains lesson plans, student worksheets, and grading rubrics for middle school students (grades 6-8), but the curriculum can be easily adapted for older age groups. K2 Studios also developed an educator's guide for elementary school students (grades 3-5) with our partners at the National Oceanic and Atmospheric Administration (NOAA).
We developed all of the lessons in accordance with the Next Generation Science Standards (NGSS), the Ocean Literacy Principles (OLP), and the Common Core State Standards (CCSS), so teachers can easily incorporate the lessons into their classrooms.
The Ocean Odyssey Educator's Guide for middle school students is now available for teachers to view and download below, as well as on the foundation's Education Portal. Individual lessons have also been incorporated into our Coral Reef Ecology Curriculum, including the Food Web and Conservation units, which contain additional teaching resources that expand on topics introduced in the Ocean Odyssey Educator's Guide. To access these free resources, sign-up as a teacher on our Education Portal.
Ocean Odyssey Educator's Guide
The Ocean Odyssey Educator's Guide contains lesson plans teachers can use to help middle school students dive deeper into the lessons learned in the Ocean Odyssey IMAX film. While watching Ocean Odyssey is not required to carry out the lessons, the film serves to greatly enhance the learning experience.
Download Educator's Guide (8.7 MB)
Watch the Ocean Odyssey Trailer
If you are interested in watching Ocean Odyssey, see if is it playing at a theatre near you. Additional listings are continuously being updated.
Partner Profile

The film studio producing Ocean Odyssey, K2 Studios, invited the Khaled bin Sultan Living Oceans Foundation to work with them on the Educator's Guide. K2 Studios is one of the premier studios for the Giant Screen film industry, including IMAX®, Giant Screen, and other specialty theaters located in museums, science centers, zoos, and aquariums.