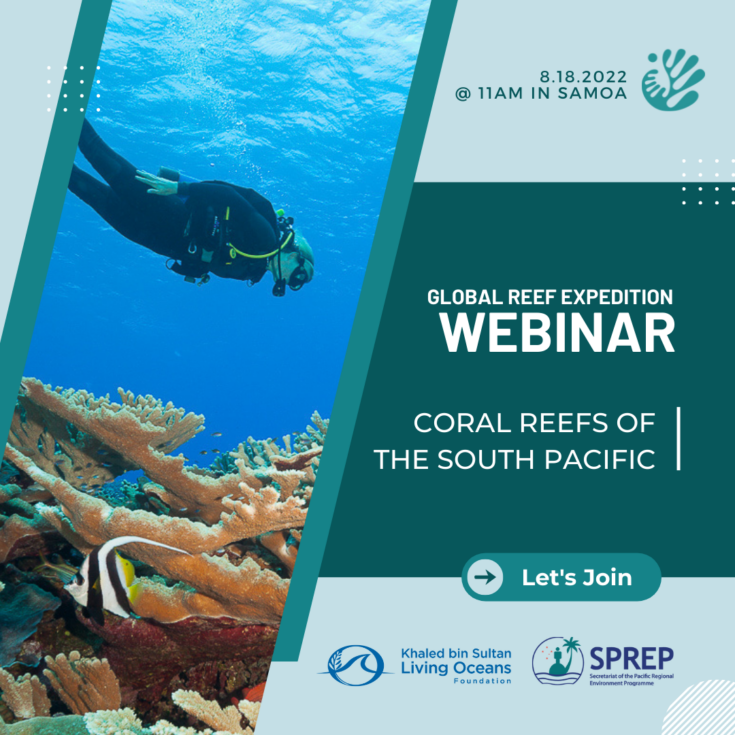 The Khaled bin Sultan Living Oceans Foundation is hosting a webinar in partnership with the Secretariat of the Pacific Regional Environmental Programme (SPREP). This webinar will shine a light on the work we have done on coral reefs in the South Pacific and share what we learned on the state of corals and reef fish with people working to protect and preserve these resources in the region.
Coral Reefs in the South Pacific: Outlook from the Global Reef Expedition
The Pacific Ocean is home to around 27% of the world's corals, spread out over vast areas. The remoteness of reefs and capacity constraints present unique challenges for Pacific States to gather scientific information.
The Khaled bin Sultan Living Oceans Foundation completed one of the largest coral reef studies in history: the Global Reef Expedition. Over the course of 10 years, the Expedition circumnavigated the globe aboard, surveying some of the most remote reefs on the planet.
Between 2012 and 2015 the Global Reef Expedition surveyed and mapped reefs in the Pacific Islands Region. Coral reef experts from around the world were joined by researchers from the region to conduct extensive coral, benthic and fish surveys. The results of this work represent a huge contribution to understanding of coral reefs in the region.
This Webinar will share the findings of this voyage in the Pacific Region, both wonderful and disturbing.
Both SPREP and KSLOF have endorsed Actions under the IOC Decade for Ocean Science. This webinar will provide a platform to explore science needs for the Pacific and to form future collaborations.
Agenda
Opening remarks from SPREP
Introduction to the Khaled Bin Sultan Living Oceans Foundation and to the Global Reef Expedition
State of the Corals and Reef Fish in the South Pacific
Comparison of reefs in the South Pacific to reefs in the Caribbean and the Indian Ocean
KSLOF resources available to use for conservation
Q&A – Discussion
Registration
We are holing the webinar from 11:00am – 12:30pm Western Samoa Time (UTC+13) on August 18, 2022, (which is 6:00pm – 7:30pm ET on August 17th, 2022). The webinar will be held in English, with French interpretation provided. For those who can not attend in person, the webinar will be recorded and made available online.
If you are interested in joining us for this online event, register here:

Explore all our latest news from the field