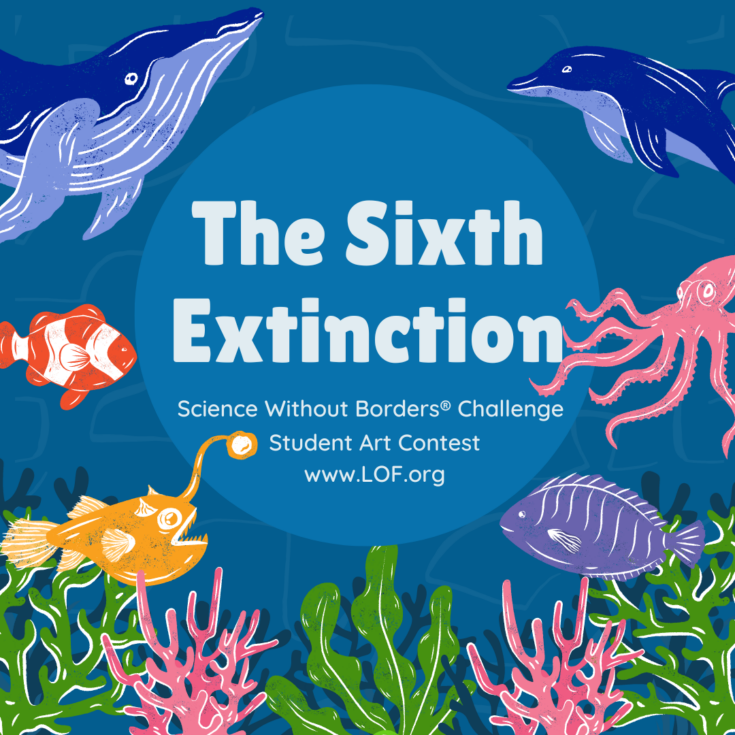 We are excited to announce that our Science Without Borders® Challenge is now open! This annual art contest inspires students from all over the world to be creative while learning about important ocean science and conservation issues. Last year, we asked educators and their students who participated in the contest for ocean conservation theme suggestions. There was one theme that repeatedly occurred in their answers – endangered species. We also think that this is an important topic to learn about, so for this year's competition, we have selected the theme, "The Sixth Extinction."
Throughout the history of our planet, there have been five mass extinctions. Scientists believe that we are now in what is termed "the sixth mass extinction." Humans have been altering the Earth's environment as far back as the hunters and gatherers. These actions have negatively impacted the environment in many ways, including over-exploiting natural resources, destroying habitats, changing the climate, polluting, introducing invasive species, and causing diseases. These human threats have led to an increased rate of extinction and the cause of many more species becoming endangered.
For this year's contest, you can help create awareness about endangered species in the ocean. We are asking students to create a piece of artwork that highlights the beauty and importance of a marine species that is on the brink of extinction. We have compiled information to help students learn about the theme and gain understanding of a species risk of extinction.
To enter the 2023 Science Without Borders® Challenge, follow the Contest Rules, review the Tips for Success, and upload your artwork to our online Submission Form. The Challenge is open to all students who are 11-19 years old and enrolled in primary or secondary school (or the home-school equivalent). Entries must be received by Monday, March 6, to be eligible to win.
Since the Foundation launched the Science Without Borders® Challenge ten years ago, over 3,500 students from 94 countries have participated. This year the Foundation hopes to receive more entries than ever before. Help us get the word out about this competition by telling any young artists and teachers you know and encouraging them to apply.
Like previous years, we will host a couple of virtual question and answer sessions about the Science Without Borders® Challenge. Follow us on our website, Facebook, Twitter, and Instagram for contest announcements.
Explore all our latest news from the field