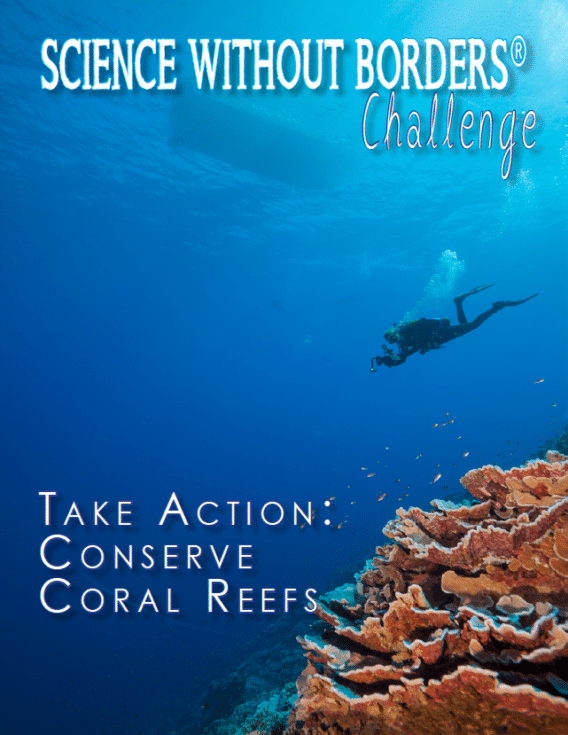 The Khaled bin Sultan Living Oceans Foundation is now accepting entries for the 2020 Science Without Borders® Challenge! This annual art contest inspires students from all over the world to be creative while learning about important ocean science and conservation issues. The theme for this year's competition is "Take Action: Conserve Coral Reefs," and scholarships of up to $500 will be awarded to the winning entries.
This year, the Foundation is using the Science Without Borders® Challenge to highlight the need for coral reef conservation. Throughout the world, coral reefs are rapidly declining. Coral reefs are threatened by a variety of factors including overfishing, pollution, climate change, ocean acidification, development, and disease—many of which appear to be getting worse. If nothing is done to save them, many of the vibrant reefs we know today may cease to exist as functioning ecosystems by the end of the century. This year's Challenge will encourage students to learn about what can be done to protect coral reefs before it is too late. 
To enter the 2020 Science Without Borders® Challenge, follow the Contest Rules, fill out the online Submission Form, and send in a piece of art that illustrates one or more of the different actions that can be taken to preserve coral reefs. The Challenge is open to all students who are 11-19 years old and enrolled in primary or secondary school (or the home-school equivalent). Entries must be received by Monday, April 20, to be eligible to win.
Since the Foundation launched the Science Without Borders® Challenge eight years ago, over 1600 students from 62 countries have participated. This year the Foundation hopes to receive more entries than ever before. Help us get the word out about this competition by telling any young artists and teachers you know and encouraging them to apply.
Explore all our latest news from the field