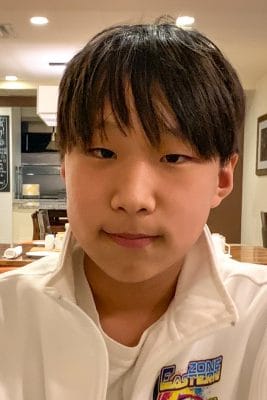 At only 12 years old, Zeno Park won first place in the middle school category of our international student art contest, the Science Without Borders® Challenge. Zeno lives in New Jersey, where he studies art after school at Studio YM in Tenafly. His winning artwork, "The Place where Fish are Free to Roam" shows underwater islands surrounded by swimming marine life. With this piece, Park said he wanted to show that in the ocean, organisms are "free to go wherever they wish" but that life in his underwater islands is "heavily dependent upon the condition of their habitat."
Hear we talk to Zeno about his work, his connection with the ocean, and the advice he has for students applying for the Science Without Borders® Challenge. Our conversation has been lightly edited for brevity and clarity.
Q:Why did you enter the Science Without Borders® Challenge?
A: I entered the Science Without Borders Challenge because I wanted to spread the message about the hardships we will have to encounter if we're gonna keep on destroying our only home.
Q:What inspired you to create your art piece?
A: I wanted to show people the dangers of the world of what we are doing and what it might result in. I want people to understand the difficult situations we will face if we don't stop the harmful actions.
Q:Why is the ocean important to you?
A: The ocean is important to me because of how many of my childhood memories were made at the beach, along with the curiosity the ocean brings with its vastness and depth.
Q:What are your plans for the future? Do you plan to pursue a career in art or science?
A: My dream is to become a vet. So yes, my plan does purse something with science.
Q:What advice would you give to someone who is considering entering the Science Without Borders® Challenge?
A: My advice to others who are considering entering Science Without Borders Challenge is to think outside the box.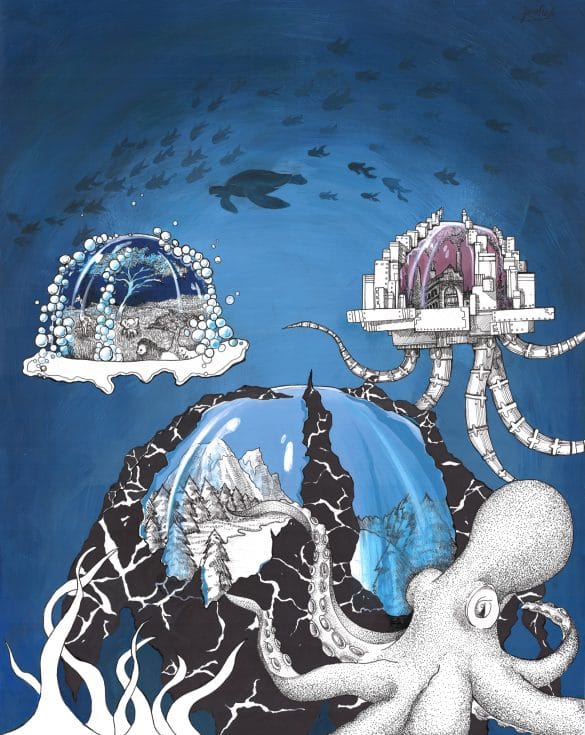 Artist's Statement
My artwork relates to the theme, "Connected Ocean: No Barriers, No Boundaries, No Borders" because my piece shows that in the ocean, organisms are free, while above ground they are stuck where they are at. The marine life in the background swimming represents that they are able to swim wherever they choose to go. Each fish, shark, turtle, etc. are able to swim as they please to because there is no border in the ocean. On the other hand, as represented by the underwatered islands, the places that organisms above sea level are able to live is heavily dependent on the condition of their habitat, their border. While animals are able to live in the safari, none can be found in the industrial area. In one word, this art piece shows that if there is no border in oceans, the marine life are free to go where ever they wish.
Explore all our latest news from the field