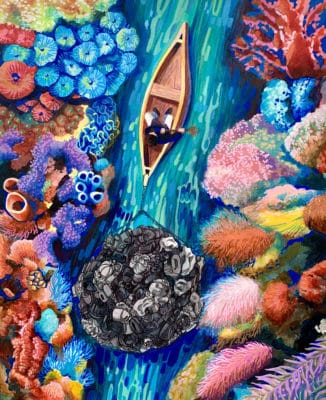 There is still time to participate in our international student art competition, the Science Without Borders® Challenge! Students must submit their artwork by March 7 for a chance to win up to $500 in prizes.
This year the Science Without Borders® Challenge theme is "Ridge to Reef." This type of conservation approach works to conserve coral reefs by addressing issues across the entire watershed, from the top of the land down the streams, through mangrove forests and seagrass beds, and out to the reefs themselves. For this year's theme, we are asking students to create a piece of art that illustrates one or more ways people can use this conservation approach to protect coral reefs.
The Science without Borders® Challenge is an annual art competition that engages students to promote the need to preserve, protect, and restore the world's oceans and aquatic resources. The international competition is open to primary and secondary school students 11-19 years old.The artwork will be judged in two categories – 11-14 year-olds and 15-19 year olds. In each category, the first place winners will receive a $500 scholarship, second place winners a $350 scholarship, and the third place winners a $200 scholarship. We strongly encourage international students to apply and look forward to judging a large and diverse pool of entries this year.
This activity is a great way for teachers to include STEAM (science, technology, engineering, art, and math) in their classes, especially if remotely learning. Although the contest requires students to apply individually, it is a great assignment to give to an entire class. We have provided educational resources for teachers and examples of real-world ridge-to-reef conservation initiatives to help teachers integrate this into art and science classrooms.
For more details, please visit our website at www.lof.org/SWBChallenge.
To apply to the 10th annual Science Without Borders® Challenge, read the Contest Rules, fill out the Submission Form online, and upload a photograph or scan of your original artwork.
Explore all our latest news from the field